Discover more from The Journal 425
411 for the 425 | Reader-supported local journalism with perspective, edge & authenticity. | Your home for Lake Stevens Vikings football. | Privacy: J425 will never share or sell your data.
Over 2,000 subscribers
Manhattan Project: Lake Volleyball's Star Libero Alyss Kelly is Kansas State Bound
The senior co-captain has an athletic scholarship to an emerging volleyball capital in the growing athletic epicenter that is the Big 12 Conference.
A well-placed Kelly dig allows setter Katelyn Eichert to float into position, hand-setting the volleyball with a feathery touch, high into the rafters, where it seems to stop at the apex and contemplate gravity…before Viking kill specialists levitate skyward, preparing to meet the descending ball with violent arm swings, sending opponents scurrying for cover and completing the assembly line point-scoring opportunity that began with Kelly's selfless work. 
LAKE STEVENS — Last Thursday, Viking standout senior Libero Alyss Kelly was in the midst of closing out a decorated regular season. She was doing so in the usual fashion: launching herself all over the gym, at a disconcerting rate of speed, face first, parallel to the hard laminate floor in a series of selfless, floor-burn-absorbing dives… launched with intentions dead-set on getting under the path of the ball in order to save a point and restart the dig, set spike chain reaction.
It was in this fashion, like in so many previous contests, that Kelly's repeated ignition of the Viking assembly line helped to dispatch a foe with relative ease.
Thursday it was rival Glacier Peak on the losing end of straight sets, as a packed house of Lake Stevens students, fans, (and Viking head football coach Tom Tri) looked on.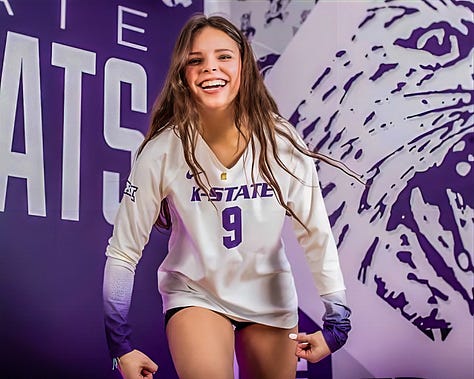 As the senior night festivities1 wound down at LSHS, new milestones were achieved some 1,783 miles away, at the sparkling new Morgan Family Volleyball Arena on campus at Kansas State University in Manhattan, Kansas. 
That's where – in front of a sellout crowd of over of over 3,000 in the newly-opened volleyball-specific facility, K-State fans went crazy in after trouncing No. 8 BYU 25-18, 25-16 and 25-19 on Thursday. 
That gave the Wildcats their first top-10 victory at home in 20 years and marked their first-ever straight-set win over a top-10 opponent. Less than 24 hours later, the Wildcats would do it again, breezing past the Cougars 25-21, 25-22, 25-21 on Friday. They became the first K-State squad ever to record two top-10 sweeps.
The connection here – between Lake Stevens and Manhattan, KS – in case you haven't guessed it by now, is one Alyss Kelly. 
Ranked the top 2024 Libero in Washington by several outlets, Kelly was heavily recruited across the D1 landscape, with interest from San Diego State, Oregon State, Michigan State, Marquette, Washington…and Kansas State. Kelly's recruiting decision came at an interesting time for the Big-12 stalwart… 
---
From Lake Stevens to Manhattan: an Epicenter of College Athletics
First, some recent pre-history: while the Wildcats were a competitive volleyball program through the teens and early 2020s, they weren't exactly great. The Wildcats finished 2022 just a hare over .500 and fell short of an NCAA tournament berth. But there were huge changes on the horizon for this program.
First: the rapid growth of the athletic environment, with the conference set to add four new schools this academic year (UCF, Houston, Cincinnati, and BYU)... before bringing in four Pac-12 refugees in 2024-25 (Colorado, Utah, Arizona, and Arizona State)...forming one of the three remaining super conferences within two years.  In short, the Big 12 was transforming into one of the epicenters of the highest level collegiate athletics in the United States. 
More specifically to volleyball, K-State boosters were hard at work delivering a sparkling new volleyball-specific arena and training facility aimed at giving recruits and players a place they could call their own, and the volleyball-hungry Wildcat students a volleyball-specific arena, quote unlike any other collegiate venue that hosts the sport.
---
"A very intimate, loud arena… that becomes a real home-court advantage."
The volleyball arena, which opened in the summer of 2023, includes a seating capacity of approximately 3,500, two practice courts with retractable seating, two video boards, team meeting rooms, locker room, team theater and coaching offices.
Additionally, attached to the volleyball arena is a new Olympic performance center, featuring a 14,000 square foot strength and conditioning center, an 8,000 square foot second level multi-use turf area, a plyometric ramp, a sports medicine rehab space, a hydrotherapy recovery area, nutrition and refueling stations, office space for athletic training and strength staffs along with a state-of-the-art Mental Health and Wellness space which will house all of the necessary tools for overall wellness and performance enhancement. 
"It's important for our student-athletes and fans to see the strong commitment from K-State Athletics to volleyball. Our athletes, who work hard every day, deserve to play in great facilities," - K-State AD Gene Taylor.
Last year, Kelly told J425 about the volleyball specific facility going up in Manhattan. The material was embargoed
until the public opening, but the promo material was breathtaking, and it was clear that the dedication to the sport she loves by the K-State community made an impact on the Vikings' Kelly. 
Culled from the Pacific Northwest, New Leadership Arrives at K-State
Finally, momentum was gathering in the leadership sector in Manhattan as well: on December 27, 2022,  K-State Athletic Director Gene Taylor hired Jason Mansfield away from the University of Washington and named him ninth head coach in K-State history.
Mansfield, a decorated assistant with experience in seven NCAA Final Fours and one national championship under his belt brought  a new energy and perspective to K-State, which – in the words of AD Taylor "had experienced some up and down years."
---
Taking Her Talents to Manhattan — Kelly Decides
So in summary, as Alyss Kelly completed a junior season in which the Viks finished runner up in the 4A State Volleyball tournament, one of her target schools was completing a state-of-the-art volleyball and olympic training facility – and hiring one of the best young leaders in the sport out of her backyard, right here in the Pacific Northwest. 
"I went on an official (to K-State) and to be honest, it reminds me of home and the athletics are amazing there, so I had a good feeling about them," Kelly told J425 last March. 
By April, Kelly was set on her future.
She announced her commitment to Kansas State University on April 5, 2023. 
"I am so blessed and excited to announce that I have verbally committed to play division 1 volleyball and further my academics at Kansas State University," Kelly announced on Instagram.
---
Teammates on Kelly: "A Leader with Work Ethic, Talent and Toughness."
Kelly received a full athletic scholarship to the Big-12 power, a breathtaking accomplishment for the Lake Stevens standout and her family – an opportunity that is well-deserved and hard-earned, according to her teammates and coaches. 
"Alyss is great not only because of all her talent – but also because of her work ethic and love of the game," senior co-captain Katelyn Eichert told J425 Wednesday evening.
Perhaps no one has competed harder in order to set themselves up for a college career at what is undoubtedly becoming a quickly-developing center of the collegiate volleyball world. 
"She's so good because she's put in the work: over the summer…you had to convince her to take a day off….she was always so hungry to get more reps," Katelyn added. 
---
---
As laudable as Kelly's accomplishment is – it's not a completely surprising development inside Lake's powerhouse volleyball program, which saw Hayli Tri, Peri Hoshock and Bella Christensen all earn athletic scholarships last year. 
Further, the aforementioned senior co-captain Katelyn Eichert will also continue her volleyball career on full athletic scholarship at Westminster College in Utah – and sophomore Laura Eichert has her pick of any number of high major athletic scholarship offers (more on the Eichert sisters soon). 
And as Kelly focuses on the postseason and hopes of bringing a title home to Lake Stevens, she monitors the progress of her future teammates in Manhattan.  
As the Vikings swept through conference play, building momentum for the post-season, the Cats picked up steam in a parallel fashion. 
Capitalizing on the momentum brought by the new coach and the new facility, the 'Cats swept through highly-ranked conference foe BYU last week and now find themselves on the bubble of the top 25 poll, with a legitimate shot at a tourney berth. 
"From day one, I told this group we can be great, and we could not just play with anyone, but we could beat anyone," Wildcat head coach Jason Mansfield said.
And with their decorated senior Libero graduating, Kelly will join a couple other prospects on the K-State roster with a chance to fight for immediate playing time on one of the brightest opportunities in the volleyball world. 
Judging by terms used by teammates to describe her (perseverance, tough, role model), it won't take long for Kelly to make an impact in the Big-12. 
"She's put in a lot of hard work to be where she is today. It really shows in her game," said sophomore Laura Eichert, who called Kelly her role model in comments left under the April commitment post.
For Kelly's part, she's in no hurry to graduate halfway through her senior year like Limar did, and she plans on playing some uber-competitive club volleyball in the Pacific Northwest before heading east to the plains of Kansas, where a bright future lies. 
Ever the leader, Kelly summed up her mindset on the transition from Lake Stevens to the Big-12 in comments posted alongside her commitment announcement.
In typical Libero fashion, she deflected away from herself, giving credit to those around her.
"God is good and has continued to guide me throughout this process. So has my family, coaches and teammates. I want to thank the coaching staff at K-state for believing in my capabilities as well. I cant wait to play in the Big 12 and be a part of the amazing culture that they're building! Go Cats!" - Alyss Kelly
The Wesco Champion Lake Stevens Vikings begin playoff action this Saturday in Lake Stevens at 2 pm. 
1
With playoff volleyball beginning Saturday at 2 pm in Lake Stevens – it's far too soon to close the door on the high school chapter of Kelly's athletic career.