Discover more from The Journal 425
411 for the 425 | Reader-supported local journalism with perspective, edge & authenticity. | Your home for Lake Stevens Vikings football. | Privacy: J425 will never share or sell your data.
Over 2,000 subscribers
Development Update: Arco Opens, Meatheads Brewpub Closes, Chipotle Nearing Completion
Action at Soper Hill as the Lake Stevens Landing and White Barn developments take shape and Whiskey Ridge is listed for sale — as is a sparkling new turnkey brew pub facility
As the City of Lake Stevens Planning and Community Development Department prepares to release its annual report at a special City Council meeting tonight, the fruits of the department's labors are bearing at the quickly-developing Soper Hill area of Lake Stevens/stroke/Marysville: home to the Lake Stevens Landing, White Barn and Whiskey Ridge commercial developments. And thanks to recently-created competition, local residents are saving as much as $20 per fuel fill up due in part to the new Lake Stevens Landing Arco AM/PM fuel and convenience store, which has pegged its regular unleaded fuel price around .75 cents per gallon less than legacy LS fuel stations. More on that below.
With the new Costco already invigorating the local bottom & top line, what other development action might be on the horizon in Washington's fastest growing small/medium sized city, you ask?
J425 has the 411.
Openings: Lake Stevens Landing Begins to Pop
In a boon to 425 drivers, the Arco AM/PM at Lake Stevens Landing opened last month, pegging unleaded gas prices to those posted at the new Costco store.
This move was similarly adopted by the Safeway fuel station.
As a result, last week Lake Stevens residents could choose from three locations offering unleaded at $3.20/gallon — that's more than .75 cents per gallon cheaper than Frontier Village area gas stations — a savings of $12-$20 per fill up.
That's real savings and a win for City planners and area consumers.
As the J425 has previously reported, Lake Stevens Landing is a ten acre development platted for eight lots on the Lake Stevens side of SR-9 with confirmed tenants including
Arco, Chipotle, Starbucks and a luxury senior living facility slated for a 2024 opening rank among the high-profile development's tenants.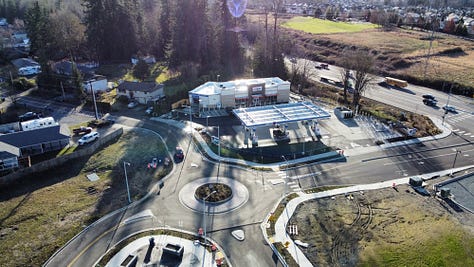 Commercial marketing collateral pushing Lake Stevens Landing lots reveal why this particular area of the 425 is so desirable for retailers and restauranteurs: the site boasts access to a population of nearly 60,000 residents within a three mile diameter circle centered on the development — with an average household income over $100,000.
The Chipotle location is the 425's first east of the I-5 corridor and the extremely popular fresh Mexican quick-serve is heavily anticipated, as is the Soper Hill-bound second 425 opening of Chick-Fil-A, the wildly-popular Georgia-based quick-serve chicken restaurant voted America's best fast food five years running.
Chick-Fil-A is known for its all white meat chicken sandwiches and nuggets, fresh-cut waffle fries, dedication to customer service and its unusual Monday - Saturday schedule.
Chick-Fil-A has yet to officially announce its new White Barn location, confirmed by a development source and confirmed by job postings reviewed by J425. See above for the White Barn layout.
The shiny new Arco also features a car wash and the signature AM/PM 24-hour convenience store.
Construction of the Chipotle and Starbucks sites adjacent to Arco appeared to be nearing completion at the time of the J425 visit last week, while the completion of the anchor Everett Clinic building in the White Barn development (pictured above) on the Marysville side of Soper Hill also appears close.
Closings - Meatheads Calls it Quits
While Lake Stevens has celebrated the spate of commercial openings in recent weeks — including the milestone completion of the South Lake Stevens Costco — one well-liked addition to the Lake Stevens restaurant ranks is no more.
Meatheads closed its doors in November and owners are seeking a new tenant for the brand new turnkey restaurant and brewery - the multi level seating arrangements of which are pictured above.
According to the NAI listing, the former Meatheads proprietor had a change of heart with regard to career paths.
The restaurant certainly didn't close for lack of business or affinity - the gleaming new facility was often full and maintained high grades on social review sites.
That said, the Meatheads facility certainly offers an attractive opportunity for Pacific Northwest brewers and restaurateurs: the built-to-purpose facility is complete with a ten tank state of the art brewing facility, cold storage, a 32-tap bar, a full commercial kitchen and two stories of seating + seasonal outdoor seating for a total of 132 covers, all located at a high visibility lot at the gateway to Lake Stevens on 204.
This should be quite a find for the right motivated culinary entrepreneur.
Satisfy your own curiosity by reviewing the lease brochure here. The property is available immediately.
Whiskey Ridge Development Up for Sale
In other news, the 31-acre Whiskey Ridge development just north of White Barn is listed for sale on multiple commercial real estate sites.
Located at the nexus of Lake Stevens, Marysville and Granite Falls, the 31.9 Acre development is assembled and zoned through Marysville for office, retail, and multifamily uses.
---