Discover more from The Journal 425
411 for the 425 | Reader-supported local journalism with perspective, edge & authenticity. | Your home for Lake Stevens Vikings football. | Privacy: J425 will never share or sell your data.
Over 2,000 subscribers
Game Story: Viking Mistakes Prove Costly in 49-30 Loss to West Linn - Recap, Stats and Photos
David Brown had three touchdowns & two interceptions and Kolton Matson had another four touchdown night as a third quarter rally couldn't overcome five turnovers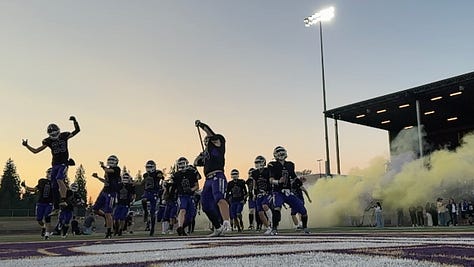 LAKE STEVENS — Coming in to last Friday night's home field test against West Linn, defending Oregon big school champions and a national power, Lake Stevens knew it would need to execute to near perfection and avoid turnovers.
It didn't work out that way. 
In losing by 49-30 Lake committed five turnovers and receivers had seven drops, a recipe for disaster.  West Linn took full advantage of Lake's mistakes, which together with 504 yards of big-play offense, blew out to a 35-10 halftime lead and held on as the Vikings rallied to almost make a game of it in the third quarter.
West Linn returned the opening kickoff to the Viking 48 and scored a touchdown two plays later as quarterback Brad Gilroy completed a 38-yard pass to Danny Wideman and Hudson Reink waltzed 10 yards untouched into the end zone. Gage Hurych added the PAT kick.  7-0 Lions, which would never trail.
A sack of Viking quarterback Kolton Matson thwarted Lake's first possession but the Vikings re-took possession when Keagan Howard, Gage Solomon and Mason Turner stopped the WL ball carrier for a one-yard gain on fourth-and-two, Lake taking possession on its own 42.
---
---
Lake struck quickly to tie the game.  Matson hit David Brown for 10 yards, Jayshon Limar rushed for 13, and Matson hit Brown again for a 36-yard touchdown, the latter dragging the defender into the end zone.  Lucas Mooring's PAT made it 7-7, halfway through the first quarter.
West Linn's Hunter Haines returned the kickoff for an apparent touchdown but a penalty resulted in the Lions starting from the 50.  After Gilroy hit Haines for 22 yards, Brown intercepted a Gilroy pass and Lake took over on its own 22.
Three straight Matson incompletions (at least one of them dropped) saw Mooring punt to the Viking 48.  Six plays later Hurych (one of the nation's top kickers) booted a 37-yard field goal.  10-7 Lions, 3:08 left in the first quarter.
Immediately following the kickoff Limar fumbled away the ball on the Viking 22.  A five yard penalty later, Cade Johnson rambled around right end untouched for a 27-yard TD.  17-7, with 2:44 left in the first.
The remainder of the half mostly went very badly for the Vikings, outscored by 18-3 in the second quarter.
It didn't begin that way, as Lake drove 57 yards to set up a 40-yard Mooring field goal to make it 17-10, at 10:17 of the second quarter.  Key plays in that foray included a 25-yard reverse by Steven Lee Jr. and a 13-yard Limar run.
Not much went right for the Vikings in the half's remaining 10 minutes.  A 40-yard Hurych field goal, an 80-yard Gilroy to Gus Donnerberg touchdown bomb, and a three-yard TD run by Johnson following a Matson interception on the Viking 19 (plus a two-point PAT run by Nick Sakys) amounted to a 35-10 Lion lead at half.
Would a Bellevue-type second half rally bail out the Vikings?  Not quite.
    Lake took the kickoff and three Matson completions totalling 34 yards pushed Lake as far as the WL 37, where Matson's pass was intercepted by Donnerberg.
    But on the very next play Brown intercepted Gilroy and returned 57 yards to the WL 16.  Limar gained 13 yards and Matson followed with a three-yard TD run.  35-17 with 7:53left in the third.
    Lake then converted its onside kickoff, Solomon recovering on the West Linn 46.
 A Bellevue-like miracle comeback seemed possible when Lake pushed downfield for a six-play touchdown with 5:32left in the third, narrowing the gap to 35-24.  Consecutive Matson completions of 13, 10, and six yards to Lee, Paul Varela, and Limar set up his one-yard scoring toss to Brown, who caught the ball amidst several WL defenders.
Lake's hopes were further boosted when it forced a WL punt but those hopes were dashed when Varela fumbled that punt away on the Viking 13, virtually handing the Lions a gift touchdown three plays later via Gilroy's five-yard keeper.  42-24, with 2:08 left in the third.
Lake's last hurrah came quickly thereafter on an 80-yard drive begun with a 15-yard pass interference, Lee's great catch of a Matson pass for 30 yards, Varela's 19-yard reception, and Brown's 25-yard TD catch up the middle. 42-30, as the third quarter came to an end.
West Linn virtually clinched the game when another Gilroy bomb, this one 71 yards to Wyatt Smiley, put the Lions on the Viking two.  Brown's TD-saving tackle on that play was to no avail when Johnson scored on the next play.  It was early in the fourth quarter but there was to be no more scoring.
Lake's final chance went awry when, following Lee's 71-yard kickoff return, Limar fumbled on the WL 13 with 8:20 left.
 The loss marred Brown's outstanding game -- six catches for 90 yards and three touchdowns plus two pass interceptions.  Matson's 21-43-2 performance netted 267 yards and the three TDs while Gilroy's 14-29-2 was good for 327 yards and a TD.
Both teams netted exactly 177 rushing yards each, Limar netting 97 yards in 15 carries.
Lake had 23 first downs to West Linn's 20 but Viking turnovers and Lion big plays proved to be the major difference.
 Leading tacklers for Lake included Turner 12, Howard and Solomon 10 each, Varela and Gabe Kylany eight apiece.
---
WEST LINN (OR) @LAKE STEVENS FOOTBALL STATS (9-22-23)
RUSH               C     G     L     NET     AVG    TD
Limar              15    99     2      97        6.5
Rai                    3    37     0      37      12.3
Lee                   1    25     0       25      25.0
Matson             6   31    13      18        3.0     1
LS                   25   192   15    177       7.1      1
WL                  35   187   10    177       5.1      5
PASS
Matson             21-43-2   49%   267 YDS   3 TD
WL                    14-29-2   48%   327 YDS   1 TD
RECEIVING            #   YDS   AVG   TD
Varela                     7    67       9.5
Brown                     6    90     15.0     3
Lee                          3    58     19.3
Howard                   2    38     19.0
Limar                       2     8       4.0
Jaxson Lewis         1      6       6.0
LS                          21   267     13.2    3
WL                         14   327     23.3    1
INTERCEPTIONS (2)
Brown       2 (One for 57-Yd. Return)
FIELD GOALS
Mooring     40 Good
WL              37 Good, 40 Good
FUMBLES LOST (3)
Limar               2
Varela              1
ONSIDE KICKOFF RECOVERY
Solomon
2-POINT CONVERSIONS
Matson Pass No Good
WL        Run Good
PUNTS
Mooring      36, 26 - 31.0 Avg.
LONG KICKOFF RETURN
Lee      71 Yds.
FIRST DOWNS
LS       23
WL      20
PENALTIES
LS      4 For 35 Yds.
WL     9 For 74 Yds.
SCORING         TD    PAT1   PAT2    FG    TOTAL
Brown                3                                        18
Matson              1                                           6
Mooring                     3/3                   1/1       6
LS                      4      3/3       0/1        1/1     30
WL                     6      5/5       1/1        2/2     49
WL        17 18  7  7 -- 49
LS           7  3 20  0 -- 30
TACKLES (For Loss or No Gain; Includes Shared Tackles)
Turner                 12 (1)
Howard               10 (2)
Solomon             10 (1)
Varela                   8 (1)
Kylany                  8
Lee                       7 (1)
Kaile                     7
Waxham               5 (1)
Jaxson Lewis      4 (1)
Brown                   3
Jesse Lewis         3
Mooring                2
Sedano                 2
Limar                    1
Total                    82 (8)
QB SACKS
LS            0
Vs. LS      2