Discover more from The Journal 425
411 for the 425 | Reader-supported local journalism with perspective, edge & authenticity. | Your home for Lake Stevens Vikings football. | Privacy: J425 will never share or sell your data.
Over 2,000 subscribers
Whiskey Ridge: Million Dollar New Homes... Selling Above Ask… in a Matter of Hours
This J425 Development Update focuses on the flurry of residential development adjacent to large commercial and retail projects at the nexus of Marysville and Lake Stevens.
WHISKEY RIDGE - MARYSVILLE, WA
Before we show you how many new homes realized themselves into existence since our last report 6 months ago…before we demonstrate a housing-mad populace frothing at the mouth for the chance to drop a hundred K in earnest money on million dollar matchbox homes….before all that?
Hop in. Drive with me for a second.
We're headed north on 87th at Sunnyside, an arterial running parallel to SR-9 North —maybe a football field or so inset to the west of the highway.
As we cross over Sunnyside, look to your right: 300 homes going in along a two-block long swath of new sidewalk and flat dirt lots, on the east side of 87th. Blink and we're past it.
Pictured above, looking west from 87th we see model home construction and the sun setting off frame to the right (north).
But quick — look left too, because there's a hundred new homes going in across the street over there as well.
In other words you're looking at 400+ new single family homes going up in just the first 1000 feet of 87th north of Sunnyside.
This is where we find the bulk of new residential development in greater Lake Stevens — and it's just one segment of three parallel growth initiatives on the ridge top.
Development is occurring in three general phases along the SR-9 ridgetop between Marysville and Lake Stevens.
On the Lake Stevens side of the Soper Hill Road and SR-9 intersection is the Lake Stevens Landing commercial park - home to AM/PM, Chipotle, Starbucks and eventually to anchor tenant Gencare, who is building a massive residential retirement home on the east side of the north/south highway, in Lake Stevens territory. 
Across SR-9 on the Marysville side lies the Everett Clinic-anchored Soper Hill Center. And to the north?
The largest active residential development in the state, according to one area investor.
---
Whiskey Ridge Residential: Near-Million Dollar Homes, Selling Above-Asking in a Matter of Hours
By local standards, the 20 or so new commercial and retail businesses popping up in the Soper Hill area a big deal.
And yet the combined effort of both Lake Stevens Landing and Soper Hill Center pales in comparison to the work occurring along 87th Avenue Northeast north of Sunnyside. Development at this scale is impressive.
High-end new homes are popping up at the center of large swaths of unimproved lots - with developers obviously adopting the Arrested Development strategy of completing a bespoke model home they can sell from before embarking on the foundational work for the rest of the community.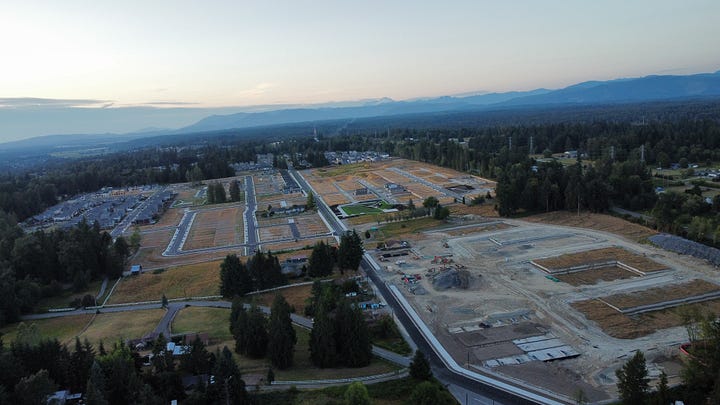 It makes for a weird landscape at this point, with 30-home footprints featuring one sparkling new property in the middle of a mess of pipes, honey buckets, unmanned earth moving devices and the occasional instance of gleaming real estate signage (townhomes "starting in the $600s" exclaimed one board, staked into a French Drain that S curved through an undeveloped acre-plus plot.
Townhomes? Where?
Also: $600k huh?
---
---
All We Need is a 30 Story Tower
The viewpoint provided by she J425 drone, hovering some 300 feet above terra forms provided a reminder that anyone with the governmental pull and the selfish means to build a 30-story residential tower
1
would benefit from a breathtaking 360-degree view featuring the Puget Sound, the San Juan Islands, the Olympic Peninsula, Camano Head, Whidbey Island, Baker to the north, Rainier to the south…and Lake Stevens framed by Mt. Pilchuck and the Cascade Range to the west. All were visible on this clear evening.
After taking in the natural splendor, I set Air J425 to circle above capturing the residential work in the area while grabbing hyper local sales data from online real estate markets.
Our research reveals a current inventory of 150+ homes for sale in the Whiskey Ridge area, ranging from $580K to $2M.
Focusing generally along 87th, where the bulk of the new new development is occurring, homes are selling for about three percent over asking and the average list time is about a month — all this as buyers are served — not in staged model versions of their new dream home — but in solo model homes proudly jutting up over adjacent empty lots. Inside the hastily assembled models, deals get pushed over the line with the quickness.
For the purposes of a specific granular market exploration, we zeroed in on the KB Homes development adjacent to the park we used for drone take off.
---
Sales Go Crazy in Magnolia Crest.
In Magnolia Crest, a KB Homes community at the 4800 block of 87th, yet-to-be-built homes are flying off the shelves in 24-hours or less (52 percent are gone within a week of posting) — take for instance this 4 bed 2.5 bath 2500 square foot home contracted for 2023 delivery.
Perched on a 5,000 square foot lot, this baby already sold for over three quarters of a mil ($773,820). And that's despite the fact that this development has yet to officially open to customers — that occurs August 10 (RSVP if you like) in the first of many waves of this sort of activity to take place as the Whiskey Ridge map continues to infill.
Imagine how our lil model home will look 18 months from now, jammed in among a thousand of similar new homes…populated with new neighbors so close that one guy can borrow a roll of toilet paper from dude next store with neither of 'em getting off the toilet.
This is why homes are moving so briskly now …with incentives matched on both sides of the sales equation.
Such is the current state of our national mass residential development psychosis.
Widgets and Earnest Payments
The transformation of hundred year old vegetation is well under way. Where established trees and and 1970s ramblers stood just five months ago, J425 returned yesterday, stood in the exact same spot, and launched the drone from a seemingly self-populated artificial park and playground area.
---
The ½ acre park seemed to be a creation of AI, perhaps ChatGPT version 7.0 does landscaping.
---
The park seemed to materialize into existence as a fully-realized high-end residential marketing piece – emerald green grass, thick and spongy like a fairway, edged by red bark swaths that smell of fresh cedar.
It wasn't here a few months ago. But none of this was.
The pristine pocket park is KB Homes billboard material …and yet the sorta-natural oasis is jarring by comparison to the partially-developed lots bordering it on two sides.
At that point, the Soper Hill Center commercial park anchored by Everett Clinic was still referred to by its development code name of White Barn….Everett Clinic was yet to open…AM/PM had just opened its doors on the Lake Stevens Landing side of SR-9, but Chipotle and Starbucks were weeks away from ribbon-cutting.  
Fast-forward to mid-July and development along Whiskey Ridge is occurring on a massive scale.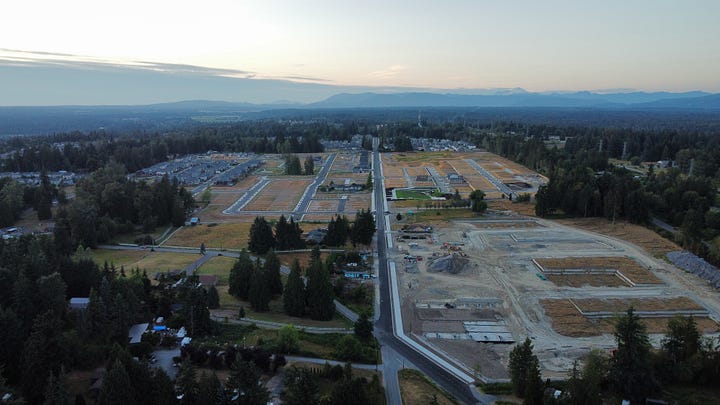 As J425 reported in February, the 11,000 residents slated to call this area home by 2025 can think of themselves as dual citizens – at least with respect to Viking vs Tommies ties.
Whiskey Ridge residents will live at a Marysville address, pay municipal taxes to the City of Marysville…but their kids will be Lake Stevens Vikings - just like the kids from this area before them.
That's because this is one area where the Lake Stevens School District's footprint expands past the City's boundaries, and the battle for municipal control of this ridge top occurred some 20 years ago, with Marysville's effort proving decisive. More to follow in upcoming installments.
Until then, we've got all the background info for you in our parallel residential development project, see below and consider subscribing if you support our work.
---
---
---
J425 Creative & Advertising -

See rate sheet

.
1
Luckily, 30 story single family residential homes are still a few years away.