Discover more from The Journal 425
411 for the 425 | Reader-supported local journalism with perspective, edge & authenticity. | Your home for Lake Stevens Vikings football. | Privacy: J425 will never share or sell your data.
Over 2,000 subscribers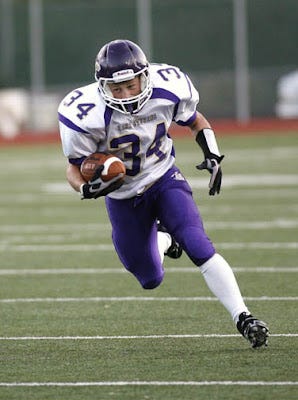 Junior RB Shae Giddens (18 for 102, TD) and the Vikes
check in at #2. Rob Carlson/Sports Media Northwest


1. Marysville-Pilchuck (1-0) Won at Jackson 27-22
It really seems like the names are superfluous at this point. Whether we've heard of the players on the roster or not, they're all good (remember, Austin Denton was an unsung backup until the man in front if him went down week one...he kept the starting spot - and the state rushing yardage title, for two years). The Tommies responded to the defection of three All Area two starters to Juanita with a typically strong Wesco performance.

Case in point: Tyler Thompson, 28 carries for 128 yards, Kyle Miller 17 for 139. The Tommies responded to a 14 point halftime deficit at Wesco South champs Jackson Timberwolves with a 21 unanswered and a gut punch go-ahead 35 yard Andre Pina touchdown run with only seconds remaining. Brendan Carson has the Tomahawks doing what they do best: grinding it out behind a big line and crushing opponent's will with an unrelenting running game.

2. Lake Stevens Vikings (1-0) Won at Cascade 21-13
There is simply no way to understate the fact that the Vikings were able to cobble together an impressive Wesco 4A road victory despite the absence of as many as eight projected starters on each side of the ball and star RB/LB Duke Dolphin. The Purple and Gold controlled the line of scrimmage and time of possession (18 to 5 first down advantage) and battered a full-strength Cascade squad to an extend not fully reflected in the final margin.

The Vikings have strengths across the board and an equal measure of experienced stars and up-and-coming talent. A win at Kamiak Friday should vault Lake Stevens into the state 4A top ten ahead of the September 17 home opener/stadium grand opening.


3. Edmonds-Woodway (1-0) Won at Monroe 49-0Senior RB Zack Berg rushed for 155 yards and three touchdowns on just nine first half carries as E-Dub jumped out to a 42-0 second quarter lead at hapless Monroe. There's an early season measuring-stick game set for Friday at Edmonds as M-P comes to town for a battle of bruising ground attacks.

4. Arlington (1-0) Won at Mariner 26-20
In a repetitive Wesco North theme, the Eagles opened on the road at a traditional Wesco 4A power and battled through adversity to claim a season opening victory. Arlington opened with TDs on its first two drives and a special teams TD to race out to a 20-0 lead before losing star QB Blake McPherson to a knee injury. Head Coach Greg Dailer leaned on senior RB Riley Cobb (18 carries for 177 yards, 2 TDs) and senior lineman Blake Peterson and held off a furious KeiVarae Russell (23 carries for 163 yards, TD) led Marauder comeback. When and if the all conference junior QB returns from his injury will likely determine the outcome of the Eagles' 2010 campaign.

5. Jackson (0-1) Lost to Marysville-Pilchuck 22-27
The Timberwolves showed heart and grit in jumping on the perennially strong Tommies early, but fell victim to a late TD and suffered the close home loss. No shame in losing to the Tommies, but the season will bare out just what kind of Jackson squad remains after the graduation of stalwarts like Andy Gay (Dartmouth) and Riley Carr (Air Force).

6. Kamiak (1-0) Won at Stanwood 20-13
The Knights notched a nice road victory behind three TD passes from junior QB Anthony Berg (8 for 18, 169 yards).

7. Stanwood (0-1) lost to Kamiak 13-20
Disappointing start for Dex Charles and the talented Spartan squad.

8. Mariner (0-1) lost to Arlington 20-26
KeiVarae Russell could be the the best running back to grace Wesco gridirons since former Gatorade State Player of the Year Tony Heard.

9. Cascade (0-1) lost to Lake Stevens 13-20
New coach brings some fire, but if the Bruins can't win at home against a Lake Stevens team missing a cumulative 14 starters, could be a long season.

10. Snohomish (0-1) lost at Inglemoor 0-48
Simply no way to sugarcoat humiliating ass kicking at Inglemoor. At least it was non-league.

11. Monroe (0-1) lost to Edmonds-Woodway 0-49
See above, but substitute "at home". Bearcats' 2010 slogan: Project 2020.