Discover more from The Journal 425
411 for the 425 | Reader-supported local journalism with perspective, edge & authenticity. | Your home for Lake Stevens Vikings football. | Privacy: J425 will never share or sell your data.
Over 2,000 subscribers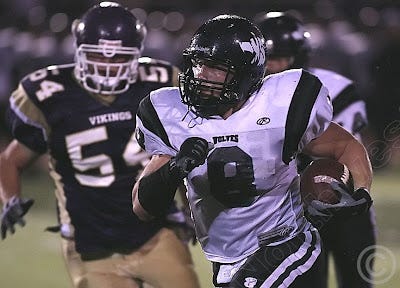 By name, Riley Carr may sound like a wicked hot chick, but he plays football like a rabid junkyard dog. His Jackson Timber Wolves look to stay *hot* at Kamiak this week. Rob Carlson/Sportsmedianorthwest.com.

After a 6-3 week five, we're ready to roll once again. Place your bets, we've got guaranteed winners in both 4A and 3A competition.
Top tilts this weekend include Snohomish at Cascade in the Battle of the Wing T, Edmonds-Woodway at Mariner, in a game that could clear the Marauders' path to a Wesco South title.
Be sure to check in Friday afternoon for our five star lead-pipe-lock pick and preview of undefeated Marysville-Pilchuck at the 4-1 Lake Stevens Vikings. For now, please enjoy the following Western Conference action:
Week Six Predictions (Current 2008 Record: 40-11)

Jackson (4-1, 1-0) @ Kamiak (1-4, 1-2)
I don't know if you heard, but I just came back from the future, and in 2009, Jackson QB Andy Gay is one of the ten best QB prospects in the nation. Right now, he only takes a third of the T-Wolves offensive snaps, but that's because they have the two-headed monster of RB Taylor Cox and FB Riley Carr (I dated a girl named Riley once!) running roughshod over opponents out of the direct-snap Wildcat offense. Jackson looked unstoppable last week at Lake Stevens, and the beat goes on against the lifeless Knights. Jackson, 48-17.

In a completely unrelated note, that Riley thing reminds me that I'm gonna have to call Bill Simmons and let him know that we've got three members of the Lindsey Hunter All Stars playing on the same high school football team (You know, male athletes whose names make them sound like super hot, b*tchy girls! For example: Brooke and Robin Lopez, Ashlie Lelie, Coco Crisp, Keary Colbert, Tatum Bell, etc).

Well, now we can add Jackson's Taylor Cox, Riley Carr and WR Jordan Kellington. Those dudes can play ball, but they sure sound like Lauren's new friends on The Hills! Come on, tell me you wouldn't be pumped if your buddy set you up on a blind date with a girl named Taylor Cox!!! And no, Andy Gay is not a hot girl name, so don't ask.
Monroe (2-3, 0-3) @ Arlington (3-2, 0-2)Monroe QB Brian Sonneveldt sustained a separated shoulder in the loss to Stanwood and is doubtful. Eagles QB Jake Parduhn needs to pick his mates up off the turf and stop the season from spinning out of control. I'm guessing he will in front of a home crowd thirsty for redemption. Eagles soar, 37-13.
Snohomish (3-2, 2-1) @ Cascade (3-2, 2-0)
A throwback battle for the three yards-and-a-cloud-of-black-FieldTurf-rubber heads. Cascade QB-turned-FB Aaron Frye rushed for 271 yards last week. Have the Bruins unearthed a game changing weapon? I'm setting the over/under on "passes completed" at three and sticking with the home team in this non-league tilt. Frye leads the Bruins past the Panthers 21-16.

Oak Harbor (2-3, 1-1) @ Stanwood (1-3, 1-1)Stanwood went for 35 points at Monroe on the power of RB Brad Gee's three TD debut. Gee, a transfer from Archbishop, sat the first four games out due to some academic issues. Gee is solid, but it won't be enough as Jay Turner's Wildcats begin to make their yearly run. And this year the emphasis is truly on "run". Oak Harbor, 24-17.
Mountlake Terrace (2-3, 0-2) @ Shorewood (0-5, 0-3)
aslkjdnfao;infaoikjnbsailgun Oops! Fell asleep on the keyboard. Casey Ellersick powers M-T to a thrilling road victory, 13-3.
Edmonds-Woodway (3-2, 1-1) @ Mariner (4-1, 3-0)
We keep saying that E-W is about to turn it on, and then they deliver another clunker. The 12-0 win over Kamiak should only count for half. Mariner, on the other hand, is the hottest team in Wesco, outscoring opponents 148-20 since losing in week one. RB/S Adrien Black is fully healthy, Mariner has the home field advantage and the momentum...Mariner has the win. Marauders, 35-17.

Ferndale (5-0, 2-0) @ Everett (4-1, 0-0)
If Everett can win this one, they've really got something brewin'. If they lose, no big deal - it's a non-league game. Ferndale took down Shorecrest 62-0 earlier this year, but I know Shorecrest, and Everett is no Shorecrest. This one will be close, but it's hard to keep a Locker down. Casey and the boys from Ferndale pull out a squeaker, 28-27.

Meadowdale (2-1, 0-0) @ Shorecrest (2-3, 0-0)
RB Naji Moore-Taylor has rushed for over 400 yards and 7 TD's in the two weeks since his return. He'll only get 100 yards or so this week - the game will be over by halftime. Meadowdale, 35-3.
Glacier Peak (1-4, 0-1) @ Lynnwood (0-5, 0-1)
Glacier Peak continues to grow. Last week they played Meadowdale tight, and put up 21 points on a stingy defense. The Grizzlies will pick up their second league victory at Lynnwood and carry some momentum into the second half of the season. Grizzlies, 29-3.