Discover more from The Journal 425
411 for the 425 | Reader-supported local journalism with perspective, edge & authenticity. | Your home for Lake Stevens Vikings football. | Privacy: J425 will never share or sell your data.
Over 2,000 subscribers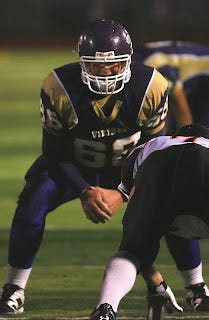 Gunnar Eklund (pictured last year vs
Monroe) and the Vikings host the
first place Bearcats Friday.
A Rob Carlson photo.
Yeah, you read that correctly. With all the emotion and lead in to last week's battle for Wesco supremacy -and after the Vikings' inspired but sloppy losing effort to Arlington, it's only natural to look ahead to a home game with Monroe and circle it as an easy victory, a get-well day for Viking morale. To be honest, I overheard more than one supporter and player remarking on the fact that things would be easier next week - after all, its only Monroe.

Well, I've got news for you. The Viking season hinges on defeating Monroe, and if the season ended today, Monroe would finish in a tie for first place, and the Vikings would have to play at Jackson in a one-game playoff for the fifth and final Wesco playoff berth.

Or, to put it another way, if the Vikings lose to Monroe, Lake will find itself two games out of first place with a tie breaking-loss to both of the teams it trails (Arlington and Monroe). So this is serious, folks. If the Vikings lose to Monroe, then its going to be an all out scramble with Marysville-Pilchuck and possibly Stanwood just to finish third  in division -- and third place only gets you a one game playoff to earn a district spot.

For all intents and purposes, the Vikings need to finish in the top two in Wesco North in order to make the playoffs. Here are the current standings:

1t Arlington 2-0
1t Monroe 2-0
3t Lake Stevens 1-1
3t Marysville-Pilchuck 1-1
5t Stanwood 0-2
5t Snohomish 0-2

Now for the good news: the Vikings control their own destiny. If Lake wins out, Lake gets - - at worst - - second place in league and an automatic district berth. And who knows, Arlington could lose a couple games on the way in, there's no guarantees.

I know it's a bit of a shock to the system for many of you to learn that the situation is so dire with respect to this week's game - but perhaps this is just what the Vikes need. Maybe heads are just a little bit too big if the common opinion is that one can just write a big "W" next to Monroe. Hopefully, the fact that Monroe is undefeated in league and standing in the way of a Lake playoff berth will be enough to fire up Tom Tri's squad and generate a great week of practice.

We'll be back later - I'm working on the Vikes' midseason report card, in which we'll take a look at which how the Vikes have stacked up in every aspect of the game, and what they need to work on to finish the season strong. We're also working on a midseason All Wesco team as well...that should generate some real hate mail lol. Talk to y'all later.