Discover more from The Journal 425
411 for the 425 | Reader-supported local journalism with perspective, edge & authenticity. | Your home for Lake Stevens Vikings football. | Privacy: J425 will never share or sell your data.
Over 2,000 subscribers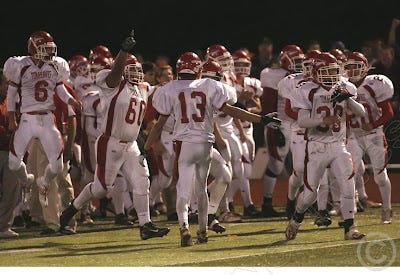 For the second week in a row, Marysville-Pilchuck claims the top spot. Rob Carlson/Sportsmedianorthwest.com

M-P and Jackson are 1 and 1A this week after a pair of impressive victories...Stanwood and Shorecrest are both back from the dead and legitimate playoff contenders...Edmonds-Woodway and Lake Stevens are looking to prove that they have what it takes to make a run in the playoffs...Meadowdale's inconsistent play has Wesco watchers shaking their collective heads in befuddlement...The 2006 State Title is a distant memory for Oak Harbor, whose stock has plummeted under new coach Jay Turner...

Week Seven Wesco Power Rankings

1. (2) Marysville-Pilchuck (6-0, 4-0) won @ Lake Stevens 28-0
The Tommies won big on the road behind Junior RB Austin Denton, who rushed for 176 yards on 27 carries. The undefeated Tommies have out rushed opponents 2,016 to 404...This team isn't all about Wing T, they also have a crushing defense that forces a lot of three-and-outs, playing right into the ball-control offensive philosophy and shortening the game considerably. It may not be a complex formula, but so far this season, it certainly has been a successful formula. M-P plays an all-but-meaningless non-conference game at Kamiak this week.
2. (3) Jackson (4-1, 1-0) won @ Kamiak 35-17 The T-Wolves are the hottest team in Wesco behind a spectacularly diversified offensive attack. RBs Taylor Cox and Riley Carr get all the press (and a fair amount of the snaps at QB), but Junior QB Andy Gay has been very effective, completing 66 percent of his passes and sporting a 7-1 TD/INT ration. With a win against Mariner this week, I'd expect Jackson to start showing up on the top ten polls.
3. (7) Edmonds-Woodway (4-2, 2-1) won vs. Kamiak 12-0
The Warriors are rising on the backs of their defense, with consecutive shutouts of Mariner and Kamiak. A win at Mountlake Terrace this week would move the Warriors one step closer to punching their playoff ticket.

4. (4) Lake Stevens (4-2, 2-1) lost vs. Marysville-Pilchuck 0-28
The Vikings were exposed at Homecoming by division leader M-P last Friday. The Tommies dominated in the trenches - delivering unyielding pressure on QB Nick Baker and forcing four turnovers. On offense, M-P displayed the recipe for beating the Vikes - run, run, run and control the clock. A spread offense can't beat you if they're not on the field...That said, the Vikes are in the driver's seat for the second Wesco North playoff bid. The schedule looks good, as the Lake can rest ailing star Bo Dickinson this week at 0-4 Monroe and have him ready for the stretch run: at home for Oak Harbor, Halloween at Snohomish....Baker set the all time Lake Stevens career passing yardage mark in Friday's loss.
5. (2) Mariner (4-2, 3-1) lost @ Edmonds-Woodway 0-17 Mariner lost a close road game to E-W, and there's no shame in that. The game was pretty even until E-W scored on an 86-yard halfback pass in the 4th quarter to move ahead 14-0. Aside from that one play, Mariner outgained E-W and won the time of possesion battle, but was unable to manufacture any points against the hard hitting Warrior D. In a cruel bit of scheduling, Mariner plays its last four games on the road...this week at division leader Jackson.
6. (9) Snohomish (4-2, 2-1) won @ Cascade 42-26
The Panthers are hot, winners of three straight. If they can handle fourth place Stanwood this Friday, Snohomish would move to 3-1 in league and all but lock up a playoff spot.

6. (5) Everett (4-2, 1-0) lost vs. Ferndale 7-41
Casey Locker and second ranked Ferndale raced past Everett in the non-league contest, but the Gulls still look like a playoff team. This week at home versus upstart Glacier Peak could be a defining game for both squads.

7. (8) Cascade (3-3, 2-1) lost vs. Snohomish 26-42How do you rush for 490 yards and sill lose by over two touchdowns? Try fumbling the ball EIGHT TIMES! QB-turned-FB Aaron Frye rushed for 280 yards on 30 carries, his second straight week over 250 yards since switching positions. The playoff picture is still clear, though: the Bruins should move to 3-1 in league this week at hapless Shorewood.

9. (6) Meadowdale (3-2, 1-1) lost vs. Shorecrest, 16-21
You could almost understand the letdown against Moutlake Terrace - it was, after all, a non-league game. But the home loss to Shorecrest is simply unexplainable. What is up with this team? RB Naji-Moore Taylor was held to 37 yards and fumbled twice, one week after blistering Glacier Peak for 267 yards and five TD's. What gives? This week's contest at NW League contender Mt. Vernon could be a preview of the 3A Wesco/NW league play-in game.

10. (17) Stanwood (2-3, 2-2) won vs. Oak Harbor 22-10Stanwood appears to be a new team after retooling their offense with two additions: Senior transfer RB Brad Gee, formerly of Archbishop Murphy, and Sophomore back Devon Woolridge, who was toiling away deep on the depth chart before breaking through for 143 yards and two touchdowns against Oak Harbor. The resurgent Spartans would move into a playoff slot with a win at Snohomish this Friday.
11. (10) Arlington (4-2, 1-2) won vs. Monroe 21-14If the Eagles have playoff aspirations, than they must win at Oak Harbor this Friday...they looked less-than-impressive at home last week against 2-6 Monroe, a team playing without it's QB.
12. (16) Shorecrest (3-3, 1-0) won @ Meadowdale 16-12 RB Michael Harris and the Scots can move above .500 and to 2-0 in league with a victory over winless Lynnwood Friday. Who would've thought that Shorecrest would be in the 3A catbird's seat at this point in the season?
13. (12) Glacier Peak (2-4, 1-1) won vs. Lynnwood 47-6
QB Zach Richter is growing into quite a threat in the Glacier Peak spread offense...he passed for three TD's in the win over Lynnwood. The Grizzlies can start a playoff run with a win at Everett this Friday.

14. (14) Mountlake Terrace (3-3, 1-2) won @ Shorewood 14-0
Terrace's three wins: Lynnwood, Shorewood...and Meadowdale. This is an interesting, if inconsistent team. Last hopes for the postseason rest on Friday's home game versus Edmonds-Woodway.

15. (11) Oak Harbor (2-4, 1-2) lost @ Stanwood 10-22Dave Ward must be rolling over in his grave. What? He's not dead? You mean to say that he left Oak Harbor and now coaches second ranked Archbishop Murphy? My bad. Current coach Jay Turner must be getting desperate...word is that Oak Harbor switched from a run-oriented attack to a four-wide set versus Stanwood. It didn't work. If Oak Harbor can't beat Arlington at home this Friday, the season is over.

16. (14) Monroe (2-4, 0-4) lost @ Arlington 14-21
With All-League Safety/RB Austin Bray under center for the first time in his career
(spelling the injured Brian Soneveldt). the Bearcats put up a fight at Arlington, but it wasn't enough. While the once promising season has petered out, Monroe won't have to look for motivation this week, as chief rival Lake Stevens comes calling on Homecoming.

17. (16) Kamiak (1-5, 1-3) lost vs. Jackson 14-35
Expectations were high, but it's been a disappointing season for Marcel Seely and company.

18. (18) Shorewood (0-6, 0-4) lost vs. Mountlake Terrace 0-14Shorewood has been outscored by opponents 177-32 on the year.
19. (19) Lynnwood (0-6, 0-2) lost @ Glacier Peak 6-47
WSU recruit DE/RB Geoff Meinken leads the team in rushing yards, touchdowns, interceptions, sacks, tackles and is now starting at QB as well. The 6'3 260 Meinken would be a player of the year candidate on a better team.