Discover more from The Journal 425
411 for the 425 | Reader-supported local journalism with perspective, edge & authenticity. | Your home for Lake Stevens Vikings football. | Privacy: J425 will never share or sell your data.
Over 2,000 subscribers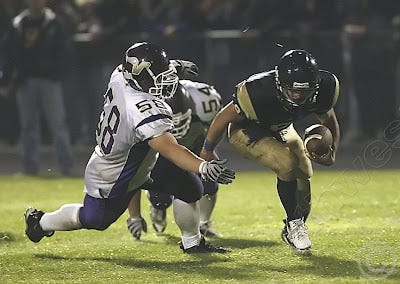 Will it be more of the same for Arlington's Jake Parduhn, or will his line give him some time to work his dual-threat magic against Marysville-Pilchuck? Rob Carlson/Sportsmedianorthwest.com.
After a 7-2 week four, we're ready to take a hack at another competitive week of Western Conference football. The 3A teams are generally opening their conference schedules this week, while many 4A teams are playing their third conference game.
Top tilts this weekend include 3-1 Jackson, our number four-ranked squad, visiting our top ranked Vikings. Also, the 3-1 Arlington Eagles looking to rebound at undefeated Marysville-Pilchuck.

Both the Tommies and the Vikings can't help but look ahead to a week from Friday, when M-P is an invited guest to the Lake Stevens homecoming. Should both squads escape week five with victories, this will be one of the top games in the state.

As always, we'll have the Lake Stevens -Jackson game breakdown and prediction up Friday in a separate post.-Here we go...Week Five Predictions (Current 2008 Record: 30-8)-Arlington (3-1, 0-1) @ Marysville-Pilchuck (4-0, 2-0)Will Eagle QB Jake Parduhn be shell-shocked after getting sacked 11 times and throwing two picks during his Homecoming game? Or will he rebound with another Tui-like performance? Did M-P watch the game tapes and practice their blitz packages all week? I'm guessing yes. Unless Arlington got some new linemen over the weekend, I see a big Friday for RB Austin Denton and company. The Tommies head to Lake Stevens undefeated, 28-17.

Snohomish (2-2, 1-1) @ Oak Harbor (2-2, 1-0)Oak Harbor piled up over 400 yards on the ground last week in a home win over Mt. Vernon. Snohomish rebounded with a home win over Monroe. Neither team can pass a lick, and the two traditional powers are fighting for their seasons. In what seems to be an even game on paper, the Oak Harbor homefield advantage is enough to sway me towards a Wildcat win. Oak Harbor moves to 2-0 in conference, 20-17.
Stanwood (0-3, 0-1) @ Monroe (2-2, 0-2)Monroe QB Brian Sonneveldt would be getting some headlines if he didn't play in the same conference as Nick Baker and Parduhn – Sonneveldt has thrown 10 TD's against only one INT. He should pile up some impressive numbers against a struggling Spartan squad. The Bearcats win going away, 38-7.
Shorewood (0-4, 0-2) @ Mariner (3-1, 2-0)Mariner hasn't allowed a point in two weeks, and Shorewood has scored six or less in three out of four games. And Mariner isn't all about defense – the Marauders have rung up 49 points twice already. This week they score 50, and RB Adrien Black rests in the second half. Mariner, 52-0.
-Kamiak (1-3, 1-1) @ Edmonds-Woodway (2-2, 0-1)E-W has too much talent to keep losing these close games. It's time for the Warrior coaching staff to look in the mirror and realize they've blow two games with terrible strategy. Against a weak Kamiak squad, the Warriors would be wise to pound away with Gatorade State Player of the Year Tony Heard until Kamiak proves they can stop him. Then, throw play action to WR Din Kuses. Easy, isn't it? E-W, 35-10.
Cascade (2-2, 1-1) @ Mountlake Terrace (2-2, 0-1)This is a difficult one, because these teams are hard to figure. Cascade was thought to be strong, but they were pummeled at Everett last week and were shutout at home by Mariner (nothing to be ashamed of there). Mountlake Terrace beats Meadowdale one week, and then loses by 28 at home to 3A Glacier Peak. All things considered, I think Cascade is the stronger team, and they begin to assert themselves by moving to 2-1 in league behind a strong performance from QB Aaron Frye. The Bruins cruise, 24-12.
-Lynnwood (0-4, 0-0) @ Everett (3-1, 0-0)I don't have much to say about this one other than Everett has won eight of nine, and no one alive has ever seen a Lynnwood victory. The Seagulls fly high at home, 27-6.
Meadowdale (2-1, 0-0) @ Glacier Peak (1-3, 0-0) Damn. I really wanted to pick Glacier Peak to win in their first league game. If only they weren't playing ninth-ranked Meadowdale, who is looking strong again after the return of RB Naji Moore-Taylor. The Grizzlies will win some games, but not this week. Then again, I said that last week too. Even so, Meadowdale takes it on the road, 30-21.
Sedro Woolley (1-3, 1-2) @ Shorecrest (2-2, 0-0)Wow. Shorecrest is going to be an above .500 team after this week. Can that be right? The Scots keep the momentum after smacking around Snohomish and Shorewood on the back of strong performances from Wesco 3A rushing leader Michael Harris. Conference schedule starts next week, so the fun might be over. Enjoy it while you can, Scots fans, 31-17.