Discover more from The Journal 425
411 for the 425 | Reader-supported local journalism with perspective, edge & authenticity. | Your home for Lake Stevens Vikings football. | Privacy: J425 will never share or sell your data.
Over 2,000 subscribers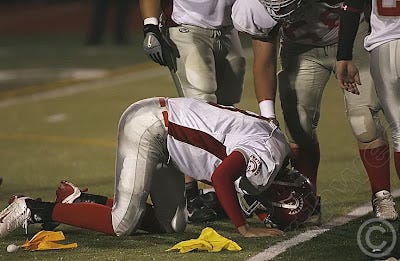 With Marysville-Pilchuck coming to town, it will be another painful week for QB Mike McCune and Stanwood. Rob Carlson/Sportsmedianorthwest.com.

Alright, so we dropped a little from our 10-1 Week Two performance, going a respectable 6-3 during Week Three. We called Mariner over Cascade and Everett over Oak Harbor, but we missed on Shorecrest stomping Snohomish and M-T taking out Meadowdale - as did everyone else, I'm sure. Who woulda thought the state's third ranked team would lose at home to Terrace?

With that said, we move into the second week of conference play for many of our teams, including the top ranked Vikes, who head to third-ranked Arlington for the Eagles' homecoming. We'll have a detailed breakdown and pick for that game tomorrow - everything else, plus a bonus pick, is here for your perusal today. As always, feel free to link or comment. We love the feedback!

Here we go...

Week Four Predictions (Current 2008 Record: 23-6)

Marysville-Pilchuck (3-0, 1-0) @ Stanwood (0-2, 0-1)
If Stanwood has one strength, its line play. C/MLB Tom Enquist is a returning All-Wesco performer, and 6-3, 220 lb Junior DE Zach Johnson is a real threat at the point of attack. That being said, the Spartans are clueless on offense. They pass so poorly that they run 90 percent of the time on third and middle/third and long. M-P will look to assert dominance after a near-loss at 3A Glacier Peak. The Tommies take it convincingly, 23-6.

Mount Vernon (2-1, 2-0) @ Oak Harbor (1-2, 1-0) non-conference
If Jay Turner's Wildcats are ever going to get on track this season, this is the time. Granted, we don't know much about Mt. Vernon, but we do know that Oak Harbor has only lost once at home over the last three years. Considering the fact that the Wildcats are 1-0 in conference with a nice win at Monroe, this season is salvageable. The Wildcat run begins here, 28-14.

Monroe (2-1, 0-1) @ Snohomish (1-2, 0-1)
This is a surprisingly tough game to call. Monroe is coming off a record book offensive performance, albeit against a week non-conference opponent. Snohomish lost to a team that got beat by sixty the week prior. Both teams are 0-1 in conference, with a season teetering on the brink. QB Brian Sonneveldt may have had an ESPN-worthy week against Sedro-Woolley, but it's gonna be a different story at Veterans Memorial Stadium. The Panthers grind it out on the ground, 20-17.

Mariner (2-1, 2-0) @ Lynnwood (0-3, 0-1) non-conference
After putting up 83 points in its first two contests, it was Mariner's defense's turn to shine, as the Marauders shut out previously unbeaten Cascade on the road last week. The week one loss to Lake Stevens has helped Mariner stay under the radar, but after a big win at Lynnwood this week, people will start to notice Adrien Black's Marauders. Mariner, 30-3.

Edmonds-Woodway (2-1, 0-0) @ Jackson (2-1, 1-0)
Aside from Lake Stevens at Arlington, this is the game of the week. E-W has had some problems - poor coaching on the road at Meadowdale, and whispers of disciplinary issues inside the clubhouse leading to the benching of stud back Tony Heard. Jackson played well on the road in an OT loss at Arlington, and the Gay-Cox tandem will likely rebound in front of the home crowd, but I think Heard and WR Din Kuses sense the urgency surrounding the Warrior program. E-W wins a tight one, 28-21.

Cascade (2-1, 0-1) @ Everett (2-1, 0-0) non-conference
Another tough one to call. Everett has won six of its last seven, with the only loss at E-W. The Bruins are a highly thought-of team trying to rebound off a home shut out. Two things to consider - when in doubt, take 4A over 3A. But also, when in doubt, take home over away. This one would be a "pick" on the Vegas line. I'll take the Seagulls by one, 21-20.

Meadowdale (1-1, 0-0) @ Kamiak (1-2, 1-0) non-conference
Meadowdale expects All League RB Naji Moore-Taylor back this week, just in time to avenge an embarrassing home loss to an inferior team. Kamiak looked better in Seattle last week, but they were playing Shorewood. I'm picking a ton of road teams this week, and that could come back to haunt me. However, I like Meadowdale on the road, 35-21.

Glacier Peak (0-3, 0-0) @ Mountlake Terrace (2-1, 0-1)
Those of us who've seen Glacier Peak think that there is something building in Snohomish. The team of juniors and sophomores gained confidence against Wesco powerhouse Marysville-Pilchuck last week, but were done in by silly mistakes. The time is ripe for a victory, especially against a Terrace team coming off a big win. But when you break it down, this is a road game for the Grizzlies against a 2-1 4A team. They'll come close - but this isn't the week. Terrace wins, 24-21.

Shorecrest (1-2, 0-0) @ Shorewood (0-3, 0-2)
From the "you would have to pay me a lot of money to watch this game" department, we bring you Shorecrest at Shorewood - the battle for the Shore! Again, I'm taking the 3A team on the road over a 4A team. The Scots keep the momentum after smacking around Snohomish on the back of another workman-like performance from Wesco 3A rushing leader Michael Harris. Shorecrest takes it 17-6.

Stanford at Washington, Saturday, 7 p.m.
It's get right or get gone time for Ty Willingham. Against his former team - with two weeks to prepare - the Huskies will finally reach the win column behind a 2008 season breakout performance from Montlake Jake. The Huskies keep Ty around for another week, 35-29.