Discover more from The Journal 425
411 for the 425 | Reader-supported local journalism with perspective, edge & authenticity. | Your home for Lake Stevens Vikings football. | Privacy: J425 will never share or sell your data.
Over 2,000 subscribers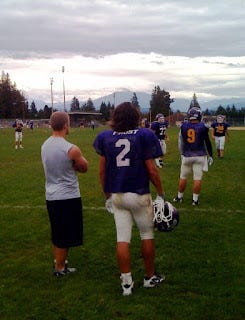 New arrival Vasya Bogdanoff (left) received instruction from RB Brennan Frost as the Vikings prepared for a trip to Stanwood Friday.

I was able to catch the last 45 minutes or so of practice today, a segment that featured the first team offense working at a quick pace against the rag team defense.
The pace was noticeably quicker today - and QB Bryson Daggett, the only Viking to take snaps while I watched - was sharp, connecting on three straight passes to WR Brandon Preslar at one point and in general operating at a brisk pace and a high level.
At the end of practice, the Vikes worked on their version of the power running game, showcasing a two tight end/three back alignment that features RB Brennan Frost as the deep back, OG Alex Moon and RB JT Cox as the upbacks, and Chameron Lackey pinched in on the left at tight end.
There were also several new players in attendance, as the start of school has attracted some late arrivals. I counted four new players not in pads yet along the sideline.
Most notable of the new Vikings is senior RB Vasya Bogdanoff, a soccer player who played football through ninth grade. Apparently, Bogdanoff led the ninth grade Vikings with 17 touchdowns as a running back.
Bogdanoff was soaking up instruction from Cox and Frost throughout practice. He told me he decided to join the team after watching last Friday's game, and said that he'd previously not turned out due to commitment to soccer, his best sport. Bogdanoff said Coach Tom Tri told him he would be eligible to play the final six games of the season.
At the end of practice, Tri gathered the players on a knee and congratulated them on the pace and execution exhibited today. Tri said that he saw "a QB making good reads", "wide receivers getting off the ball and making moves in space" and a defense that was "flying around and having fun".
Finally, Tri reminded the Vikings that Stanwood, while 0-2, is a very dangerous team that has lost to two top ten schools in Jackson and Meadowdale. Tri reminded the Vikes that their main focus on defense will be to bottle up Stanwood's star running back, the bruising 215 pound Brad Gee.
We'll have more on Gee and the Spartans tomorrow, as we preview what the Vikings can expect in Sparta. All for now.