Discover more from The Journal 425
411 for the 425 | Reader-supported local journalism with perspective, edge & authenticity. | Your home for Lake Stevens Vikings football. | Privacy: J425 will never share or sell your data.
Over 2,000 subscribers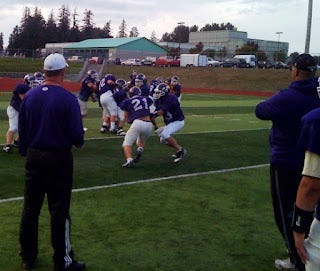 Senior RB Vasya Bogdanoff takes the handoff from QB Bryson Daggett as coaches look on Wednesday at practice. Kevin Hulten/Purple and Gold Pigskin

Halfway though week five, and I stopped by practice - - caught the last 90 minutes or so. A few observations:
- Sophomore DB/RB Connor Crowley (Chase's little brother) was in uniform and participating for the first time this year. Crowley was getting run with the punt coverage unit.
- Senior RB Vasya Bogdanoff was getting plenty of run with the number one offense and looked good doing it. The coaching staff was cramming Bogdanoff on the intricacies of the offense - - when he wasn't in he was surrounded by coaches explaining the nuances of the offense and the blocking/route assignments of his position. Bogdanoff was also booming some 45 yard punts after practice.
- Sophomore WR Christian Gasca looks to see playing time Friday as part of the Vikes' empty backfield set.
- Coach Tri said the Vikes will give the Timberwolves multiple looks on offense, including but not limited to Wildcat with Chameron Lackey at QB, five WR sets with Bryson Daggett at the helm, and several running sets as well.
- Sophomore LB Korey Young was sidelined with the flu.
- During defesive practice, Daggett ran the scout team offense wearing Andy Gay's number seven, while Bogdanoff mimicked Riley Carr wearing the number eight.
On a personal note, I am looking to buy two tickets to the Wicked musical Saturday night at the Paramount in Seattle. If any of you know anyone with tickets, please let me know, I'm willing to pay! Leave a comment or email me at kevin.hulten@gmail.com if you can help.
Please scroll down and check out our photo diaries from the Arlington game, featuring the excellent work of Rob Carlson. Also, don't forget to vote!