Discover more from The Journal 425
411 for the 425 | Reader-supported local journalism with perspective, edge & authenticity. | Your home for Lake Stevens Vikings football. | Privacy: J425 will never share or sell your data.
Over 2,000 subscribers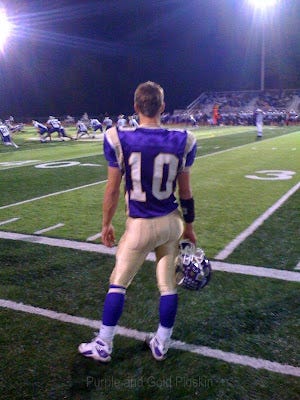 We've all grow used to it by now - the patented Viking Slow Start. Tonight, it was apparent more than ever. The first half was a cess pool of turnover, penalties, blown assignments and flat play. Then, the second half Vikings showed up, led by signature efforts from Nick Baker and Trevor Riecks.

After trailing 6-0 at half, the Vikings forced a three-and-out, and Baker engineered a lengthy drive, mostly with his feet. He also found WR Trevor Riecks twice to keep the drive alive, before hitting Riecks coming across the middle, Riecks headed for the sideline, broke a tackle or two and plowed into the endzone from 13 yards out to put the Vikes on the scoreboad, leading to a 21 point third quarter, and eventually, the victory.

We'll have a more detailed breakdown in a bit, but here's a few numbers for you to chew on: First Half - Oak Harbor 123, LS 77; Second Half: Oak Harbor 72 LS 273

QB Nick Baker: 19/29 passing for 188 yards 3 TD, 2 INT, 7 rushes for 85 yards
RB Chameron Lackey: 7 carries for 51 yards
WR Trevor Riecks: 7 rec 109 yards 2 TD, also one INT on defense
Eric Huswick, Chase Crowley and Zach Teuber: 2 sacks each

Notes: After bobbling an INT attempt that then fell into the Wildcat receiver's hand for a 60 yard gain in the first half, S Brandon Preslar's second half interception of a James Jordan pass effectively sealed the victory...Sophomore DE Aaron Britton saw extensive time, and recorded a sack...LB Blake LeHuquet punted effectively after Duke Dolphin left with an injured ankle in the first half...Bo Dickinson was suited up, and warmed up after the Dolphin injury but did not see action...Oak Harbor did not get a first down in the third quarter...Lake Stevens did not get a first down until the 2:00 mark of the first quarter...