Discover more from The Journal 425
411 for the 425 | Reader-supported local journalism with perspective, edge & authenticity. | Your home for Lake Stevens Vikings football. | Privacy: J425 will never share or sell your data.
Over 2,000 subscribers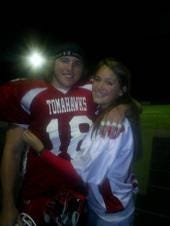 Wesco leading rusher Austin Denton (left, I think) will visit Viking Stadium this Saturday.

I'm headed out to practice in a few to see what the Vikes have in store for undefeated M-P and Wesco's leading rusher Austin Denton.

By the way, if you want to learn a little bit more about the wonderful Austin Denton, then check out this link to his Myspace site that a reader sent me.

First of all, navigate your way to www.myspace.com/i_humped_ur_mom .

Seriously. That's his address.

Once there, you'll find a few gems, including Denton refering to his birthday as "the day a star was born" among other things.

We'll have to take a spin around the interwebs later to see what other "wonderful young men" (Willingham-speak) are playing for the Tommies.

In the on-the-field department, I'm especially curious as to how the matchup of Wing T vs. No Huddle Spread will play out. Will time of possession be a key? You bet. If the Viking offense suffers any bouts of three-and-out, their buddies on defense could start getting tired reeaall quickly.

Anyway, I'll have more from practice, including an update on injured RB Bo Dickinson.