Discover more from The Journal 425
411 for the 425 | Reader-supported local journalism with perspective, edge & authenticity. | Your home for Lake Stevens Vikings football. | Privacy: J425 will never share or sell your data.
Over 2,000 subscribers
VIKINGS BEAT GARFIELD 48-21 IN SEASON OPENER
Kolton Matson's SIX TD's lead the way and J425 has the details in Mike Anderton's game recap... featuring official stats and photo galleries.
LAKE STEVENS - Defending state champion Lake Stevens launched its 2023 football campaign last Friday evening with a showcase 48-21 home field win over Garfield of Seattle's Metro League.
A typically packed, exultant Viking crowd absorbed the game beneath a mildly warm early autumn slightly smoky sky, a full moon obscured by light cloud cover.
The non-league trouncing of the highly-regarded 3A Bulldogs was a complete reversal of last season's opener, a 26-16 loss in Seattle Memorial Stadium, a game in which the Vikings self-destructed via turnovers, penalties, mental and physical breakdowns.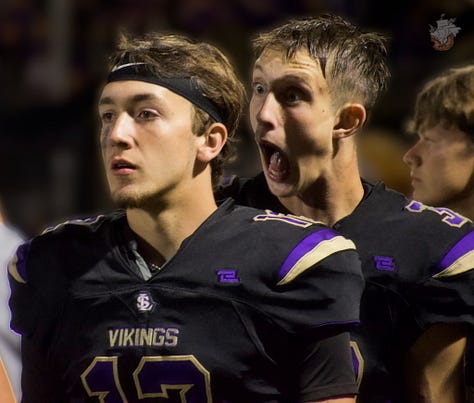 This time, the Vikings were sharp and focussed from the outset, executing Lake's spread passing offense behind Junior quarterback Kolton Matson's nearly flawless first half and overall game performance.  Matson was 17 for 19 in the first half for 213 yards and three touchdowns, feathering tosses to nine different receivers, his offensive line providing maximum protection.
Despite a game-opening snafu, a botched kickoff return which landed Lake on its own two-yard line, Lake went on to score on that opening possession and never trailed in the game.  Lake benefitted on fourth-and-one from its 11-yard line when, instead of punting, it was awarded a first down via a Garfield offsides penalty.  Lake never punted in the game thereafter, and five plays later Matson hit Jesse Lewis for a 54-yard touchdown in which the latter shook off a would-be tackler at midfield.  Sophomore kicker Lucas Mooring missed the PAT, but he was successful on all six of his subsequent tries.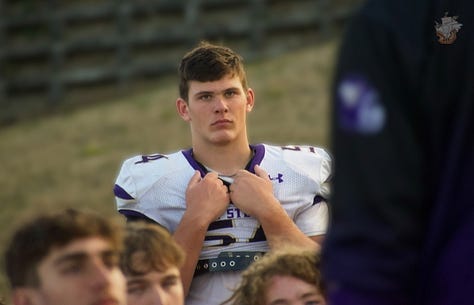 Garfield's first possession saw Tawaf Aboudou return Lake's kickoff 40 yards to midfield, where Mooring made a TD-saving tackle.  Three completions by quarterback E.J. Caminong, a three-star Cal-Berkeley recruit, netted Garfield a first down on Lake's 23, but on the next play Lake's Bryce Slezak, a team captain, smashed Caminong to the ground for a 17-yard monster sack.  Two plays later Garfield again hurt itself via penalty when Caminong's 27-yard completion was nullified by holding.  Garfield was forced to settle for Terry Finn's 35-yard field goal try, which was wide.
That set up Matson's five-for-five series of completions culminating in David Brown's 42-yard TD catch, wide open deep.  It was13-0 Lake after one quarter.
Caminong was not to be denied when, on his team's next possession, he beat Lake's secondary with a 68-yard TD bomb to four-star Cal commit Armani Inparsit, one of Garfield's bevy of speed-burners.  Finn's PAT cut Lake's lead to 13-7, three plays into the second quarter.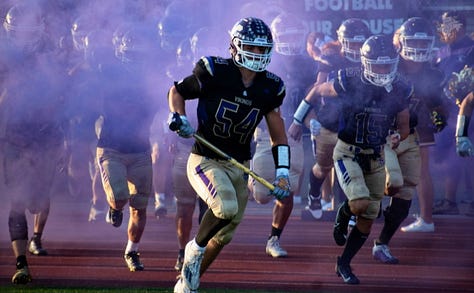 As has been, for years, a Viking trademark, Lake was to rally to score a TD just before halftime to increase its lead.  Jayshon Limar's reception and nifty run gained 14 yards to start one promising drive, but that one ended when Gabe Kylany, a Viking team captain, lost a fumble when trying to stretch out a 14-yard reception, Garfield recovering on its own 13.
Garfield managed a first down on its 24, when Viking defense went to work, manhandling the Bulldogs on consecutive downs.
First, three-star running back Reylen Witherspoon was nailed for a nine-yard loss, tackled by Mason Turner, Naveer Kaille and Limar.  Then a mishandled centering blew the football all the way back to the end zone, where it appeared at first that Lake would be awarded a safety.  But the officials ruled the ball down on the one.  From there, all Garfield could do was punt the ball away to the Bulldog 34.
With 2:09 left in the half, there was time enough for Matson to pass his team downfield, short passes to Paul Varela (twice), Keagan Howard, Seth Price, and finally a five-yard score to Brown with 12 seconds left.  20-7 Vikings at halftime.
Lake appeared to successfully execute an onsides recovery of its second half kickoff (a Viking specialty of recent seasons) when Jesse Lewis snared the ball untouched on Garfield's 40.  Somehow, that recovery was negated by the officials who, after huddling, awarded the ball to Garfield 15 yards the opposite direction, on Lake's 45.
But Garfield did nothing with that opportunity.  A 15-yard face mask penalty by the Bulldogs led to a punt to Lake on its own 36.  Seventeen plays later (not counting a pair of 10-yard holding penalties against Lake) the Vikings scored again, a drive finished by Matson's five yard TD pass to Jesse Lewis and fed by five Matson medium range completions and rushes of 10 and 12 yards respectively by Limar and Steven Lee, Jr.  27-7 Lake, halfway through the third quarter.
But the rout was not on.  Not yet anyway.  Garfield came roaring back with two quick scores to put the game in doubt at 27-21 before the end of the quarter.
    Lake had Garfield bottled up until a fourth-down pass interference gave the Bulldogs first down on the Garfield 41.  Two plays later, Caminong's toss to Witherspoon near midfield saw the latter speed to a tackle-breaking 59-yard touchdown.  27-14.
    Lake took possession on its own 20 after the kickoff touchback.  On the first play from there Matson's pass was intercepted by Josiah Montgomery and returned 21 yards to the Viking 19.
   On the following play a pass interference penalty gave Garfield first and goal on the nine.  Three rushes later, Maliqki Walker scored from the one.  27-21, with 2:09 to go in the third.
    Game on the line, it took Lake just six plays to retaliate.  Matson completions of 39 and 11 yards, to Jesse Lewis and Howard, respectively, set up Matson's five-yard TD pass to Lee.  34-21, with 26 seconds left in the third.  Stung, Garfield never theatened again.  Lake went on to score another two unanswered touchdowns in the fourth quarter, a period completely dominated by the Viking offense and its defense.
   Lake's fourth quarter scores came via four Limar rushes totalling 39 yards setting up Matson's eight-yard TD pass to Jaxson Lewis, and, following Lee's sack of Caminong late in the game and consecutive 10-yard runs by Esteban Sedano, Isaac Burks' one-yard TD run.
    Matson finished 26 of 35 (one interception) for 331 yards, with SIX toucdown passes.  Caminong went 13 of 22 (no interceptions) for 221 yards and two TDs.  Leading Lake's nine receivers who caught passes was Jesse Lewis, six receptions for 121 yardss and two touchdowns.  
    Lake netted 140 yards rushing, including 92 net yards in 18 carries by Limar.  Indicitive of Lake's defensive domination (and superior physical fitness) is Garfield's net of just 10 rushing yards in 23 carries.  And Lake earned 25 first downs to only 11 for Garfield.  
   Leading Viking in tackles was Jaxson Lewis with 10.  His two tackles for loss included a QB sack.
---
GARFIELD @LAKE STEVENS FOOTBALL STATS  9-1-23
RUSH             C     G     L     NET     AVG     TD
Limar            18    98    6       92        5.1
Sedano          6     32    1       31        5.2
Lee                 1     12    0       12      12.0
Varela             2      4     0        4        2.0
Burks             1      1     0        1        1.0       1
---
LS                 28   147    7      140      5.0       1
G.                  23     60   50      10       0.4       1
---
PASS
Matson           26-35-1   74%   331 YDS  6 TD
Limar               1-  1-0  100%      9  YDS
---
LS                  27-36-1    75%   340  YDS  6 TD
G.                   13-22-0    59%   221  YDS  2 TD
---
RECEIVING         #      YDS    AVG    TD
Js. Lewis            6       121     20.2      2
Jx. Lewis            4         46     11.5      1
Kylany                4         44     11.0
Varela                 4         21       5.3
Lee                      3        21       7.0       1
Brown                 2        47     23.5       1
Howard               2        17      8.5
Limar                  1         14    14.0
Price                   1          9       9.0       1
---
LS                      27       340    12.6       6
G.                       13       221    17.0       2
---
FUMBLE LOST
Kylany
---
FIRST DOWNS
LS      25
G.       11
---
PENALTIES
LS     6 For 65 YDS
G.    15 For 111 YDS
---
FIELD GOAL
G.   35 No Good
---
SCORING           TD   PAT1    TOTAL
Js. Lewis             2                   12
Brown                  2                   12
Price                    1                     6
Jx. Lewis             1                     6
Burks                   1                     6
Mooring                       6/7          6
---
SCORING           TD   PAT1    TOTAL
LS                        7      6/7         48
G.                         3      3/3         21
---
G.        0  7  14  0  --  21
LS      13 7  14 14  --  48
---
TACKLES  (For Loss)
Jx. Lewis             10 (2)
Howard                  7 (1)
Lee                         6 (2)
Turner                    6 (2)
Brown                    6
Solomon                5 (2)
Waxham                 4 (2)
Varela                     4
Brc. Slezak            3 (2)
Kylany                    3
Kaille                      2 (1)
Limar                       2 (1)
Munger                    2
Lynch                       2
Mooring                   1
Sedano                    1
Okiyama                  1
Kuhrau                     1
Boileau                     1
Burton                      1
LS                           65 (15)
---
QB SACKS  
Brc. Slezak      1
Lynch               1
LS                    2
Vs. LS              0
---