🎥 🤼 Viking Invite: 17 Squads Prepare for Mat Battles | 10 am tomorrow, Cavelero Mid High
Featured: Lake's 285 Bryce Slezak picks up two more pins as 120 Troy Valentino puts in work.
CAVELERO MID HIGH, LAKE STEVENS — The sixth-ranked Lake Stevens Vikings Wrestling team welcomes 16 opponents tomorrow for their signature Viking Invite.
2023 Viking Invite Participants:
Central Valley, Sumner, Rogers (Puyallup) Graham Kapowsin, Yelm, Auburn, Riverside, Anacortes, Moses Lake, Hanford, Tahoma, South Kitsap, Mt Spokane, Orting, Enumclaw, Kennedy Catholic, Bethel, Lake Stevens.
A packed schedule of top flight wrestling action starts at 10 am and occurs all day (and take note of this) at CAVELERO MID HIGH SCHOOL — where the Viks setup a wider array of mats than would be possible at LSHS.
Bracket action begins at 10 am.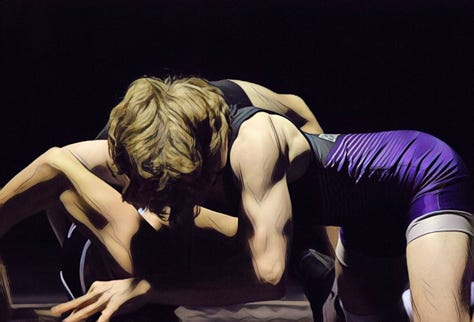 The above photos and the attached video feature a wrap from last week with Bryce Slezak nabbing two more pins and Troy Valentino putting in solid work.
Players and coaches: please feel free to send me film or pictures.
---
Previous Results
Tahoma vs Lake Stevens
Dual Meet Summary
Weight Summary Decision Score

106 Lambro, Crew (Tahoma) over Ketchum, Gavin
(Lake Stevens)
Fall 1:00 6-0
113 Othon, Alex (Tahoma) over christianson, jacob
(Lake Stevens)
Maj Dec 10-2 10-0
120 valentine, troy (Lake Stevens) over Stoops, Jackson
(Tahoma)
Fall 5:42 10-6
126 Sullivan, Joe (Tahoma) over Paisley, Oliver (Lake
Stevens)
Fall 5:16 16-6
132 Curry, Nathan (Tahoma) over Flanders, Macroy
(Lake Stevens)
Fall 3:18 22-6
138 Deonigi, Isac (Tahoma) over McClain, Mick (Lake
Stevens)
Fall 3:37 28-6
145 Comia, Cyrus (Tahoma) over Allinson, Levi (Lake
Stevens)
Fall 2:07 34-6
152 Resor, Brandon (Lake Stevens) over Feist, Andrew
(Tahoma)
Fall 4:08 34-12
160 Brown, David (Lake Stevens) over Fox, Landon
(Tahoma)
Fall 3:59 34-18
January 9, 2023 1 MatBoss: Copyright 2023 – MatBoss LLC
Varsity
Tahoma vs Lake Stevens
Dual Meet Summary
Weight Summary Decision Score
170 Black, Baylor (Tahoma) over Sedano, Esteban
(Lake Stevens)
Fall 6:47 40-18
182 Neal, Christopher (Tahoma) over David, Jarell
(Lake Stevens)
Fall 2:15 46-18
195 Overland, Lucas (Lake Stevens) over Nunez,Tomas (Tahoma)
Decision 9-3 46-21
220 mattern, koen (Lake Stevens) over Edwards, Ethan
(Tahoma)
Fall 0:57 46-27
285 Mondt, Alex (Tahoma) over Slezak, Bryce (Lake
Stevens)
Fall 2:02
Final Score: 52-27