Discover more from The Journal 425
411 for the 425 | Reader-supported local journalism with perspective, edge & authenticity. | Your home for Lake Stevens Vikings football. | Privacy: J425 will never share or sell your data.
Over 2,000 subscribers
Viking Notebook: Updated with Tons of Video and Pictures from Camp
Jayshon Limar's new number, Kolton Matson's momentum, Bryce Slezak's recruitment, Mason Turner's dominance...plus projecting a starting offense. All that plus pictures and video from LSHS.
LAKE STEVENS - The 2022 State Champion Lake Stevens Vikings kicked off their 4A title defense in shorts and helmets yesterday, as spring camp opened at the high school.
Every high school football season starts with a bunch of holes created by the graduation of senior stalwarts, leading to opportunities for rising seniors, juniors and sophomores. But some shoes are nearly impossible to fill. For instance, those of arguably the best player in Lake Stevens Vikings history, Jayden Limar.
However, yesterday the absence of a certain number seventeen wasn't as immediately noticeable as may have been reasonably expected.
Why is that? Was the number retired? Hanging from the rafters?
Nope.
Rising junior1 running back Jayshon Limar sported the number made famous by his older brother — Oregon Duck RB Jayden Limar, last seen winning Gatorade Player of the Year after hoisting a state championship trophy.
Jayshon Limar: Ready for His Time to Shine
Jayshon, who holds at least eight scholarship offers from "high major" colleges, is expected to pick up the workload vacated by his brother.
However, those who cover recruiting are apparently waiting to see if Bubba is ready to handle the role vacated by his brother: the 2025 star was a glaring omission from 247's first full ranking of the class of 2025.
Recruiters have no doubt: Jayshon holds more offers than any player not currently
included on the 247 Sports Top 247 for the Class of 2025 — and 247's National Recruiting Director Brandon Huffman told J425 that Limar's unranked status wasn't a true gauge of his status, as the omission was linked to the fact that Bubba missed all but one and a quarter games last season due to injury.
---
Jayshon Limar showing off hand-eye-coordination and a new number.
Video by KTH/J425.
---
That said, the new number 17 has looked spectacular in spring voluntary practices and has been raising eyebrows on the camp circuit. And let's not forget Jayshon rushed for nearly 500 yards and nine touchdowns as a freshman.
Further, several sources have indicated the hometown University of Washington Huskies may be the next to offer Lake's star 2025 back.
In other words, expect to see 17 shooting to the top of those recruiting lists soon.
With Jayshon appearing ready to assume the Limar load — and with talented performers like Esteban Sedano (288 yards, 5.4 avg, 4 TDs) and Isaac Burks (saw action at RB in the title game) stacked up behind him, the Viking running back committee appears strong.
---
Vikings Return a Stacked Roster
---
A quick montage from camp. Film by KTH/J425.
---
For a title defender, usually dependent on senior-laden rosters, the Vikings return a stacked, experienced group of tested performers.
In point of fact, many outsiders writing on the Viking title run last season saw this as a roster set for a 2023 or 2024 peak - largely because of youth and depth.
Nowhere does returning experience appear to weigh more heavily in the Vikings' favor then at quarterback, where 6'2 180 pound rising junior Kolton Matson returns, holding the distinction of starting a 4A title game as a freshman — and winning the championship as the starting QB as a sophomore.
As a junior, Kolton is visibly taller and stronger, whipping accurate balls across the field from one of the tightest, cleanest throwing motions among recruitable quarterbacks.
And yet Matson retains the speed and athleticism noted last seasons by FSP guru Tracy Ford (who labeled Kolton the fastest QB in the Pacific Northwest) - Kolton is running in the 4.7s on his 40s which is pretty crazy for a 6'2 sophomore QB.
Kolton is also beginning to hear the phone buzz with recruiting interest as well.
After a strong showing at the Avery Strong Showcase over the weekend, the Vikings' signal caller has enjoyed conversations with Washington State and Nevada, among others.
Expect interest in Matson to dial up significantly over the summer and through September.
We expect Matson to hold four or five high major offers by this time next season.
---
Vikings Rich in Leadership
Leadership is also a strength for the Vikings.
Captains Bryce Slezak (6'3 250 LT/DL 2024) and Gabe Kylany (6' 175 DB/WR 2024) are experienced starters and battle-tested leaders.
Kylany, a stalwart at safety last season, is looking to spread his impact to offense this season, and Slezak — a three year starter at left tackle — is getting recruited as a defensive lineman.
Slezak, who holds two offers according to 247, just returned from a visit to Montana State and will visit Yale (Bryce holds a 3.95 GPA) July 7.
---
Mason Turner A Force of Nature on Day 1
Video: Mason Turner in action.
Film and edit by Kevin Thomas Hulten for J425.
---
With all that said, we haven't even at arrived at the guy who — in J425's opinion — made the biggest impact on the field on Day 1.
That'd be 2024 LB/OT Mason Turner, who was a force of nature at LB yesterday, intercepting several balls and defending multiple others.
Turner, who led the Vikings in tackles last season, may be the most impressive linebacker this side of Yelm, pairing title-winning experience with performance, size and athletic ability.
At 6'2 230, Turner possesses NFL linebacker size, coupled with quick twitch agility and bear-like strength which makes him an absolute problem as a run blocker out of his right tackle spot — a position he'll assume this fall (Turner started twice at tackle last season — and has also seen time as an H-back).
Turner is also seeing recruiting interest from schools including Idaho, with most recruiters liking him as a pass rushing edge.
---
The Lewis Twins
Jesse Lewis at cornerback, Day 1.
Video by KTH/J425.
---
It's not at all unusual for juniors who featured on varsity — without necessarily stacking huge counting stats — to breakout as all league performers. We've seen this again and again.
Could the Lewis twins be headed for just such a jump?
The Lewis twins (Jesse Lewis - 15 and Jaxson Lewis - 8) have featured on varsity since 2021 and emerge from a successful track season well-positioned to make a sizable impact on Viking Football.
As three year varsity performers with the requisite speed and strength (Jaxson has some of the best strength numbers on the team, Jesse Lewis looked mercury quick at DB yesterday), the brothers look as well-positioned for a senior year star turn as any returning Viking skill position players we've covered.
That said it isn't for sure that the identical twins will play matching roles.
Jesse Lewis looked sharper than ever at corner Day 1, contributing a fantastic interception of a Kolton Matson deep ball (see above).
Jaxson Lewis — based on gains in strength and this writer's opinion alone — could be headed for a side-to-side linebacking role while exhibiting the explosiveness of an open-field threat on offense (see below).
---
Jaxson Lewis cuts across as the camera follows a Steven Lee, Jr deep route.
Film by KTH for J425.
---
Projecting Offensive Starters
I'm sure the coaches won't appreciate me doing this but what the hell, the Vikings have scrimmages in just a few weeks, let's sketch out a quick look at how the Vikings might stack up on offense (we'll save defense for later).
Quarterback
The starter is set in stone at QB with Kolton Matson — who threw for over 1,700 yards at a 70 percent completion percentage with a 17/7 td/into ratio.
He's started the last two state title games and is a 4A state champion, beginning to attract significant college attention.
Kolton makes the Vikings as secure at QB as they have been at since Skinny Eason and Jake Nelson.
Sidenote: if you don't know who Jake Nelson is, here's an archived J425 profile. Hell, while we're here we might as well educate y'all on one of the greatest playoff performances in school history.
---
Quick Jake Nelson Detour
Setting: 2011 State playoffs, Round of 16. The 11-0 Vikings are ranked eighth in state and are home versus Olympia.
Lake finds themselves trailing 17-14 with a minute left. The first two plays of the drive go backwards: intentional grounding, sack.
Suddenly, it's third and 43 from the Viking nine yard line with :44 seconds left.
That's when Viking QB Jake Nelson broke off a 59-yard-run, followed by an improbable heave to the corner of the endzone, firing a perfect strike as he's hit — the ball travelling some 61 air yards on a line to All State WR Christian Gasca, giving the Vikings the lead with mere seconds left.
Don't believe it? We have the video. Yup we were filming HD Viking Football in 2011!
---
State Playoffs, opening round, 2011. Trailing 17-14, facing 3rd and 43 at own 9 — with :43 seconds left — QB Jake Nelson did this.
Video by Tony Soper for Purple and Gold Pigskin (J425 precursor).
---
Nelson also picked off Olympia's last-gasp pass. Current Viking coaches Eric Dinwiddie and Lou Widdman were on staff, alongside HC Tom Tri.
Take a look at Nelson's speed, arm strength and toughness. You think that'd still play today?
---
Starting Backfield
The Vikings are also set at RB with Jayshon Limar (491 yards, 9 TD as a freshman), although the aforementioned Esteban Sedano and Isaac Burks could see a bunch of action.
Of note: Cassidy Bolong-Banks was the Viks second-leading rusher last season, averaging over eleven yards per carry and scoring three times. The 2025 star has accomplished a ton in his two years as a Viking.
---
Pass Catchers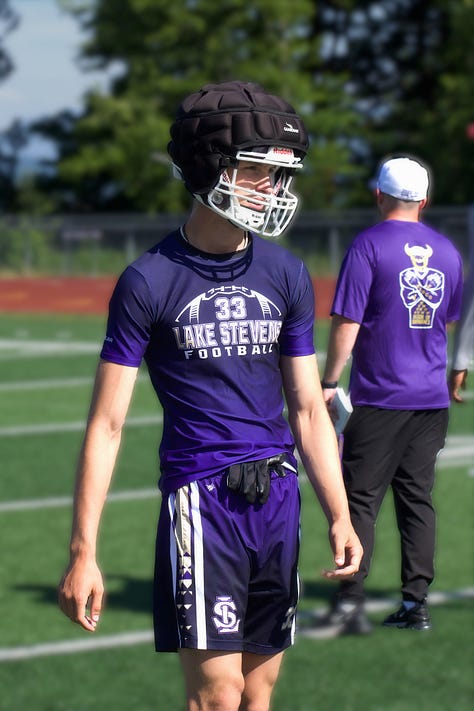 Among pass catchers present yesterday WR rising senior David Brown is the most established threat - a starter last season, he caught nine balls for 182 yards and two touchdowns.
Veteran rising senior performers Paul Varela (6 for 63), Jesse Lewis (2 for 20) and Jaxson Lewis, Gabe Kylany and Steven Lee Jr are all in the mix for considerable roles.
Rising junior Cassidy Bolong-Banks was third on the team in catches last season, (36 for 519) and had five TD catches.
---
Kolton Matson hits Steven Lee, Jr.
Film and edit by Kevin Thomas Hulten for J425.
---
Of that group, Lee looks poised for a breakout --mostly in the sense that we haven't seen him play much varsity offense. The two year starter on defense is tall, aggressive and athletic — he just finished second in the state in hurdles — and has all the attributes necessary to become a favored target of Matson and Tri.
Kylany could fill the hybrid TE/WR role last filled by Cole Becker - a job that involves hard-nosed run blocking with the courage to cross the middle of the field. Kylany seems well-suited for that work.
Varela returns from an eye-catching performance in the state title game where his open-field running was on display during several returns. Varela is also very experienced in both running and catching the ball in Tri's offense.
---
Offensive Line
Geoff Dishion's offensive line remains the area with the biggest personnel holes to fill. We aren't well versed enough to even begin guessing at whom might go where on the inside, but we can tell you this much: Bryce Slezak and Mason Turner have the tackle spots covered. We also know that Naveer Kaile (a two-year starter at defensive line and a possible guard candidate, we'd guess) Bryce Waxham (guard?) and Luke Baird (seen snapping to Kolton Matson quite a bit) have excelled during voluntary workouts.
We'll also add that the Lynch family looks set to make another impact on Viking football: as three year starter Grant Lynch vacates the offensive line via graduation…a certain towering ninth grader is raising eyebrows around the program…we're sure there'll be more on him later.
---
Disclaimer
As always this isn't meant to be a complete listing and for sure I'll have forgotten to mention some guys and overlooked others. Further, the guesses on positions are just that — if I can source my info I'll say so — but today most of this is nothing more than uninformed amateur opinion and if I left you out or missed something, my apologies and I hope the coverage is still a net positive.
This is just the first of many reports and like everyone else, we at J425 will have to watch film and get betters as the season goes on.
In our next notebook, we'll take a look at the returning performers on the defensive side of the ball and talk about the Vikings' exciting spring schedule which includes a meeting of state champions.
If you like our Viking coverage, consider subscribing - you'll get all of our articles right away with no pay wall as well as helping to underwrite the free video and photography we provide on social media. Regardless of whether you subscribe you are more than welcome here and appreciated. 🤙
---
Previously:
1
The term means a sophomore heading into his junior year.