Discover more from The Journal 425
411 for the 425 | Reader-supported local journalism with perspective, edge & authenticity. | Your home for Lake Stevens Vikings football. | Privacy: J425 will never share or sell your data.
Over 2,000 subscribers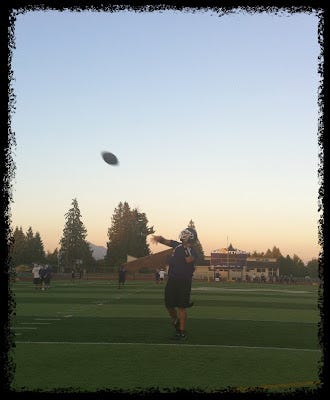 Senior QB Bryson Daggett lofts a pass to the corner of the end zone as the sun sets on the first day of Viking camp.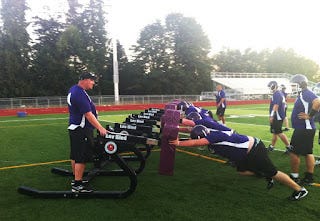 The unstoppable force and the immovable object.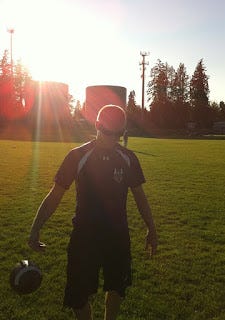 Former Viking All Wesco running back Bo Dickinson has pulled a Tim Riggins and is back in Purple and Gold, joining Tom Tri's staff and working with linebackers and running backs. Welcome back Bo - but hey, it looks like you fumbled! 

The first practice of Fall camp is always a strange day. From a football perspective, not much is accomplished. Most of the time is spent on conditioning, discussion, circuit drills, and basic instruction. From a viewing perspective. most of the players look the same - no pads, no jerseys, just basketball shorts, purple tees and helmets. Much of the action is disjointed. This is all a very long way of saying it's hard to draw too many conclusions from a day like today. With that said, we'll just open the notebook and dump out a few tidbits. Do what you wish with the information.
 - The 2010 Viking captains are set: RB/LB Duke Dolphin, WR/S Brandon Preslar and OT/DL Gunnar Eklund, all seniors. 
 - It appears that the same QB duo that scrapped for the starting position last season return -and remain neck and neck. Senior Bryson Daggett and junior Jake Nelson both were featured today. All signs point to Nelson as the likely starter - considering the fact that Tri switched horses towards the end of last season and went with the younger player in the road playoff loss at Bethel. However, Daggett looked sharp today and there is bound to be competition throughout camp. 
 - The three Viking captains are likely to generate significant college interest this season. Dolphin was labeled the team's best player by the coaching staff heading into last year's camp before suffering a season ending knee injury without playing a down. Dolphin has recovered completely from ACL surgery, and has added noticeable bulk. Further, Dolphin put on a display at recent combine in Oregon, taking top honors in the combined testing. Dolphin was clocked at a blistering 4.48 40 yard dash at the Viking speed and agility testing. 
Preslar enters his third season at WR and is sporting a chiseled physique and a no-nonsense attitude. Gone is the bleach blonde surfer 'do and demeanor. According to Preslar's father Preslar ran an excellent 4.64 40 -  a significant improvement over his previous efforts. A successful off season on the field and in the weight room has generated recruiting interest in the record breaking receiver, and Sunshine is getting looks from WSU, Central, Wyoming, Montana and others. Expect the interest to snowball if the Vikes are able to generate any sort of passing attack this season. Preslar has filled out and is now just under 6'4 and weighs in at 185 pounds. After opening eyes with a determined running style on several late-season end arounds - and after displaying a decent throwing arm at the off season passing camp circuit - Preslar is headed for a switch to the H receiver position previously occupied by Chameron Lackey and Trevor Riecks. In Tom Tri's spread offense, the H receiver typically lines up in the slot, runs the ball several times per game on designed end arounds and fly sweeps, and also works as a QB in the Wildcat formation. Expect to see Tri feature Preslar in many offensive wrinkles. 
Lastly, in offensive tackle Gunnar Eklund, the Vikes have literally their biggest college prospect in over a decade. Under the tutelage of Husky legend Jeff Pahuakoa, Eklund has blossomed from raw talent to senior captain in little over a season. Eklund is a legit 6'6 and a solid 285. He still moves with the grace of a tight end and the speed of a basketball player, but he has adopted the intelligent belligerence needed for the left tackle position - arguable the most important spot on the field. Pahukoa is playing the recruitment angle close to the vest, but let's just say that the coaching staff is confident that Eklund will quite possibly cast a bigger shadow then Stanwood's Dexter Charles - who has become the first Wesco 4A player in recent memory to verbally commit to the University of Washinton prior to his senior campaign. Expect the press and scouting communities to jump on board late and heavy if the Vikes' season picks up any steam at all.
 - In order to fill the void left by all league kicker Arvid Isaksen, the Vikes have invited two varsity soccer players to the squad. Senior Shawn Morgan - who appears to be around 6'3 and 190 pounds - will give placekicking a try and also ran drills at reciever. Junior Colter Hill is also turning out but may have conflicts with a select soccer squad he is part of. 
 - We'll do some projected depth charts a little further into camp, but as far as I could tell today the first team offense is likely to look something like this: WR Quincy Carroll, WR Brady Pahukoa, OT Eklund, OG Colton Tupen, C Spencer Smith, OG Kody Dinh, OT Taylor Metzger, WR Preslar WR Christian Gasca QB Nelson/Daggett, RB Shae Giddens/Dolphin.
We'll be back with some pre-practice links tomorrow including a look at the top 20 seniors in the state and the max exodus under way at Marysville-Pilchuck. As always, please feel free to leave your comments, questions and requests in the comment thread and follow me on twitter @hul10 for updates throughout the day.