Discover more from The Journal 425
411 for the 425 | Reader-supported local journalism with perspective, edge & authenticity. | Your home for Lake Stevens Vikings football. | Privacy: J425 will never share or sell your data.
Over 2,000 subscribers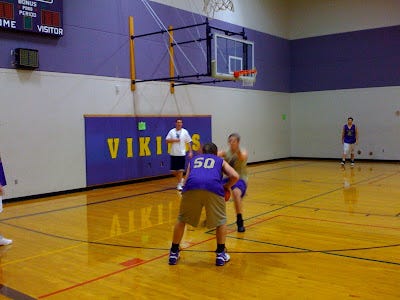 Sean Stickney (50) faces the hoop and considers his options.

I stopped by practice today after talking with Coach Mark Hein. We'll have a bit of a season preview up before Friday's opener at Shorewood.

A few notes from my first experience watching one of Coach Hein's practices:

- The time is used very efficiently. At the start, the players were lined up outside the gym five minutes before practice, ready to go as soon as the girls practice ended. As soon as the gym cleared, the players broke into four circuits led by four different coaches and worked on different skill areas: passing, ball handling, half-court offense/defense and shooting.

- Coach Hein led a drill where a circuit of players worked oncoming to a jump stop in front of a defender near the rim, and then maneuvering towards the goal using the pivot foot.

After the circuit stuff wrapped up, Hein took the varsity squad up to the auxiliary gym, where some five-on-five full court action took place. The coaching staff called the drill "transition reward" or something like that. The gist of the game was that if a team scored in transition, then they kept the ball for another offensive possession. Games were played to three buckets, and a win was sealed with a pressure free throw make.

A few early impressions from the varsity five-on-five work, keeping mind that I am not able to identify all the players as of yet:

- Junior F Shane Kaska is a polished offensive player, and has a knack for getting off his shot quickly. He has a variety of runners, hooks and jumpers that he can use to score, and he has range out to the three point line.

- Senior G Ryan Legg plays with alot of energy and was very unselfish in the early going, hardly ever looking for his shot. I'd be this will change come game time, as the Vikes will need the third-year varsity player to provide some punch from the outside.

- F Sean Stickney reminds me of a Jon Brockman type player. Not really the prettiest thing you've ever seen on the court, but powerful, hard working and damn effective. Also a great guy, like Brockman.

- Junior F Ross Jones, another Viking footballer looked strong working with the V.

- Coach Hein seems to be very hands on, and very positive. He is taking the time to teach fundamentals at this point, and he definitely has the squad's attention.

I'm heading to Olympia tomorrow, so I won't have much more to add, but I do have some video from today's practice that I will try to get up sooner than later.

Keep the comments and suggestions coming. All for now.