Discover more from The Journal 425
411 for the 425 | Reader-supported local journalism with perspective, edge & authenticity. | Your home for Lake Stevens Vikings football. | Privacy: J425 will never share or sell your data.
Over 2,000 subscribers
Tuesday Notes: NFL Talent on the D-Line, Dinh emerging on O-Line, Frost Warning in Effect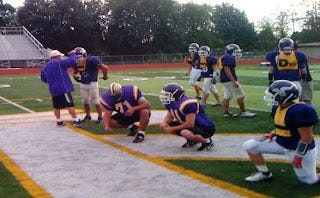 Husky Legend Jeff Pahukoa (71) and assistant coach Jesse Shields (61) are preparing to start on the Viking defensive line Friday at undefeated Wesco North rival Marysville-Pilchuck. Kevin Hulten/Purple and Gold Pigskin
He was the first true freshman to start on the offensive line under legendary Husky Coach Don James. As a senior, he anchored an offensive unit that rushed for over 2,500 yards. He is a Rose Bowl champion, a Husky Legend, and a five-year NFL veteran with starts at tackle and guard.

But on Tuesday, Jeff Pahukoa was relegated to the Lake Stevens High School scout team defense alongside his sophomore son Brady. How the mighty have fallen? Hardly. The Lake Stevens High School Hall of Famer and assistant coach donned the pads with fellow assistant Jesse Shields in order to give the Viking offensive line a realistic look at the challenge they face ahead of them Friday at Marysville-Pilchuck.
The Tommies feature a pair of bookend defensive tackles unlikely to be replicated this side of the NFL in cousins Robbie Fulilangi, a 6-foot-4, 325-pound junior fresh off the longboat from New Zealand and Nephi Wily, a 6-3, 320-pound senior who transferred in from Utah. What a bounty for the Tommies to receive, as both players apparently surprised M-P coach Brendan Carson by showing up out of the blue. Who new there was recruiting in Wesco.
Anyway, the Vikings used Pahukoa and Shields in live action drills for the last half hour of practice to the delight of the players. Expect more of this as the week continues as Coach Tom Tri is doing everything in his power to ready his undersized and underdog Vikings for the physically intimidating and undefeated Tommies.
Notebook: Defensive coordinator Joe Cronin worked on formations packing as many as 10 defenders into the box to stop the run...the Tommies have attempted three passes in the last two games, total. The Vikings are keying on M-P fullback Austin Denton, who has rushed for over 200 yards every game this season, but they are not neglecting other potential ball carriers such as AJ Kavanges in the Tommies misdirection groundgame...Junior Kody Dinh worked with the first team offense for a while, spelling captain Alex Moon. Dinh has about 40 pounds on the undersized Moon, and his improved play may give the Vikes a chance to rest Moon on offense. Moon is a key cog in the Viking defense, starting at inside linebacker...Running back Brennan Frost was back in pads and has been cleared to play Friday, although it is unlikely Frost will play on the defensive side of the ball due to the Tommies' ground-oriented attack...Junior QB Bryson Daggett worked exclusively with the number one offense, and sophomore QB Jake Nelson led the JV offense in practice...OLB Brandon Belcher continues to get reps at WR...Junior Aaron Britton, a rising star who started at defensive end for the Vikings last year before suffering a rare intestinal disease, was on field and in good spirits after an operation to remove parts of his digestive system. The 6'7" Britton said he faces at least two more surgeries, and will not return to athletics. However, he said he expects to make a full recovery.