Discover more from The Journal 425
411 for the 425 | Reader-supported local journalism with perspective, edge & authenticity. | Your home for Lake Stevens Vikings football. | Privacy: J425 will never share or sell your data.
Over 2,000 subscribers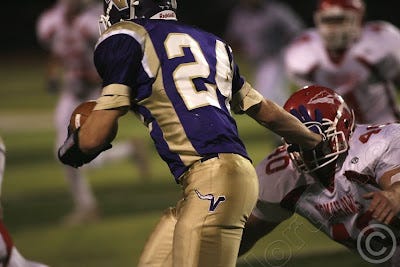 RB Bo Dickinson's stiff arm is healthy, but his back and ankle are still lagging a bit behind. Rob Carlson/Sportsmedianorthwest.com

Postings been a little lite as I've been in Olympia...things should pick up as we head towards Friday's must-win league game at Monroe. While it might be technically true to say that a loss at Monroe doesn't end the Vikings playoff hopes, one would have to think that if the Vikes two game slide turns into a three game slide after a loss to the 0-4 Bearcats, the season will be circling the drain.

I got to LSHS as practice was ending, but have a few notes to pass along.

- QB Nick Baker is a banged-up, suffering from a sore back and general stiffness, but he practiced without limitations and pronounced himself good to go. The Senior Co-Captain said that he and his teammates are ready to move on, noting that while there were no excuses to be made, he also didn't find shame in losing to the combined 11-1 T Wolves and Tommies, provided the Vikes turn the season around now.

- Baker also reported that he has received recruiting interest from Linfield College in Oregon, a four time NCAA Division II and III football national champion that holds the longest current NCAA record for consecutive winning seasons at 59. Linfield has produced several NFL players, most notably QB Brett Elliott, who led Linfield to the national ttile in 2004 before being drafted by the San Diego Chargers. Baker recently sent out a stack of game tapes from the Jackson game, and expects to hear from more schools after the season.

- Mike Cane at the Herald has a poll up asking who should be the All Area Offensive Player of the Year. Baker is one of ten or so choices. Vote now!

- As we reported earlier, Head Coach Tom Tri is shaking up the offensive line. RT Zach Teuber took some snaps at center today, and Senior lineman Jesse Porter - who missed the first four games but started at DE last week - also rotated in at Tackle.

- RB/S Bo Dickinson is still in a boot nursing the ankle sprain he received Friday. He is also still feeling the effects of the two cracked vertebrae he sustained three weeks ago against Stanwood. I don't expect Dickinson to suit up against Monroe.

- In reference to Friday's game at Monroe, it's interesting to note that Monroe QB Brian Sonneveldt did not play in last week's league game at Arlington, which the Bearcats lost in the final minutes. Due to the loss, Monroe was eliminated from playoff contention. Sources in Monroe say that Sonneveldt, who passed for 400 yards and 5 touchdowns against Sedro-Woolley earlier this year, was medically cleared to play and practiced the Thursday before game day.

- The Monroe Monitor reports that in Sonneveldt's absence, Second Team All Wesco RB Austin Bray played QB for the first time in his life. The talented Bray was also First Team All Wesco last year at Safety....WR Connor Shelford also threw a pass, connecting with WR Cody Elledge on a 74 double-pass play that resulted in a touchdown...No word on whether Sonneveldt will play this week.

Tomorrow, we'll post our updated Wesco Power Rankings and take a deeper look at the Monroe Bearcars, who will be celebrating Homecoming Friday.

All for now.