Discover more from The Journal 425
411 for the 425 | Reader-supported local journalism with perspective, edge & authenticity. | Your home for Lake Stevens Vikings football. | Privacy: J425 will never share or sell your data.
Over 2,000 subscribers
Thursday Practice Report: Frost Out, Votes Are In, Vasya Earns Start, Dolphin Under the Knife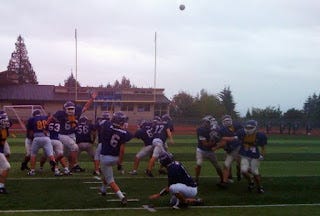 Kicker Arvid Isaksen showed off his stong and accurate leg Thursday at practice, here hooking one in from 35. Kevin Hulten/Purple and Gold Pigskin

We knew yesterday that Viking star Brennan Frost would not play this week at undefeated Jackson, but due to an agreement with Coach Tom Tri, we agreed not to print the story until 7 pm Friday. Well, the cat's outta the bag as Herald reporter Mike Cane got the details out of Tri in an interview earlier today, so the coach gave us the okay to lift the veil of secrecy.

Frost, who suffered a concussion on the last play from scrimmage last week versus Arlington, was ruled out Wednesday afternoon after exhibiting concussion symptoms. He is in good spirits and eager to play, but the coaching staff is wisely erring on the side of caution - concussions are a scary business.
With Frost out, the Vikes need to find five new starters: kickoff, punter, kick return, running back and cornerback.
Luckily for the Vikings, newcomer Vasya (pronounced Voss-ee-uh)Bogdanoff is now eligible and will pick up the slack in three areas vacated by Frost: kickoff, punting and running back. Bogdanoff has impressed in practice and runs with tenacity. Yesterday, he was booming 45 yard punts and was quickly named the starting punter. His soccer skills also translate well into kickoff duties.
Junior RB J.T. Cox will start at running back in Frost's absence, but he will share the load with Bogdanoff (who may well get the bulk of the action)and sophomore RB Shae Giddens. Each runner brings his own style: Cox is a big load out of the Brandon Jacobs mold, measuring in at 6'1 and about 235. Bogdanoff has the traditional RB build, more like 5'9 and 200 with the thick legs and low-to-the-ground style that is so effective between the tackles. Giddens, just 5'7 and 160 pounds, is an accomplished sprinter who exhibits great agility and toughness.
When the Viking offense goes empty (five wideouts), Tri will substitute in sophomore WR Christian Gasca who offers good hands and a knowledge of the routes.
On defense, look for Brandon Preslar and Tyler Reside to shoulder the CB load, just with less time off. When they need a blow, sophomore Quincy Carroll and senior Jaime Laurine will be ready.
In other news, sophomore starting ILB Korey Young continues to battle the flu and is questionable for tomorrow. Senior DT Justin Grow is out tomorrow as well, a loss that Tri deemed "significant".
Most of practice occurred in a torrential downpour, but the offense looked crisp for the most part. Coach Tri had little patience for errors, though, and "fired" one senior on the spot, visibly and audibly replacing him with a second string player.
The practice ended with field goal unit, and senior Arvid Isaksen showed off his strong leg, booting several through from 40 and going 5/6 in simulation. The one miss led junior OLB Brandon Belcher to announce his prowess at kicking, declaring he could make a 50-yarder. Frost asked him to backup the statement...and he promptly shanked a kick about 30 yards. Hell of a linebacker though:)
In other injury news, junior RB/LB Duke Dolphin successfully underwent season-ending knee surgery today in Seattle to repair a torn ACL. Apparently Duke is resting comfortably and we hope to hear more soon. Godspeed.
Looking around other media, here's some links of interest to tide you over until our game preview and pick is up late tonight or tomorrow:
- It appears that KIRO 7 tv will cover tomorrow's game: with 45 minutes until poll closing, the Lake Stevens-Jackson game has garnered 55% of the vote over 12,000 votes cast for this game) opening up an insurmountable 15-lead over the Seattle Prep-O'Dea contest. We'll see how the Vikes respond to the bright lights.
- The Seattle Times takes a spin around the area, starting with Marysville-Pilchuck and their two transfer 320 defensive tackles. The online sports page has a huge picture of some M-P dude fask-masking Nick Baker.
- The Times' HS Sports Blog has this look at Wesco 3A football, declaring Meadowdale the team to beat (duh).
- The Times also has an updated top ten with comments, noting that the Jackson defense has really improved this year. Four Wesco teams are represented.
- Here's the AP top ten, which omits M-P and Glacier Peak. South end bias!
- Our friend Doug Pacey at the Tacoma News-Tribune highlights the LS-Jax game as one to watch and eventually calls for a 29-22 Timberwolve victory. Earlier in the week, Doug linked to our Wesco Power Rankings in his trip around the state. Good lookin' out Doug!