Discover more from The Journal 425
411 for the 425 | Reader-supported local journalism with perspective, edge & authenticity. | Your home for Lake Stevens Vikings football. | Privacy: J425 will never share or sell your data.
Over 2,000 subscribers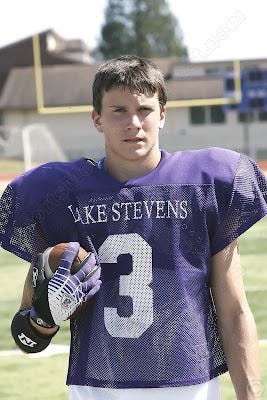 WR Colton Tupen holds the Viking season record for receptions (46) and is currently one behind the Seattle Times state receptions leader. Rob Carlson / Sportsmedianorthwest.com

It looks like the crazy liberal left wing media has been drinking the Purple and Gold Pigskin kool-aid...the big guys are too cool to link, but where do you think the got the following nuggets:

- The Herald's Mike Cane writes about Purple and Gold affiliate/Jackson videographer Matt Robertson, who notes that since he got a press pass, he's been able to film from the sidelines. Congrats on the publicity Matt!

- The Seattle Times notes that Colton Tupen has set the Viking single season receptions mark with Trevor Riecks close behind. The Times goes on to note that QB Nick Baker "set school records for passing yards in a game (369) and season (1,988), season completions (155) and season TD passes (21). Baker is also the school's career passing leader."

Always good to see Vikings getting the coverage they deserve.

It's been a while since we've looked at Vikings on the state leaderboards, so let's take a gander at the Seattle Times (west side) state leaders...

- QB Nick Baker leads the state in completions, attempts, completion percentage and yardage. He trails Lindbergh's Jacob Allie in touchdowns by two, but Allie has thrown almost twice as many interceptions.

- WR Colton Tupen is second in the state in receptions with 46, one behind Alex Davis of Clover Park. Trevor Riecks is tied for third with 41 receptions.

- Other Wesco players on the leader boards include Marysville-Pilchuck FB Austin Denton, second in rushing yards and rushing touchdowns; Edmonds-Woodway receiver Din Kuses, first in receiving yardage; Casade's Aaron Frye and Jackson's Taylor Cox ranks fourth and sixth in rushing yards respectively.

Also worth checking out - Tom Wyrich has a great breakdown of the 4A State Playoff picture at the Times HS Sports blog.

In case you missed it yesterday, we had news on Bo Dickinson's re-injury at practice Wednesday, and we also posted updated Wesco Week Eight Power Rankings.

Back later with Week Eight Wesco Predictions...