Discover more from The Journal 425
411 for the 425 | Reader-supported local journalism with perspective, edge & authenticity. | Your home for Lake Stevens Vikings football. | Privacy: J425 will never share or sell your data.
Over 2,000 subscribers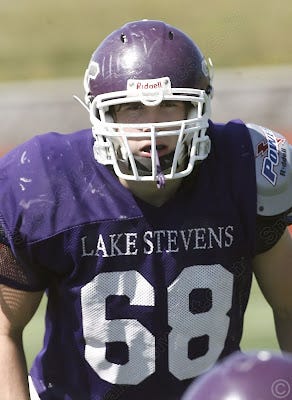 Second Team All-Wesco linebacker Sean Stickney is coming off a breakout performance against Arlington, where he recorded eight tackles and two sacks. Rob Carlson/Sportsmedianorthwest.com

Gay misses Cox. The Gay-Cox backfield is quite a load. Cox is lined up behind Gay. And so forth.

The tasteless jokes are only fun for so long.

Let's give these guys their due – Andy Gay is a hell of a QB, and Taylor Cox, when healthy, is the single most dangerous rusher in Wesco.

That said, the best all around player on the Jackson team is Junior H-Back Riley Carr. Carr led Jackson to an impressive road win over Edmonds-Woodway last week, and Jackson comes into Lake Stevens tonight as a strong 3-1 squad.

Players to watch:

Junior QB Andy Gay #7 – the 6'4, 200 lb Gay is fast becoming a D1 prospect. He throws the deep ball better than anyone in Wesco, and he has all the arm you need to make the difficult throws. He's not overly mobile, and we haven't seen how he responds to a pass rush like the Vikings'.

Junior HB Riley Carr #8 – After attending practice this week, I can tell you that Carr is the player that the Viking coaching staff has directed the most attention towards. Lake Junior WR Tyler Reside wore Carr's #8 jersey on the scout team this week, and Viking players have been drilled to identify Carr's location on every play. The multi-talented junior lines up at tight end, wide receiver, running back, and even quarterback. He averages over eight yards per carry and over 20 yards per reception. He is most dangerous on the fly sweep and the direct snap, although he is effective as a traditional RB as well – the guy is a load to bring down and runs with a rabid determination.

Senior WR Jordan Kellington #2 – Kellington is the guy they like to send to the post on play action. Gay will look downfield several times per game, and this guy can really reel it in. Take a look at this catch against Arlington. It is likely that CB Colton Tupen will shadow Kellington all evening.

Note: RB/S Taylor Cox has a high ankle sprain, and is not expected to play.

When Jackson has the ball:

As we've mentioned before, the T-Wolves will look to get the ball in the hands of Riley Carr pretty much anyway possible. He will motion towards the QB and take the fly sweep. They will fake the fly sweep and throw it to him in the flat. Gay will split out, and Carr will take the direct snap. And after the Vikes have seen every type of Carr run, Gay will play action and look deep down the middle to Jordan Kellington.

One place the Vikings have a decided advantage is at the line of scrimmage. Jackson has a brutally undersized line, and I expect Sean Stickney, Jake Huddle, Dylan Youngblood, Zach Teuber, Eric Huswick and Trevor Riecks to be in the Jackson backfield all night long.
For the second week in a row, Youngblood will face off against an undersized sophomore center (C Walker Evans #54, 6'0, 175 lbs!!??). Last week at Arlington, the Eagles' sophomore center lasted about one drive againts Youngblood before the Eagles moved a senior tackle to center.

Also, Teuber has a great match up to exploit against Junior OT Paul Sparks #69. Sparks has the size, but he wanders around the field like a lost cow looking for some hay. Teuber will take his lunch money all night.

When the Vikings have the ball:

You guys know the recipe by now: attack, attack, attack.
When you have the hottest QB in the state (19-22 passing last week is just ridiculous), when you have two of the most dangerous receivers, there is no reason to let up on the throttle, and Head Coach Tom Tri never does. The Lake offensive line is working together as a group and has dominated the line of scrimmage since the second half of the Stanwood game. When Baker has time to pass, opposing secondaries have absolutely no shot at stopping the spread attack.

The Vikings are still without RB Bo Dickinson (cracked vertebrae), and while RB Duke Dolphin has been fine, you just cannot overstate the explosive, score-from-anywhere-on-the-field presence that Dickinson adds to the Viking offense. Dolphin is an extremely promising runner, but he needs to be sure to secure the ball, and his responsibilities in pass protection are key as well.

As we've mentioned before, the Vikes have been working DT Dylan Youngblood at the running back position. I think there is a strong possibility that the 275 pound ball of fury will carry the ball at least once tonight. (Note - I will have more on this closer to game time).

Intangibles:

As we all know by now, the Vikings' biggest enemy is themselves (awkward sentence, I know). How many times can they come out flat? How many times can they fall behind by two or three touchdowns and still expect to win. How the hell do you turn the ball over SIX TIMES against an undefeated league opponent and still expect to win?

The Vikings cannot come out flat tonight. Jackson is just as fast of a starter as Lake is slow – the T Wolves have outscored opponents 47-13 in the first quarter. By comparison, the Vikings have been outscored in the first quarter 35-21.
True, Lake makes up for it by outscoring opponents 108-23 in the second and third quarters, but at some point the slow starts will catch up with the Vikings. It's better that they get the problem ironed out now, especially if they want to be truly considered a state contender.

The Pick:

I hate to say it, but everything about this game makes me lean towards picking Jackson. Despite what critics might say, I try to be more than just a pie-faced Lake Stevens partisan. We aim for some sort of journalistic standard here at Purple and Gold Pigskin, so I do feel an obligation to call it like I see it. So here goes:

This is a non-league game. Believe it or not, this does affect the way the coaching staff approaches the game. The play calling will be vanilla, as the staff doesn't want to give too much away on film to league opponents. Certain plays (read: QB runs) won't be called against non-league opponents. Unless the coaching staff is on top of their motivational game, this technique can trickle down into the players' psyche.

Also, the Vikings would be lying if they said they weren't looking ahead to next week – at least a little bit. With both Homecoming and a battle for Wesco North supremacy looming in the form of the undefeated Marysville-Pilchuck Tommies, the Vikes will have to bear down and concentrate on the opponent in from of them.

I was going to pick Jackson. But I talked to a couple players, and I am reminded that the Vikings really don't need a reason to play. They love football, and they buy into Coach Tri's schemes. Nick Baker doesn't care that Jackson is a non-league opponent – he is still going to give 100 percent. Zach Teuber does not care if Jin Kim is from Jackson or Snohomish – he still wants to head-slap him into a fog regardless.

Once the Vikings hit the field in front of a capacity home crowd, they will have all the reason they need to win. I am really hoping they can cut down on the turnovers, mistakes, and slow starts, but I have a feeling (due to some sloppy practice this week) that we will see more of the same.
However, the Vikings are just too talented on the D-Line and on offense. They are going to score their points regardless, and the Teubers, Youngbloods and Huswicks are going to get their sacks and cause havoc. All in all, the Vikings will continue their winning ways in a tightly contested ball game.

I like the Vikings tonight, 31-21.

Notes:

- QB Nick Baker has 13 touchdowns entering tonight's game – three short of the school record of 16 (Barry Miller, 1965). It took Miller nine games to amass 16 TD's. With three TD's tonight, Baker will tie the record. With four, he will set the all time season record for passing TD's – in the fifth game of the season.

- DE Zach Teuber (five sacks) is halfway to the single season record of 10 (Colin Bustanoby, 1993).

- Both Colton Tupen (26 receptions) and Trevor Riecks (24 receptions) are on pace to best the single season receptions record (43, Mike Holguin, 1982).
- Jackson RB Taylor Cox reports that he has received recruiting interest from Washington, California, Boise State and Oregon.