Discover more from The Journal 425
411 for the 425 | Reader-supported local journalism with perspective, edge & authenticity. | Your home for Lake Stevens Vikings football. | Privacy: J425 will never share or sell your data.
Over 2,000 subscribers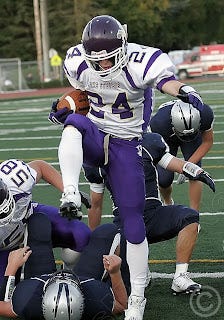 On his way to the end zone, Viking running back Bo Dickinson stopped to crush a few Grizzly heads. Rob Carlson/Sportsmedia Northwest.

I was gonna do this whole preview on Glacier Peak. Picture it in your head, it would've been awesome. Charts, pie-graphs, inspiring bulletin-board material from Glacier Peak players, etc.

But my job got in the way and I didn't get a chance to watch any film this week. That's right, I have a real grown up job, so does Rob. I work as chief aide to a state senator, Rob works a grave yard shift at a health care facility while also managing to see his wife and child every day. I don't know why they love him, but they do.

We're not looking for pats on the back or fishing for compliments, but at the same time I'm about sick of people who don't even have the balls to sign in anonymously bitching "aren't you late on your posts kevin" or "where's my picture" and so on. If you have an issue, come talk to me in person like a grown up and I bet we can solve it. I'd be more than happy to run a few extra pictures or to let you write a post if you think that my 3500 words a week arent enough :).

Alright, enough of that. We've got a big game tonight.

So we didn't run a "Get to Know Glacier Peak" this week. We all know what to expect - we see it every day with the Vikes.

Glacier Peak coach Rory Rosenbach attended the same Tony Franklin offensive clinic two years ago as Viking coach Tom Tri. The teams run the same offense. The two teams played in week two last week, and the Vikings won easily on the road, 35-21 (with Glacier peak scoring a few meaningless fourth quarter scores to make it look close).

The difference, this time around, is that the Vikings graduated eight all conference players including All State QB Nick Baker. The Grizzlies, however, have ALL 22 STARTERS back. And if, for some reason, they don't have a returning starter at any given position, it's because a younger and better player showed up and won the spot.

Glacier Peak is led by Senior QB Zach Richter. Richter had an amazing week one, passing for 341 yards (22/30, 4 TD 1 int)and rushing for 109 yards on ten carries. He is similar to Baker in as much as he will pick away at the open short passes until he lulls you into a sleepy state, then he tries to catch the safeties napping with deep corner routes - a ball he throws well. And while he ain't the fastest guy on the field, he is totally capable of keeping the ball on the zone read and gaining big yards.

Richter likes to throw to all state candidate WR Tanner Southard, a junior who led GP in receiving last year. However, other targets have emerged including WR Tommy Rollins, who caught nine balls for 124 yards and three TD's week one.

When Richter hands off, he gives the ball to Alex Stepenchenko, a little water-bug of a back who mainly runs the zone read. Stepenchenko had 50 yards on six carries against the Eagles.

In the trenches, the Grizzlies are led by preseason TNT All State selection T/DE John Froland, who will play Big 10 football next year at Northwestern. Froland is big and agile, but Sean Stickney was able to shut him down last year, as Froland did not register a sack.

Keys to the Game:

Turnovers - I know, how cliche. But GP will be putting the ball in the air 40 times Friday, and that means that Brandon Preslar, Chameron Lackey, Brennan Frost, Tyler Reside and company will have 40 chances to make an interception and return it to the house. You gotta like those odds.

Run the ball - We know Glacier Peak will key on Frosty after seeing the Mariner tape. Who cares, run it anyway. He's faster than any of them. And you know who else is? Tyler Reside. Tri will figure out a way to get Reside the ball in the running game, if he wants to win.

Rattle the cage - Quarterbacks do not like to get hit. When they get hit, they get scared. Their jerseys get wrinkled and they become nervous about their appearance. When they get scared, they make mistakes. See Arlington last September. The Viking d-line and linebackers need to get super physical with Richter and company earlier. All other things equal (and on paper GP is the better team), the more physical team will win tonight. I like our odds.

The Pick -

Before the season started, I was sure that Lake would lose this game. Even up until right now, I was sure I'd pick the Grizzlies in this post. But then I started thinking, always a dangerous thing. "Well, the Vikes ARE at home, and that's usually worth at least a touchdown. The Grizzlies did almost lose to Arlington at home last week, and the Eagles did put up 50 on the GP defense...the Vikes sure won't be intimidated by the spread - they see it every day...several key players were on the field for much of the GP game last year, and they won't be intimidated by GP's sixth-in-the-state ranking...QB Bryson Daggett DID look pretty damned good after a shaky first quarter...and if there is one spot the Vikes are loaded at, it's speedy skill position players who can double as corners against the GP spread...

But still, I had a hard time picturing a Viking win. But then I thought about the coaching staff. Coach Cronin has diagrammed every single play GP has ever run and has passed on his knowledge by coaching osmosis. Coach Tri KNOWS that GP thinks they know the Viking offense, so maybe he has a few tricks up his sleeve (think RUN).

Add it all up, and I think the Vikes pull it off. We're due to win a high scoring close one. Call it Vikes, 33-26.