Discover more from The Journal 425
411 for the 425 | Reader-supported local journalism with perspective, edge & authenticity. | Your home for Lake Stevens Vikings football. | Privacy: J425 will never share or sell your data.
Over 2,000 subscribers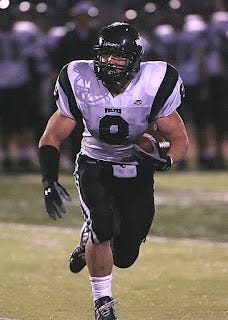 If the Vikes hope to compete on the road at undefeated Jackson, they'll have to find a way to slow down all state candidate Riley Carr. Rob Carlson / Sportsmedianorthwest.com

With the news breaking Wednesday that Lake Stevens' all-purpose star Brennan Frost will miss tonight's game at Jackson, a difficult task for the Vikings entered the realm of near-impossibilities.
The undefeated Jackson Timberwolves have cruised through the early season schedule, crushing all four opponents and displaying a balanced run/pass attack and a stiff defense.
Fourth-ranked Jackson is led by two senior stars with significant experience: RB/LB Riley Carr is a four-year letter winner and QB Andy Gay is a second-year starter and a high-major prospect at the college level.
Optimists will look at the Jackson schedule and point out that the four Jackson opponents have only two combined wins, but a realist will point out that Jackson and Lake Stevens have two common opponents: Stanwood and Arlington. Lake squeaked by Stanwood 21-17 courtesy of a last-second drive, while Jackson trounced the Spartans 35-18. Lake got past Arlington 31-21, while Jackson hit the accelerator early and cruised to a 56-21 rout.
Don't get me wrong, there are definitely scenarios where the Vikings could win. Most of these scenarios involved a big game from Frost, but with that possibility removed due to injury, the odds grow steeper.
Believe it or not, I feel Jackson has more to play for and that it is possible Lake is looking past this game with an eye to next week's Wesco North division clash at Marysville-Pilchuck. A loss, to the Vikings, means little. After all, the Vikes are playing on the road at a top ten team without their best player. No matter what happens tonight, the Vikings will still be undefeated in Wesco North play and control their playoff destiny.
Jackson, however, is playing on a bigger stage. Trailing only Skyline, Auburn and Bothell in most 4A rankings, the Timberwolves are primed to compete for a state title and are looking to go undefeated in regular season play. In their minds, a team competing for a state title doesn't lose at home to (on paper) inferior foes. All things considered, the Timberwolves will be looking to make a statement tonight, especially with the increased media presence generated by the KIRO 7 and Varsity Sports Live television coverage.
However, in some ways this removes all the pressure from the Vikings, and maybe this will help. Every game this season, the Vikings have come out tight and played sloppy if not down-right-terrible first quarters. Three times, they have overcome a tragic comedy of early drops, turnovers and penalties to emerge victorious. Perhaps this pressure will be removed tonight. Most everyone expects the Timberwolves to win - and to win big - so what exactly do the Vikes have to lose, other than pride?
Players to Watch:
Jackson - #8 RB/LB Riley Carr - Carr may be the best all around player we see this season. He leads the Timberwolves in receptions and running yards (by comparison, he has about as many receptions as Brandon Preslar, plus about as many rushing yards as Brennan Frost), and serves as a stout and punishiing defender in the center of the stingy T-Wolve defense.
#7 QB Andy Gay - The 6'4 Gay has the look of a seasoned college passer. He's got the big arm, and is comfortable making all the throws in his second year at the helm of the Jackson spread-option offense. This, year, he's shown an increased willingness to tuck the ball and run, carrying the ball on the ground nearly 30 times through four games.
Lake Stevens - #35 OLB/WR Brandon Belcher - The junior linebacker/safety leads the team in tackles and OMG hits, but Belcher has circled this matchup from the git-go, relishing the opportunity to but heads with Carr. If the Vikes are to control the Jackson offense, they need to put hats on Carr, who is more used to delivering punishment than taking it. One Viking who is capable of putting some hurt on Carr is Belcher. Belcher will also be key in his role as long snapper for punts, as the Vikes will be employing a new punter tonight...Belcher has moved onto the depth chart as a second-string receiver and may see time tonight on offense as well.
#32 RB/P Vasya Bogdanoff - The "soccer player" arrived just in time for the Vikes, as he is eligible to play for the first time in the game the Vikes need him the most. After Frost's concussion, Bogdanoff won the starting punting and kickoff jobs, and will share running back duties with junior J.T. Cox. Coaches have been impressed with his ability between the tackles, and the guess here is that Vasya will see the bulk of the carries...keep in mind this is the guy that led the Viking frosh team with 17 touchdowns three years ago.
When Jackson has the ball - Jackson has a real tricky way of shoving the ball right down opposing defenses' throats. The employ a spread formation, use lost of motion and deception, and often lineup in Wildcat with a direct snap to Carr. In last year's thrilling 50-49 OT win at Lake Stevens, the Timberwolves used three QB's and ran effectively out of several different formations. When they are not running the ball with Carr, they look to throw the ball to Carr. He is second on the team in receptions with 13. Other threats include leading receiver junior Kyle Olson (#2) and all-purpose threat Marshall Massengale (#11).
When Lake has the ball - The Vikings will continue to rotate between starting QB Bryson Daggett and wildcat QB Chameron Lackey. Daggett will look to build on his efficient week 4: 10/16 with two touchdowns and no interceptions. The Vikes will look to run between the tackles with Cox and Bogdanoff, and will substitute in sophomore WR Christian Gasca at running back in the obvious passing downs and five-wide sets.
Keys to the Game -
1. Control Carr: Easier said then done, but if the Vikings are able to limit the touches of Carr on offense and make him pay physically every time he carries, they may have a shot.
2. No Mistakes: On the road against a superior opponent, there is no room for turnovers, drops, false starts, offsides and other ubiquitous displays. If the Vikes come out clean and play with energy and intelligence, they can stay in the game and look to pull it out in the end.
3. Turnovers: It's likely that the Vikes will need a plus three or better turnover advantage to win this game, considering the shocking number of three-and-outs the Viking offense has delivered. Last week, the Vikings punted the ball seven times. Jackson has punted seven times all year. The Vikes need to maximize possessions, protect the ball, and take advantage of every opportunity to create turnovers on special teams and defense.
The Pick - With Frost out and considering the scenario - a road game against the fourth ranked team in the state...I can't justifiably pick the Vikes to win. As I said earlier, I can envision scenarios where the Purple and Gold prevail: career game from Daggett...Jackson gets turnover happy...Carr or Gay don't play...Vikes run wild on the ground and control the clock, win on last second field goal, etc.
But seriously, if I were an odds maker, I'd set the line at Jackson -17 (considering the Frost injury). I'd like to think that the Vikes will beat that spread, but probably not by much. I'm gonna go with Jackson 38-22.