Discover more from The Journal 425
411 for the 425 | Reader-supported local journalism with perspective, edge & authenticity. | Your home for Lake Stevens Vikings football. | Privacy: J425 will never share or sell your data.
Over 2,000 subscribers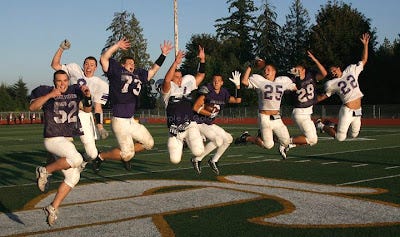 Photo by Rob Carlson/Sportsmedianorthwest.com

If a .500 team could face a bigger game, I can't imagine it. Tonight, your (4-4, 3-2) Lake Stevens Vikings welcome rival Snohomish Panthers (2-6, 1-5) into Lake Stevens for Senior Night, Autumn Fest and - the last game ever played in Lake Stevens Stadium.
Several playoff scenarios abound for the Vikes. The simplest: win tonight, lock up second in Wesco North, play at Bethel next week. Another scenario: lose tonight, but Oak Harbor loses at Marysville-Pilchuck as well. This would give the Vikes the third slot in Wesco North - and a road game at #2 in state Bothell (who knocked off Skyline last night) next week. Finally, if the Vikes lose and Oak Harbor manages to beat M-P, then the Vikings, Oak Harbor and the loser of the Arlington - Stanwood Stilly Cup game would meet tomorrow in a Kansas City Tiebreaker to determine the third slot. More on that later, it the situation dictates.
The Game:With the backdrop of Senior Night and the LSSD's celebratory closing of the old stadium, there is quite a bit of background noise to deal with tonight. Politicians and movie stars will be on hand, and Lake Stevens Stadium will quite likely play host to the largest crowd in Lake Stevens history tonight.
Weather will be a factor for the third straight week. The National Weather Service forecasts a balmy game time temperature of close to 60 degrees, but heavy rain is forecast, and a high wind advisory is in place from 5 pm to midnight. Forecasters set the chance of rain at 90%. If you're looking for covered seating...get there early, or sit with Snohomish.
Injury Report:As we've discussed ad nauseum, the Vikes are paralyzed by injury. Let's try and keep this section as brief as possible by just discussing the injured starters:
OT/DE Jesse Porter OUT, WR/K/S Arvid Isaksen OUT, WR/QB/S Chameron Lackey OUT, WR/CB Tyler Reside OUT, WR/CB Quincy Carroll OUT, P/K Vasya Bogdanoff OUT, LB Korey Young OUT RB/LB Duke Dolphin OUT. That's eight starters - many of whom go both ways - out for tonight's game.
Let's take a look at the injured Viking starters who WILL play through serious injury tonight: RB/CB Brennan Frost (torn ACL), OT/DE Garek Stuart (torn ACL), LB Alex Moon (torn MCL), DT Justin Grow (fractured foot), OG/DE Jordan Eckstrom (groin).
QB SituationSophomore Jake Nelson got his first start last week at Oak Harbor after Coach Tom Tri reopened the QB competition after the M-P game. Nelson played well under tough circumstances, completing more than half of his passes, averaging 15 yards per completion, and most importantly throwing no interceptions (he did fumble once). Nelson is also faced with a receiving corps that is missing four starters, but at least Nelson is familiar with the replacements as many have played with him on JV. Should Nelson struggle, the Vikes have the luxury of inserting junior Bryson Daggett, who has played very well at times this year and has plenty of experience.
The Opponent:For whatever reason, I don't really feel like writing about Snohomish. They're a 1-5 team in conference. What more do you need to know? They run the Wing T. We've seen it a million times. The coach's son is the QB. His name is Luke Perry. He probably doesn't like being hit. If the Vikes can't beat a 1-5 team on Senior Night at home with a playoff berth on the line...well, then they don't deserve the playoffs anyway.
Keys to the Game:
Shining Stars - Get the ball to proven gamebreaker Brennan Frost and last remaining starting WR Brandon Prelsar
Dominate the Trenches - Use a physically improving offensive line to punch open running lanes and protect the inexperienced QB, while utilize experience and speed on defense to bottle up the antiquated Wing T.
Turnovers - Win the turnover battle. That's all.
The Pick:Despite the injuries and the volatility at the quarterback position, I think the Vikes still have more than enough to win. Emotion and momentum plays a big role in games like this, and when the Vikes see their senior teammates handing jerseys and roses to their parents at midfield, motivation will be in high supply. When the Purple and Gold hear the roar of a record crowd packing the old stadium for one last night, energy will be plentiful. On a night dedicated to seniors, the younger players will have to shine. Aside from senior factor back Brennan Frost - perhaps the most explosive players in all of Wesco regardless of classification - and senior stalwarts Jordan Eckstrom, Alex Moon, Garek Stuart, Ross Jones, and Chase Crowley, the Vikes are leaning on youth - Junior WR Brandon Preslar. Sophomore QB Jake Nelson. Sophomore WR/PK Colter Swords. Sophomore LB Connor Crowley. The list goes on. If any of these youngster can step into the void created by fallen senior teammates, a victory over Snohomish and second place in conference should be easily attainable. I look for the Vikes to take an emotional breakout victory, 35-14.
A couple other predictions:
RB Brennan Frost gets the 155 yards he needs to break the 1000 yard mark.
LB Brandon Belcher agains carries the ball five or more times on offense.
QB Jake Nelson throws for 200 yards and 2 TDs.
WR Brandon Preslar hauls in seven or more passes.
Tune in around 6:30 for our live game blog.