Discover more from The Journal 425
411 for the 425 | Reader-supported local journalism with perspective, edge & authenticity. | Your home for Lake Stevens Vikings football. | Privacy: J425 will never share or sell your data.
Over 2,000 subscribers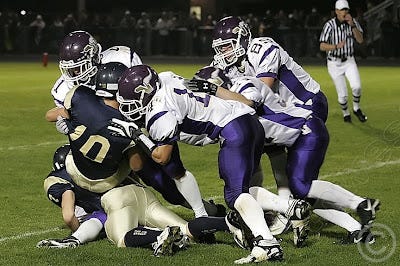 The Viking D will look to give QB Tyler Van Sligtenhorst "the Parduhn treatment" tonight in Puyallup. Rob Carlson/Sportsmedianorthwest

Earlier this week, we interviewed linebackers Jake Huddle and Sean Stickney, the Vikes' leading tacklers. When I asked Stickney about this week's game at Rogers - and in particular, QB Tyler Van Sligtenhorst, Stickney said TVS (much shorter to type) reminded him of Jake Parduhn.

An apt comparison, I thought, so after putting together the print preview of this week's game last weekend, I decided to change it up a little online by reading through our Arlington pre-game preview and pick:

"He's a pretty confident quarterback, but confidence goes out the window pretty fast when your smacked in the mouth four straight times," Bo Dickinson said.

Not only a great quote - but a prescient one as well. The Vikes went on to smack Parduhn in the face about 13 times, and he was never the same again - as Stickney pointed out in the interview.

In TVS, The Vikes face a QB that represents all of the early-season Parduhn hype, but with the leadership and 8-1 record to back up the hype. The Purple and Gold will also have to fight through several obstacles: a ball hawking secondary and a rabid home crowd included.

Rogers Players to Watch:

QB/S/KR Tyler Van Sligtenhorst #2 (Senior, 5'8", 180 lbs)
The diminutive Van Sligtenhorst is the engine that makes the Rams go. Not only is he the starting QB – he's also the free safety, and he returns punts and kicks…Reigning SPSL Defensive Back of the Year…named Second Team All League at QB following the 2007 season…Tacoma News-Tribune All Area 2007…Has a strong arm, but is more of a runner than a passer…Had his best game on the ground in the opener against Bethel, rushing for 135 yards and two touchdowns on just 11 carries…Had his best passing game in the Ram's only loss – to league champ Curtis – going 9/19 passing for 273 yards and four touchdowns…Averages 127 yards/game passing and 65 yards/game rushing…has a somewhat lackluster 43.7% completion percentage...broke off an impressive 63-yards TD run against Puyallup last week...known to look for the highlight reel play with out regard to his body.

WR/DB Wes McCann #26 (Senior, 5'7", 180)
Van Sligtenhorst's favorite target is another undersized player with a big motor, the shifty Wes McCann. McCann is also a lockdown defender at DB, usually lining up on the opposing team's best receiver…Had his best game against league champ Curtis, catching four balls for 89 yards and three touchdowns…
RB/DB Bennett Bontemps #4 (Junior, 5'11", 180)
Bontemps is Rogers' main option at running back, averaging around 70 yards per game and over eight yards per carry...Bontemps also averages nearly two touchdowns per game…Had a great game Week @ against Spanaway Lake, carrying the ball four times for 70 yards and two TD's, while also snagging a 64-yard TD reception...Bontemps is French for "Good times".

OL/DL Allan Thompson #66 (Senior, 6', 285)
The senior big man headlines the Rogers defensive unit, plugging up the middle and wreaking havoc at the line of scrimmage with his rare strength and mobility…Thompson also serves as a starting offensive lineman....had a 12-yard Pick-Six INT against Puyallup last week.

WR/CB/K Sean Tollan #80 (Junior, 6'1", 180) – The smooth and athletic junior has emerged as a dependable playmaker…snared a 54 yard bomb against rival Graham-Kapowsin…serves as the place kicker and punter, missing just one extra point this season…Had a 66-yard punt against Beamer.

When Rogers has the ball:

Like Arlington in some respects, Rogers is a Gun Slot offense - but they run quite a bit more than they pass. Some numbers to consider:

On First Down: The Rams run 7o% of the time.
On Second and Long: The Rams run 54% of the time.
On Second and Medium: The Rams run 90% of the time.
On Second and short: The Rams run One Million percent of the time. (Actually, 100%).

The Rams have a couple able backs in Bontemps and 240-pound Keith Arnold, but TVS is the most dangerous weapon. He is probably the fastest player the Vikes have faced this year (with apologies to Taylor Cox, who wasn't quite healthy when he ripped LS for 200 yards.)

When the Rams pass, they throw deep vertical sideline routes to their pair of undersized receivers. TVS is a highly inaccurate passer (47%) and is prone to the interception.
The Rams sports a somewhat-undersized offensive line, with only one player clocking in at over 220 pounds. They also start 5'10, 195 pound Steven Perez at Center.
The recipe for success is simple. Get physical, stop the run, force TVS to pass. When the ball is in the air, the Vikes' bigger, more physical defenders like Colton Tupen, Dickinson, JJ McCarthy and Chameron Lackey need to impose their will on the smaller receivers and snatch that ball out of the sky.
I can't overstate how important aggressiveness will be. Hit the QB, and then hit him again. Strip the ball. Expect the interception. Create turnovers. Even in the best scenario, the Rams will score. They are just too fast and talented not to. But they will also make mistakes, and if the Vikings come out like they did against Arlington and smack TVS in the mouth "four times", then the Purple and Gold will emerge victorious.
When the Vikings have the ball:
By now, we all know that this isn't really a concern. The Vikes are going to score enough points to win the game. If the offense can cut down on the turnovers, that would be nice. That said, there are several particular weaknesses in the Rogers' D that the Vikings will look to exploit.
The Rams start a 170 pound NT. That's right. He's fast and tough, but it's definitely a weakness, especially considering he will line up across from probable All League lineman Zach Teuber. Coach Tri will look to attack this area through runs up the middle and delay center screens. The Vikes will allow pressure to get up field on the edges, and then look to dump the ball underneath to Tupen on a WR screen or Dickinson on a FB screen.
Rogers plays an unconventional 3-5-3 defense, with many of their undersized DB's (TVS, McCann, Jake Steedman) actually playing linebacker in most formations. This is a formation the Vikings have not seen, and the Rams are likely to blitz a lot out of the second level. They lead the SPSL in interceptions, and they are familiar with the spread offense. Then again, they haven't played against Nick Baker and Company in the SPSL.
Intangibles: Rogers gets the big edge playing in front of the home crowd. They are a confident bunch, and well they should be with an 8-1 record. It's the playoffs, and the Vikings will have to play a clean game to win. How many times have we looked up at a 14-0 deficit five minutes into the game? Lake absolutely has to get off to a fast start. No turnovers, limit the penalties, and no mental mistakes. I put this responsibility on the senior captains. This could be your last game. Instill a sense of aggressiveness and mental acuity in your teammates, and get off to a quick start.
If the Viking are able to strike quick and build a lead, they can force the Rams to pass - which is not their specialty. If TVS has to throw more than 15 times, the Vikings will benefit from at least two turnovers, and they will win. If the Vikes do their usual fall-behind-and-then-surge-back-late routine, the Rams can comfortably operate a running game in front of a friendly crowd.
The Pick:
In the end, I just feel that this Viking team has not reached its last chapter. We have not seen this team play its best game yet. What better time than the first round of the playoffs? I know that the senior leadership (Teuber, Dickinson, Baker, Tupen, Trevor Riecks, Dylan Youngblood, etc) will have this team ready to play tonight. I expect the Vikings to start fast and to play downhill on defense.
Another area of opportunity for the Vikes is to physically wear down TVS. The little dude returns kicks, plays every down of defense, and has the ball in his hands every snap on offense. That is lot of opportunities to "hit him in the mouth". Granted, he is quick as lightning and tough as nails, but one man can only take so much. If the Vikes give him the Parduhn treatment, things will be looking up.
Turnovers will be the key stat tonight - whoever wins the turnover battle will likely take the game. In the end, I see a big performance from Baker on the grand stage of the playoffs - with huge support from record-setting receivers Tupen and Riecks. I also expect a healthier Dickinson to chip in with a gamebreaking special teams play and a solid all-around game from FB and S positions.
I see a well-fought, tightly contested game with the Vikings eventually emerging, 35-28. The winner will play Skyview in Vancouver next weekend.