Discover more from The Journal 425
411 for the 425 | Reader-supported local journalism with perspective, edge & authenticity. | Your home for Lake Stevens Vikings football. | Privacy: J425 will never share or sell your data.
Over 2,000 subscribers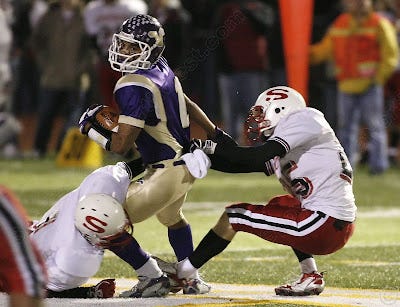 Dustin Adams and the 2007 Vikings were slapped around on Senior Night as the Vikings lost at home to the rival Panthers 45-21. Rob Carlson / Sports Media Northwest

Where does the time go? Week Eight is here, the final home game for an entire class. Senior Night - the night a group and their parents are honored for the sacrifices and contributions they've made to the program - coincides tonight with a Western Conference league battle against rival Oak Harbor.

As the Class of 2009 plays under the home lights for the last time, several things will be in the forefront of their minds:

- The Playoffs - It's simple, win and you're in - with a shot at a "home" playoff game.

- Rivalry - The Vikings were the only blemish on Oak Harbor's 2006 State Championship season, and last year, the Wildcats roared back from a 14 point home deficit to best the Vikes and stay undefeated at Wildcat Memorial.

- Pride - The Vikings have lost two straight home games, and have a losing home record this season. Let's be honest: a team that isn't at least .500 at home has no business setting its sites on the playoffs.

With that in mind, what can we expect from tonight's contest? From the Oak Harbor perspective, go ahead and follow this link to a preview we did earlier in the week.

When the Vikings are on Defense:

By now we've all grown familiar with the Viking 3-4 base attack. The Vikes have had some trouble with misdirection this year, giving up huge ground gains in their losses to Jackson and M-P. To counter the problem, we expect the Vikes to walk another defender to the line of scrimmage, and to attack with run blitzes instead of waiting to react. The addition of Jesse Porter at DE has allowed the Vikes to present a stout four man line of DE Eric Huswick, DT Dylan Youngblood, DT/DE Zach Teuber, and Porter. Six foot six Sophomore Aaron Britton has emerged as well.

The Wildcats are fairly predictable on offense. Based on formation, the Vikings will look to identify run or pass prior to the snap. Thanks to Coach Joe Cronin's exhaustive game planning (I can personally vouch that the Vikings have yet to face an attack or strategy that wasn't game-planned in Cronin's packet), all the Vikings will have needed to do is prepare. After a solid week of practice, I think they've done just that.

To be short, we expect the Vikes to load up against the run and to attempt to force Junior QB James Jordan to beat them through the air. Considering Jordan's 27.8% completion percentage, this is sound strategy.

When the Vikings have the ball:

So every now and then, we do a feature on "Vikings on the state leader boards". As you are well aware, QB Nick Baker is among the top in the state in nearly every measurable QB category, but he holds clear advantages in completion percentage (almost 70 percent) and TD-INT ratio (over five to one). While both Colton Tupen and Trevor Riecks are among the top three and receptions, they lag behind in total yardage and yardage per catch (both average around 14 yards per reception).

What does this mean? The Viking offense is built around giving what the defense offers. It is not a vertical attack - it is a precision attack based on accuracy and reads. Sure, Baker has gone deep a few times with success, but almost all of his passes travel less than 20 vertical yards in the air (given, sometimes he wings it 40 yards across field to set up a ten yard gain - this is not an arm strength thing, this is reading the defense that I'm talking about). It is then on the receiver to make one man miss and pick up yardage. This is how Baker has been able to post nights like 19/22 for 346 yards (Arlington) or 31/40 for 370 yards (Jackson).

Why am I bringing this up? As we discussed on Tuesday, Oak Harbor generally plays a Cover Four strategy on defense. Again, this means that the defensive backs look to backpedal for depth and protect a zone with the goal of not being beaten over the top. The weakness of this defense is the underneath pass, especially as presented by curl/hook and crossing routes. In combination with the aggressive Oak Harbor pass rush, there is definitely potential for fast screens and bubble screens to lead to big gains as well.

The problem for Oak Harbor is that short and intermediate passing is what the Vikings do best, accompanied with identifying weaknesses in the opposing pass coverage. At the end of the day, the only question will be whether Baker has time to throw. If he does, this will be a long night for the Wildcats. If not, this could look a lot like the first half of the Stanwood game (no offensive points scores, several sacks, an INT).

Intangibles:

The Vikings have all the reason to want this game. Senior Night. Last home game. Clinching a playoff berth. Avoiding a losing record at home. But motivation has not always equaled determination, as the Vikes have come out flat again and again. Once again, the Purple and Gold will be playing without Senior Co-Captain and "best all-around player" Bo Dickinson, who continues to struggle through an ankle injury.

This is where the rubber hits the road. Either you're a playoff team or not. Playoff teams win at home, and playoff teams bully around lesser competition. The Vikings have done both of these in flashes. Tonight, with an entire class' legacy on the line, it all needs to come together, or for this season, it may be over. I'll also add that Oak Harbor is playing for its playoff life - no small motivator as we've noted before.

The Pick:

Personally, I think it comes together. The Vikes had a solid week of practice, and they are prepared. Thanks to solid contributions from Juniors and Sophomores, the Vikes have learned to get by without Dickinson (for now...). Tom Tri and Joe Cronin have the Vikings as well-prepared as any team in the region, and I can personally vouch that this week's game plan pulls out all the stops.

By the end of the night, I believe will have seen another text-book air assault led by Baker, Tupen, Riecks and Huswick. I expect the emerging star Duke Dolphin to have another solid all around game. I also get the feeling that we will see some or all of the following: a special teams touchdown, a fake punt, and a Nick Baker reception.

In the end, I feel good about this one, and the fans should too. Take the opportunity to appreciate a class filled with standout football players, and - more importantly - stand out individuals.

The Vikings win going away on Senior Night, in the process clinching a Quad District Playoff berth. Vikings, 47-17.

Notes: S/QB Chameron Lackey practiced exstensively at Fullback this week, getting the bulk of the reps in Thursday's practice...CB Brennan Frost is emerging as a first team defender...Jesse Porter has added another dimension of toughness to the offensive line at right tackle...Nick Baker will pass 2,000 yards passing tonight, as long as he gets at least 12 yards through the air...Baker is nine touchdowns short of his preseason goal of 30...Trevor Riecks will join Colton Tupen in besting the former team record of 43 receptions with two more tonight...linebackers Jake Huddle and Sean Stickney are separated by just one tackle for the team lead...Lackey has played safety, QB, WR and RB this season...