Discover more from The Journal 425
411 for the 425 | Reader-supported local journalism with perspective, edge & authenticity. | Your home for Lake Stevens Vikings football. | Privacy: J425 will never share or sell your data.
Over 2,000 subscribers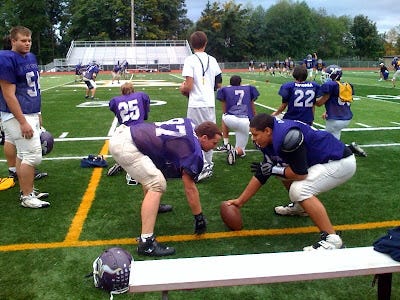 Kalena Richardson worked on snapping technique all week. Here, he get's tutored on some of the finer points by LB Jake Huddle (87).

We're running a little behind, so let's be quick about it today.

Monroe Players to Watch:

#5 RB/QB/S Austin Bray - Bray, First Team All Wesco at Safety last season and second team at RB, played QB last week in the absence of Sonneveldt. He is a threat all over the field, and can throw the ball a little bit too.

#17 QB Brian Sonneveldt - A pretty decent spread QB when healthy, he struck for 400 yards and 5 TD's against Sedro earlier in the year, but has been average and/or injured since.

#3 WR/CB Connor Shelford - A tall, lanky receiver with some jets. Doubles as CB/S on defense...threw an 86 yard TD pass last week on a trick play.

Note - Monroe changes uniform numbers all the time, and numbers are not listed on the roster, so the numbers I posted are best guesses.

When Monroe has the ball:

Let's assume that Sonneveldt is back. Monroe can run the spread or the I, and can be effective at both. They have some weapons, but are week up front. The question is, after watching game tape of last week's debacle, will Monroe line up in the Power I and try to run the ball down hill to control time of possession and take advantage of a perceived weakness? And if so, can the Vikings react and stop the run?

Assuming the Bearcats go back to their passing ways, if I were DC Joe Cronin, I would view Monroe a lot like Arlington, and I would dial up big pressure on the QB, seeing as how the QB will either be a guy coming off a shoulder injury or a guy who's only played the position once, you have to think that pressure is the best call.

When the Vikings have the ball:

Coach Tom Tri will try to reassert the passing game, and that will begin with protection up front. The Vikings have shuffled the line around and Coach Jeff Pahukoa has been working hard with the group and the individuals that make up the offensive line. Without the injured Bo Dickinson, the Vikings will lean heavily on Nick Baker to provide this must-win conference victory. Look for some short drops and quick throws to start, and if protection is adequate, we can expect some of the longer developing routes as the game wears on. Also, Tri might have a gadget or two up his sleeve.

Intangibles:

It's Homecoming in Monroe, but I'm not sure if Rod Mar will be there to guarantee the Bearcat loss. That said, we know how the Vikings performed at Arlington's Homecoming...

The Pick:

The Viking Seniors have to get this turned around tonight. Despite the unyielding pressure last week, QB Nick Baker looked pretty good and never gave up. I expect him to put together a big performance tonight. I know that WR Trevor Riecks is chomping at the bit after a bit of a down week - I wouldn't be surprised to see him hall in 8 or 10 passes this evening and maybe create a turnover on defense. I also expect the Viking line to dominate on both sides of the ball - they've been given a bit of a bad rap after the M-P loss.
At the end of the day, we predict a 42-17 Viking victory.

Bonus Pick: Skyline 21, Issaquah 14

We'll be back after the game tonight with full coverage, and I'll be posting score updates from the sidelines as usual. Keep your finger on that F5, and go Vikes!