Discover more from The Journal 425
411 for the 425 | Reader-supported local journalism with perspective, edge & authenticity. | Your home for Lake Stevens Vikings football. | Privacy: J425 will never share or sell your data.
Over 2,000 subscribers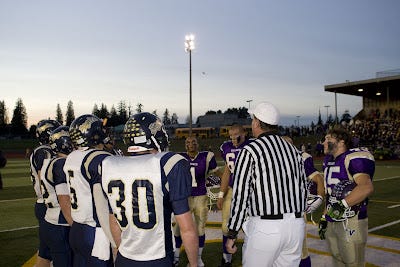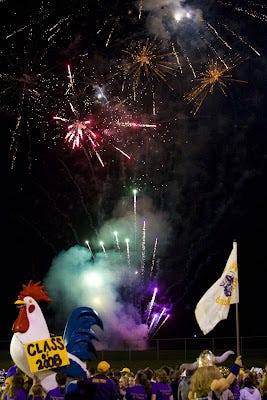 Last year's Homecoming began on a similiar clear Fall night, and ended with fireworks as the Vikings knocked off the Eagles on a last second Nick Baker touchdown.

Is it just me, or is it not one of those days? You know, one of those special early fall days where the sun shines a little brighter, but the bite in the air is enough to fight off any retro vision of summer. The trees are turning, time is passing, change is in the air.
When your in high school, these days stretch off into the infinite present, and it's easy to take them for granted. When you're a little older, a day like this brings back nostalgia...and speaking of which, what could possibly be more nostalgic than Homecoming?
A beautiful day in a picturesque Washington lake-side small town, the heated geographical and conference rival coming in for a playoff relevant mid season Homecoming tussle. Really, it's pretty good stuff.
But before we get too Norman Rockwell about the whole thing, let's remember that this is a football blog, tonight is really about a football game, and in tonight's game the Vikings' guests are the undefeated Marsysville-Pilchuck Tomahawks, sitting fat atop Wesco with an unblemished (5-0, 3-0) record. The Vikes are also perfect in league play, but sit one-half game back at (4-1, 2-0) due to the one less league game played thus far.
It is true, if the season ended today, both of these teams would host playoff games (that is, if LS could host a playoff game without shorting out the northern Snohomish County power grid, but that's another story). But you know what, the season DOES NOT end today - it starts today. For the Vikings, it's time to banish any residual doubts after a 4-0 start last season dissolved into a 6-4 mess. For the Tommies it's a ...well, we don't really give a damn. They're undefeated. They don't really need this game anyway.
So without further ado, let's take a look at tonight's matchup, borrowing heavily from our earlier look at the Tommies:
You know what, forget that. I wrote a thousand words on the Tommies earlier in the week. Just follow this link if you wanna read about the boys in red.
Let's talk about the Vikings.
When the Vikings have the ball:
By now, we all know the recipe. Pass, pass, pass, and then when they guess pass, pass again. That said, Lake has gouged defeneses by running out of pass formation and running out of pass breakdowns. QB Nick Baker has been a surprising weapon on the ground, averaging ten yards per carry on rushing attempts. Last week he kept Jackson honest by rushing ten times for 85 yards and one TD. Taking nothing away from the uber-talented Sophomore Duke Dolphin and the fast-twitch jet Tyler Reside, the running game will not hit on full cylinders until if and when Senior Bo Dickinson can return.
So to be specific, we'll see the bubble screen, we'll see the rollout left, we'll see the QB draw. We'll see the trap, then we'll see the fake trap into a Trevor Riecks fly sweep, adn then we'll see the fake trap, fake fly sweep downfield pass a la Glaicer Peak.
One thing to remember is that last week, Head Coach/OC Tom Tri left a lot of tricks in the bag. It was a non-league game, and he called it as such. It's a testament to the Vikings' offensive ability that a "vanilla" game could look so exciting.
That said, be ready for some next-level stuff that you've never seen before. Maybe Colton Tupen will throw a pass. Maybe Nick Baker will split out and the Vikes will run a modified Wildcat with a back under center a la Jackson.
Just bet on this - the Vikings are going to score some points, and early in the game - probably in the first quarter, Nick Baker will become the Lake Stevens Vikings all time career passing leader.
When M-P has the ball:
Again, we already talked about that over here. To summarize, they are going to run the damned ball every single time. Over the last three games, the Tommies have run the ball 84 times and passed 14 times. They have completed just two of those 14 passes. You do them math. M-P has a workhorse back in Junior RB Austin Denton, who leads Wesco in rushing and is averaging just short of 190yards per game.
To stop this aggressive, ball control attack, the Vikings MUST stack the box and dare M-P to pass. Most M-P formations have only one man split out - and yes, that man is All Wesco WR Levi Cartas, but Lake can bet that our own All League contender in Tupen can blanket Cartas one on one. That means that safeties Chameron Lackey and Dolphin can walk up towards the line of scrimmage. If CB JJ McCarthy wasn't such a solid tackler, the Vikings could sub in another LB - but McCarthy is fourth on the team in tackles, so expect him to pinch in and try to contain the edge.
Also, expect the Vikings to add a fourth down lineman, changing their base formation from 3-4 to 4-4.
Intangibles:
It's Homecoming, which should give the Vikings an emotional edge. Then again, we all saw what happened to Arlington on Homecoming. The Vikings came to their party and poured the punch on Arlington's head.
The crowd will be huge and lively, but if the Tommies ball control offense stays on the field, the crowd could lose interest, and the Vikings defenders will tire. It is of the utmost importance that: 1) The Viking defenders get off the field on third down, and 2) the Viking offense sustain drives. M-P thrives on killing opponents will through ball control and smash mouth football. The best way to stop this is to get up 14-0 and watch the hapless Tommie QB's attempt to throw a pass. Now that would be funny.
All things said, this is going to be a a battle! It WILL come down to the details. The battles of specials teams, penalties and turnovers will lead to the winner in this contest. The Vikings cannot afford to turn the ball over six times, give up kick return touchdowns, or get penalized for 100 yards. M-P is too good. Plus, Lake made great progress in that regard last week, turning the ball over just once and excelling on special teams (shout out to Kevin Brown).
A lot has been made of the Vikings not having school today. How will that affect the on field performance? What if the Vikes stayed up too late or screwed around all day? Guess what - Coach Tom Tri is one step ahead of all of us. The team had a 9:30am breakfast and a 11:00 am walkthrough. And for those if you who are still concerned, Tri remembers the last time the Vikes played a home game on a no-school Friday: it was 2006, and all the Vikes did was beat undefeated and number-one-in-state Oak Harbor. Yes, the same Marshall Lobbestael-led Wildcats that did not lose again that year on the way to a state championship.
Take it in Vikings, enjoy the moment. Live in the present, but don't forget to appreciate your teammates and your surroundings. And then go out and win a hard-fought Homecoming game against a worthy opponent.
The Vikings take a memorable one, racing past the Tommies late - 41-27.
Notes:- RB/S Duke Dolphin is recovered from his mild concussion and expects to play.
- RB/S Bo Dickinson is out with cracked vertebrae.
- OL/DE Jesse Porter is expected to see his first significant action tonight. The physical lineman - who Bo Dickinson calls a "beast" - joined the team late and missed the first four games. Porter was practicing the first defensive unit at DE for part of yesterday's turnout.
- Viking staff expect a crowd of 3,000 plus for tonight's game - get there early or watch from the parking lot!