Discover more from The Journal 425
411 for the 425 | Reader-supported local journalism with perspective, edge & authenticity. | Your home for Lake Stevens Vikings football. | Privacy: J425 will never share or sell your data.
Over 2,000 subscribers
Superintendent Reads Book to Class, We Review It
Lake Stevens School District Superintendent Ken Collins took some time to read "Sitka Rose" to Liza Watkins' elementary school class last month. Here is our review.
Lake Stevens School District Superintendent Ken Collins visited Liza Watkins' class at Sunnycrest Elementary School earlier this month to read to students.
The book of choice? "Sitka Rose" by Alaskan author Shelley Gill.
We thought we better take a look at this title.
After tracking down a copy through an online library, J425 discovered that "Sitka Rose" is an illustrated story that details the adventures of (you guessed it) Sitka Rose: a "big ol gal with hair the color of flame."
As the story opens, Rose, we are told, was "born on a mountain near Sitka Sound", and grew up "strong and tall" by "climbing spruce trees to see the sky before she was even able to crawl."
In this spirit, a good natured Paul Bunyan-type story follows, with Rose riding a bull moose for transportation and engaging in all sorts of tall-tale type activity.
Or as author Gill puts it:
"Rose was wild and wary, just a little bit scary; and not an inch of her was tame."
We don't want to ruin it for you, but Rose's adventures take her from the Sitka Sound to Nome, over the peaks of Denali to the Northern Lights and back.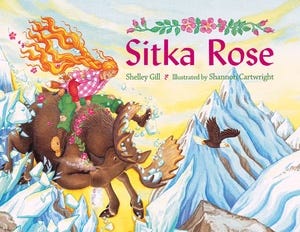 Throughout it all, Rose engages with wildlife and nature in a manner that encourages exploration, the good stuff that goes on outside (away from the screens) and the value of an independent spirit.
"Sitka Rose" is a good book. It kinda makes you want to rent a moose and head out on Into the Wild (well, with a different ending).
The one thing we'd add is that Rose must've been an absolutely giant woman.
Perhaps even one of the fabled Giants that supposedly live in the Pacific Northwest, or Argentina, depending on whom you ask.
We make this assumption based on the fact that she rides a bull moose. Have you ever seen how big those things are? Dinosaurs.
She must've been a good 16 feet tall. But then again, the book did say she was a big ol gal.
Regardless we give "Sitka Rose" three out of four stars and Superintendent Collins four out of four stars on book selection and finding time to read to the third graders.
Photo and story idea courtesy of LSSD social media. Purchase "Sitka Rose" via Amazon here.
---