Discover more from The Journal 425
411 for the 425 | Reader-supported local journalism with perspective, edge & authenticity. | Your home for Lake Stevens Vikings football. | Privacy: J425 will never share or sell your data.
Over 2,000 subscribers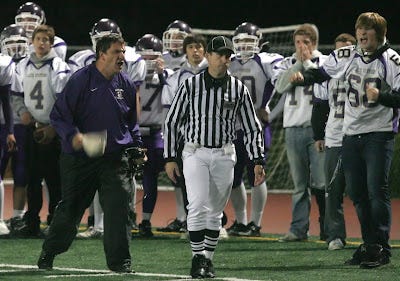 "Excuse me, dear sir. I'd like to beg to differ with your decision not to grant me a timeout prior to last play. May we discuss this further at your earliest convenience?" Coach Tom Tri has some words with the ref after the failed two point conversion at the end of Friday's game. Tri had been yelling for a timeout several seconds before the ball was snapped. Notice the reactions of the players behind the ref, from Sean Stickney (68) putting in his two cents to Duke Dolphin (14)covering his face in shock. What a moment...Rob Carlson/Sportsmedianorthwest

Sorry about the thin posting...we've been slaving away on the print edition of the playoff preview, which will appear in the Journal this Wednesday.

...I just got done looking at Rob's pics from this week...GREAT stuff. Photo diary will be up tomorrow.

...Two days later and I still feel like Friday's game was a dream. A mix between a good dream and a nightmare, if that makes sense...

...King 5's High School Gametime website has a Paul Silvi feature on our very own Nick Baker. Nice job on the interview, Nick. You are very well spoken on camera! Silvi says that many Lake Stevens fans compare Nick to Jim Zorn. Hmm. It sorta bugs me how people always tend to compare lefties to other lefties. Kinda puts you in a box. Personally, Nick reminds me of Boise State QB Kellen Moore (of Prosser), or maybe Colt Brennan, formerly of Hawaii. That's just me. I wasn't really alive when Zorn was playing, so I'm not sure about all of that mess.

...The Seattle Times picked up our video "4th and 1o at the Snohomish 31" and even gave us a plug. Thanks Seattle Times!

...If you are a Comcast subscriber, you can check out Rogers kicking the heck out of Graham Kapowsin in the "local sports" On Demand section. I watched it earlier...the QB is a swift little fire-hydrant looking dude with a cannon for an arm.

I'll leave you with a snippet from our Rogers preview - the rest to follow later.

Rogers Rams Players to Watch

SR QB/S Tyler Van Sligtenhorst #2 (5'8", 180 lbs)
The diminutive Van Sligtenhorst is the engine that makes the Rams go. Not only is he the starting QB – he's also the free safety, and he returns punts and
kicks…Reigning SPSL Defensive Back of the Year…named Second Team All League at QB following the 2007 season…Tacoma News-Tribune All Area 2007…Has a strong arm,but is more of a runner than a passer…Had his best game on the ground in the opener against Bethel, rushing for 135 yards and two touchdowns on just 11 carries…Had his best passing game in the Ram's only loss – to league champ Curtis – going 9/19 passing for 273 yards and four touchdowns…Averages 127 yards/game passing and 65 yards/game rushing…has a somewhat lackluster 43.7%completion percentage.

SR WR/DB Jake Steedman #20 (5'7", 180)
Van Sligtenhorst's favorite target is another undersized player with a big motor, the shifty Jake Steedman. Steedman is also a lockdown defender at CB, usually lining up on the opposing team's best receiver…Had his best game against league champ Curtis, catching four balls for 89 yards and three touchdowns…Rogers also uses Steedman on gadget plays – he has thrown two
passes this season...his younger brother also gets some time at WR and DB.

JR RB/DB Bennett Bontemps #4 (5'11", 180)
Bontemps is Rogers' main option at running back, averaging around 70 yards per game and over eight yards per carry...Bontemps also averages nearly two touchdowns per game…Had a great game Week @ against Spanaway Lake, carrying the ball four times for 70 yards and two TD's, while also snagging a 64-yard TD reception.

SR OL/DL Allan Thompson #66 (6', 285)
The senior big man headlines the Rogers defensive unit, plugging up the middle and wreaking havoc at the line of scrimmage with his rare strength and mobility…Thompson also serves as a starting offensive lineman.

JR WR/K Sean Tollan #80 (6'1", 180)
The smooth and athletic junior has emerged as a dependable playmaker…snared a 54 yard bomb against rival Graham-Kapowsin…serves as the place kicker and punter, missing just one extra point this season…Had a 66-yard punt against Beamer.