Discover more from The Journal 425
411 for the 425 | Reader-supported local journalism with perspective, edge & authenticity. | Your home for Lake Stevens Vikings football. | Privacy: J425 will never share or sell your data.
Over 2,000 subscribers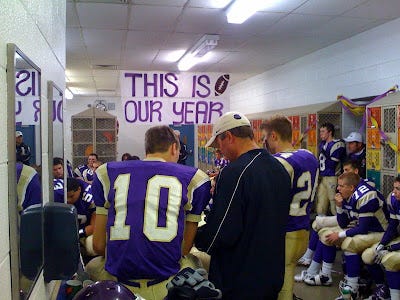 They don't come any rougher than this. Shut out, at home on Homecoming, by your top division rival. Bo Dickinson makes the unexpected return, is electric in the first half, rushing for 80 yards on seven carries, but sprains his ankle to start the second half. Dylan Youngblood, fresh off his front page Seattle Times story, also is injured and leaves the game.

Most concerning of all, the Tommies exposed a what appears to be major weakness: line play. On defense, the undersized Vikings made plays early to keep Lake in it - three turnovers forced deep inside Viking territory in the first half alone. But eventually, M-P wore down the Viking front, controlled the ball and ate up clock.

On offense, QB Nick Baker was his usual accurate self, but he hardly had time to throw, and when he did, Viking receivers weren't making the plays that we're use to seeing.

The good news: This is the Vikes' first conference loss, and they control their own destiny. If the Vikes win out, the WILL be a playoff team, and that's all that really matters.

Further, the Vikes have great leaders and brilliant coaching. Tom Tri and Joe Cronin will implement a plan to address the problems exposed tonight, and then leaders like Dickinson and Baker will carry out the plan.

On a personal note, I really felt awful for Bo. What an inspiring comeback...what a great effort in the first half...only to sprain an ankle. Bo is a phenomenal leader though, he didn't let the ankle get him down, and he was on the sideline coaching and encouraging teammates until he just couldn't stand anymore. Kudos also to Baker, who, despite being sacked and pressured over and over again, refuses to point fingers, put his head down, or stop trying to move the team forward.

With players and coaches like this, I'm sure Lake will rebound. Until then, I'm thinking about something else for a while. This one hurt!