Discover more from The Journal 425
411 for the 425 | Reader-supported local journalism with perspective, edge & authenticity. | Your home for Lake Stevens Vikings football. | Privacy: J425 will never share or sell your data.
Over 2,000 subscribers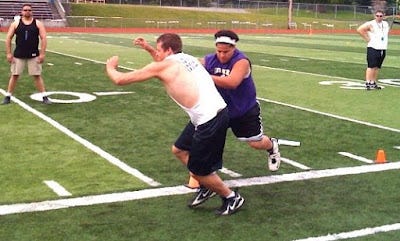 Lineman Kalena Richardson (right) impressed in early drills. Kevin Hulten/Purple and Gold Pigskin

Stopped by Spring camp today...good turnout, maybe 60 or 70 kids and ten coaches. Caught up with a few former Viking stars: Bo Dickinson (headed to the University of British Columbia to play on football), J.J. McCarthy (headed to WSU, just completed a sucessful baseball season) and Eric Huswick (training for the Junior Olympics, will qualify Friday and Saturday for the Decathlon).

It's hard to tell much from Spring Camp. A few notes though before we get into the pictures. Coach Tom Tri singled out ten players and awarded the first helmet logos of the 2009 season for excellent offseason conditioning. I didn't catch all of the players, but I do remember WR/S Brandon Preslar, TE/DE Aaron Britton, LB Chase Crowley and LB Alex Moon were definitely among the ten. Sorry I couldn't get all the names...I was a long ways away. Congrats to these hardworking Vikes.

A couple other impressions...C Kalena Richardson looks imposing...his brother QB Sage Richardson has filled out some and was throwing with zip...newcomer Kyle Posey looks physically imposing...CB/WR Tyler Reside looks fast as hell...OL Jordan Eckstrom appears to have added muscle... Moon was moving fast and impressing in drills...QB Chameron Lackey and Crowley served as captains.