Discover more from The Journal 425
411 for the 425 | Reader-supported local journalism with perspective, edge & authenticity. | Your home for Lake Stevens Vikings football. | Privacy: J425 will never share or sell your data.
Over 2,000 subscribers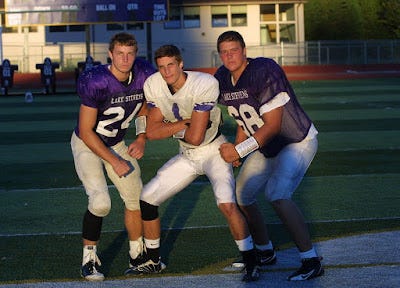 Viking captains Duke Dolphin, Brandon Preslar and Gunnar Eklund were all smiles above, but the talented trio of seniors will cause headaches for opposing coaches and players up and down the Wesco schedule. For the first time in four years, we like the Vikes to take the Wesco North crown.
Wesco North. Photo by Rob Carlson/Sportsmedianorthwest.com
Over the next couple days I will be slowly leaking the material from the Journal preview that hits mailboxes Wednesday. Here is my quick uneducated, guaranteed to be wrong look at Wesco North, verbatim from what I emailed the Journal a few days ago...

Fearless Prediction: Ranking Wesco North

Lake Stevens – The Vikings return starters across the ball and feature college level talent at six starting positions. If the Purple and Gold can avoid a tough early schedule and elude the injury bug that decimated last year's squad, this team could emerge as the first unified Wesco 4A champion.

Arlington – Head Coach Greg Dailer returns a dynamic QB in junior Blake McPherson, a hard nosed-runner in Riley Cobb and an all conference receiver in  Griffin Ginnis. The Eagles underperformed in league play last year (2-4)  but finished the season 6-4 overall.

Marysville-Pilchuck – So wait…the Tommies haven't lost a league game in over two years and you're picking them third? Yup. Something is rotten in Denmark, er, Marysville as head coach watched five of his starters transfer to Juanita without saying a word. The losses include UW commit Jarret Finau, and all state defensive end, and two All Wesco linebackers. However, we look for the Tommies to fight back hard to defend the title.

Snohomish – The Panthers ended 2009 tied with the Vikes at 4-2 but ended up one spot behind Lake due to the Vikings' scintillating season ending victory on Senior Night. The Panthers haven't settled on a QB and are still dealing with the Glacier Peak attrition, but the Panthers are always tough and will likely compete for a playoff berth once again.

Stanwood – Wesco North is a wide open division and Stanwood is just as likely to finish first as fifth. However, the Spartans have not lived up to preseason expectations (ranked in the top ten in the state last year) and we'd like to see results before placing the boys from Sparta any higher. Keep an eye out for the massive lineman Dexter Charles, who has accepted a scholarship to the University of Washington.

Monroe – The Bearcats just can't seem to get any traction in this brutal division, and they are just too big of a school to slide down to 3A. One of these years, they'll turn it around. Maybe next year. The Bearcats will