Discover more from The Journal 425
411 for the 425 | Reader-supported local journalism with perspective, edge & authenticity. | Your home for Lake Stevens Vikings football. | Privacy: J425 will never share or sell your data.
Over 2,000 subscribers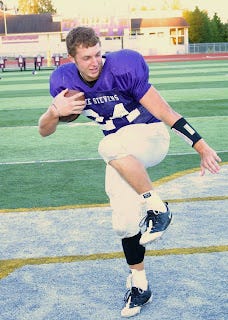 Senior Duke Dolphin. Photo by Rob Carlson


Week One: Sept. 3, Lake Stevens at Cascade, 5 p.m. at Everett Memorial Stadium             The Vikes open 2010 on the road in Everett against the 4A rival Bruins. Cascade typically features a run-heavy option offense which has troubled Viking defenses in the past. The Bruins will look to get the ball to talented sophomore Larry Bruce – a second team all league choice as a frosh – if he is healthy. Lake could be missing several starters week one as well, so an away win in this non-conference tilt would be a remarkable start.
Week Two: Sept. 10, Lake Stevens at Kamiak, 7 p.m. at Goddard Stadium, Everett            Week two features another away game at a southern 4A power. The Knights are breaking in a new starter at QB in Anthony Berg, but apparently Berg has really turned heads on the summer camp circuit. The Knights will give the Lake secondary its first aerial test.
Week Three: Sept. 17, Inglemoor at Lake Stevens, 7 p.m *Opening of new LSHS Stadium. 
It's the latest home-opener in recent memory and the Purple and Gold faithful will be in full voice on this celebratory night. The Vikes wrap up the non-conference schedule against Inglemoor -  a gritty squad that finished second in a tough Kingco 4A division last season.
Week Four: Sept. 24, Lake Stevens at Snohomish, 7 p.m at Snohomish Memorial Stadium. 
One home game, and then right back on the road with a brutal conference opener at Snohomish. The Panthers will be out for blood after the sound battering they received in Lake Stevens to end 2009. As always, stopping the potent Panther run game and limiting turnovers will be key for Lake.
Week Five: Oct. 1, Arlington at Lake Stevens, 7 p.m. 
October opens with what promises to be a high-scoring airieal attack between two pass-happy spread offenses. The Eagles feature the dynamic junior Blake McPherson at QB and a tough move-the-chains runner in Riley Cobb. This could be a battle for North supremacy.
Week Six: Oct. 8, Monroe at Lake Stevens, 7 p.m. 
Look, Brennan Frost is still running! A thought shared by the Monroe defense last year as Frost got a quarter of the way to 1,000 yards in one game against the hapless Orange People from the valley. The Bearcats are probably wondering who decided that they have to play at Lake again this season. Monroe is led by exciting junior DB Tory James, and all league selection last year.
Week Seven: Oct. 15, Lake Stevens at Marysville-Pilchuck, 7 p.m Quilceda Stadium.
Circle this one. The Vikings will visit M-P for the second straight year and will look to possibly end the Tommies' league unbeaten streak and lay claim to the Wesco throne. Until otherwise noted, the road to the title goes through Marysville.
Week Eight: Oct. 22, Stanwood at Lake Stevens, 7 p.m *Senior Night
This should be fun. Not only is Stanwood a popular preseason pick (again)…not only are the Spartans probably bitter about Lake's dramatic 92-yard last second victorious touchdown drive in Sparta last season…but this game will feature a matchup of the best college prospects in the conference: Stanwood tackle Dexter Charles, who has accepted a scholarship to the U-Dub, and Lake's Gunnar Eklund, who wants what Charles has, and is fixin' to take it.
Wesco Playoffs: Oct. 29 and 30, Location TBA, Wesco Unified Championship game and crossovers.
Check lakesports.blogspot,com for updated schedule information.