Discover more from The Journal 425
411 for the 425 | Reader-supported local journalism with perspective, edge & authenticity. | Your home for Lake Stevens Vikings football. | Privacy: J425 will never share or sell your data.
Over 2,000 subscribers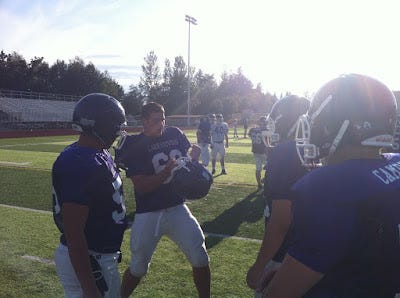 Tackle Gunnar Eklund (68) demonstrates technique to sophomore OT Carey Campbell as junior guard Kody Dinh looks on. Dinh also took time to school the younger players during breaks. Kevin Hulten / PnGP

The first stage of camp is over and the Vikes began the meat and potatoes portion of the Summer as two-a-days and full pad work commenced Saturday at LSHS. I stopped by for about one hour of the evening session, and also have some notes to pass along from yesterday. I'm working on a  projected depth chart and the top ten returners list as well. Today, though, I'll just empty out the notebook. Leave your questions and comments in the the comment thread please, happy to answer whatever. 
Offensive Line Shows Strength, Depth
It appears that the line will be a strength this season. It is hard to think of a more impressive coaching figure then Jeff Pahukoa. He combines a hands-on teaching style with a measured, calm and respectful presence. He is capable of conveying that he cares about his charges as well as laying down the hard-nosed no frills command necessary from a line coach. It is obvious that the line group listens and respects their coach, and the attitude is trickling down. Gunnar Eklund is a changed man. While he still is quick to smile or joke, the carefree attitude is gone, and it is apparent that he is taking his captaincy seriously. It was not unusual for Pahukoa to ask Eklund to "teach up" younger players after small mistakes in drills. Eklund and junior Kody Dinh (returning starter at LG) ably willingly showed technique and answered other players questions as drills continued. 
The Vikes are likely to feature five lineman with starting experience, although it appears that these are not the same five that will see the majority of playing time. If I had to guess at the starting OL for Cascade - and mind you this a guess and not necessarily indicative of who is unning with the first team right now - I would offer something like this" LT Eklund LG Dinh C Spencer Smith RG Korey Young RT Cody Tupen. The surprise in that group would have to be Young, and we'll get to that in a second, but I should also mention that Senior Cody Schlosser and sophomore Carey Campbell appear to be in the mix as well. Returning starter Taylor "Big Head" Metzger has looked good as well and will definitely challenge for a starting spot at either guard or tackle.
College football pundits are fond of using returning starters and depth along the offensive line as a predictor of success. If that's the case in high school as well, it looks to be a good season for the Vikes.
Weight Room Standouts
One of the best things about not seeing any of the football players for six months is the fact that it is really easy to pick out those that made the most physical progress over the offseason. With that said, here's a couple guys who are passing the eye test. And I'm sorry if you keep hearing some of the same names, it's a long season and we'll spread the love but for now  - with limited practices and no games under the belt - there's little to write about.
Korey Young - The hard nosed but likeable Young started as a sophomore for the Vikes as a linebacker in Joe Cronin's defense. Young returns this year noticeable stronger and faster. Young told me he's at 6'1 and 205, but he still ran a sub 4.7 at the spring combine, and is probably faster now. Young also had one of the best - if not the best - bench press showings at Viking testing day. With all this in mind, Tri has okayed a switch to offensive line for Young, again showing his preference for a fast, undersized guard (see Alex Moon) to get out and block on the second level for the Vikes' fast moving screen pass and fly sweep offense.Young has said he is enjoying the switch to guard and also expects to get some fullback carries in the Viking's three back short yardage package. Look for Young to have a big season and to move steadily into a leadership role as the year progresses.
Duke Dolphin - You saw the picture. This guy is all swole up like he was attacked by bees. Obviously, this speaks to Dolphin's dedication. What could be more devastating then expecting to be feature as a junior in one of the most explosive offenses in the state, only to suffer a catastrophic knee injury a week before the season...on the same day that Tri was telling reporters that Dolphin was the team's best player. It seems that the injury may have benefited Duke, as he has surpassed all reasonable expectations for physical ability. We're talking about a guy who went to the Nike camp in Oregon and had the best combine of ANY player there...including all of the guys you read about on Scout and Rivals. Duke's current numbers include a 4.48 40, 22x155, and a 31.5 vertical. Duke will take his gun show to the backfield (RB), defense (LB) and special teams (PR/KR). If all goes as planned, Dolphin will be playing on Saturdays in a year, thanks in large part to his no quit attitude.
Others worth mentioning: WR Brandon Preslar is noticeable leaner and stronger, but sporting a much improved 40 (4.65) as well. Preslar had the top vertical and short shuttle times on the squad... QB Bryson Daggett appears to have grown an inch or two, but has also redistributed his weight. He looks leaner, but is sporting big arms and impressive strength numbers (don't ahve the combine data handy)...Gunnar Eklund has turned babyfat into muscle, and while his bench numbers may not pop off the sheet, it's important to remember that the bench is not an effective measure of strength for people with freakishly long arms. Eklund has the look of an athlete, not a lumbering big body, which is extremely impressive for somebody clocking in at 6'6 285. Hard hitting LB/RB senior JT Cox is looking slimmed down and ready to burst through the line of scrimmage on both sides of the ball... I'm sure there are plenty others worth mentioning and I will get there in good time...these are just a few of the guys who I noticed RIGHT away.
Odds and Ends
It appears that Tri is favoring returning starter junior Jake Nelson at QB, although Daggett has looked sharp too, and is coming off an offseason under the tutelage of Glacier Peak head coach Rory Rosenbach. Dolphin has the starting RB spot sewn up but we are likely to see the scat-back junior RB Shae Giddens feature heavily week one...Tri has moved Preslar to the H receiver spot (Chameron Lackey, Trevor Riecks) in order to feature Preslar's much improved running ability and accurate arm. The H receiver is the motion man used heavily in the fly sweep and wildcat components of the offense...Tri is breaking in a new snap count system where the center keeps the cadence, an attempt to counter the defense's tendency to read Viking snap counts....Nelson looked sharp in live 7 on 7 today, while Daggett looked a little tired and was picked off by Christian Gasca and nearly by Cox. Worth noting that Daggett looked much sharper the previous two days....The Vikes are apparently dealing with the possibility that as a many as six starters will be academically ineligible for the first six weeks of the season.