Discover more from The Journal 425
411 for the 425 | Reader-supported local journalism with perspective, edge & authenticity. | Your home for Lake Stevens Vikings football. | Privacy: J425 will never share or sell your data.
Over 2,000 subscribers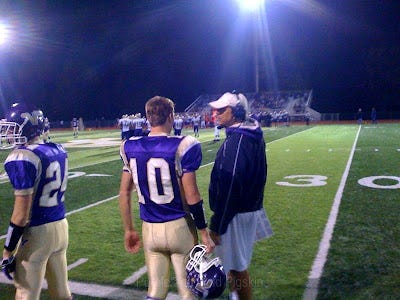 Nick Baker confers with Tom Tri as Bo Dickinson listens to the left.

So one of the perks of the day job is that today I get to head down to Montlake, have lunch with UW President Mark Emmert at the UW Shellhouse and then watch the Notre Dame game from his box.

If you have any questions you'd like me to ask him, or any insults you'd like me to attempt to yell at Ty, please pass them along. I will try to slide a Nick Baker game tape under Steve Gervais' door. PS - Did you guys see that ND Coach Charlie Weis was at the Skyline game last night, apparently grovelling at the feet of the Great Jake Heaps?

I'm still screwing around with my little $170 camcorder, but I have a lot of good stuff on there from last night. Guerilla film-making from the Viking sidelines! I was having some software issues last night, but when I get back from the UW game, I am going to put together a cohesive highlight clip with some defensive stuff and some more offensive stuff, including Dylan Youngblood's touchdown, Colton Tupen's touchdown, and a lot of Nick Baker running circles around the Oak Harbor linemen (BTW - How great is that move he does where the rushing lineman is just about to grab him, and then Baker counter-intuitively turns a 180 around his back shoulder and escapes every time? My description doesn't do it justice, but you'll know what I mean when you see it on film.)

How about Arlington's backup QB coming in after Jake Parduhn goes down (we called that one!) and throwing four TD's en route to a 37-29 victory over Snohomish? Arlington is now in a good position for a playoff berth - they need to beat Stanwood coupled with Lake beating Snohomish and M-P besting Oak Harbor.

Despite the fact that Lake is 4-1 in league and Snohomish is 3-2 heading into next week's matchup, they might as well be tied. Due to the head-to-head tiebreaker, who eve wins next week will get the second seed. The only effect the loss at Arlington has on Snohomish is instead of playing for seeding next week, they'll be playing for their playoff life. I definitely think it would've been better for the Vikes if the Panthers had won at Arlington...

I've gotta run...I'll check the blog from my phone courtesy the UW press box WiFi, and I'll try and get some film of Emmert cursing out Ty. When I get back later tonight, we'll have game stats, some more highlights, and possibly Mike Anderton's game story.