Discover more from The Journal 425
411 for the 425 | Reader-supported local journalism with perspective, edge & authenticity. | Your home for Lake Stevens Vikings football. | Privacy: J425 will never share or sell your data.
Over 2,000 subscribers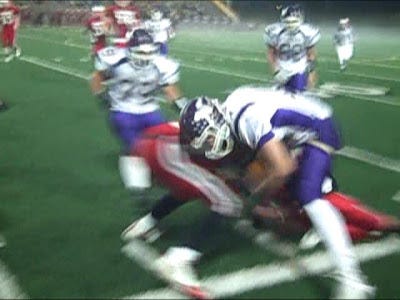 QB Nick Baker rushes for a first down on 3rd and 5 with less than one minute remaining in the game.

We've just received the official game stats via Mike Anderton. Lots of good stuff. Let's start with the best individual performances, and then we'll go over the new records.

QB Nick Baker 21/32 for 394 yards and 5 TD's, 12 carries for 143 yards and two TD's.
WR Colton Tupen 10 receptions for 195 yards and 2 TD's.
WR Trevor Riecks 4 receptions for 83 yards and 2 TD's.
RB Bo Dickinson 6 carries for 37 yards, 5 catches for 55 yards, TD.
DT Zach Teuber 15 tackles.
DT Dylan Youngblood 14 tackles.

Now, lets take a look at the single game records broken or tied:

Nick Baker
Most passing yards, game - 395 yards
Most passing touchdowns, game - 5
Most total touchdowns, game - 7 (5 passing, 2 rushing)
Most total offense, game - 522 yards (395 passing + 143 rushing + -13 yards in sacks)

Colton Tupen
Most receiving yards, game:193

Team:
Most first downs, game: 28
Most first downs, half: 19 (first half)
Most receiving yards, game: 395
Most receiving touchdowns, game: 5

Season Records:

Nick Baker: added to his record total of 29 passing TD's, and improved his records in season and total passing yardage, completions and attempts.

Trevor Riecks: Set the all time single season receiving touchdown record with 11, besting Dustin Adams' 10 from last season.

Colton Tupen: Added to his season record of receptions, now at 59 (previous was 43).