Discover more from The Journal 425
411 for the 425 | Reader-supported local journalism with perspective, edge & authenticity. | Your home for Lake Stevens Vikings football. | Privacy: J425 will never share or sell your data.
Over 2,000 subscribers
Residents Forced to Jump from Second Story Windows to Survive Lake Stevens Fire
LSPD — first on scene — pulled victims through windows to escape blaze that engulfed eight structures. Multiple fire agencies completed rescue and fire fighting operations.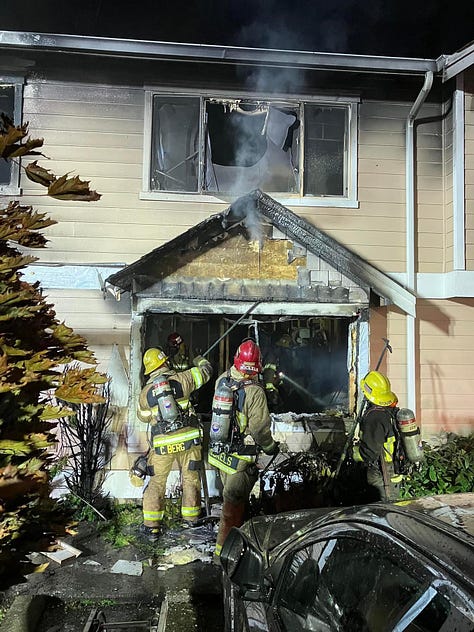 LAKE STEVENS — Flame licking out of shattered windows. Smoke billowing out of every opening. Panicked residents jumping from second-story heights. Cats trapped in cabinets. Heroic first responders saving 'em all. If you like stories that feature all of the above, look no further.
At 1:47 AM on September 13, Snohomish Regional Fire & Rescue (STFR) responded to a one-alarm multi-unit structure fire in the 1600 block of 127th Ave NE in Lake Stevens. Additional calls reported people jumping from second-story windows to escape.
Lake Stevens police arrived first and found eight units engulfed in flames. The officers immediately began helping people exit through second-story windows before fire crews arrived. SCFD4, Marysville Fire, Everett Fire, Granite Falls Fire, and Getchell Fire responded.
Once on scene, SRFR contacted the two people who had jumped from the second story and confirmed that they had sustained minor injuries.
After this, crews started an offensive attack on the blaze. As the firefighters went around the backside of the building, they located another person hanging out of a second-story window, with smoke billowing out of it.
Responders pulled a ladder to the window, and fire crews, with the assistance of LSPD, saved the resident.
Smoke and fire poured heavily out of windows as crews attacked the fire and conducted a primary search.
During the immediate investigation, crews located another person behind a closed door in a bedroom. They rescued that person as well.
After everyone was safe and accounted for, the scene commander learned that three cats remained in the structure. Firefighters went in and found the cats hiding under beds and in cabinets, rescuing all three alive and uninjured.
The Red Cross arrived and rendered assistance after the fire. Snohomish County Fire Marshals are investigating the cause of the fire. At this time, the cause of the fire is unknown.
---
SRFR Tips: Working smoke alarms are the best first line of defense in fire safety. Test smoke alarms regularly to ensure they are working correctly, and replace the units after they have reached ten years from the manufacturer's date.
Sleeping with the bedroom door closed increases your chances of survival in a structure fire you cannot immediately escape.
A closed door during a fire delays fire, heat, and smoke from entering the room and blocks the air supply from the fire.

Open a window and yell for help.

Throw a pillow or another item out the window.
Fire crews know to look for these as they do a primary 360 search around the structure.