Discover more from The Journal 425
411 for the 425 | Reader-supported local journalism with perspective, edge & authenticity. | Your home for Lake Stevens Vikings football. | Privacy: J425 will never share or sell your data.
Over 2,000 subscribers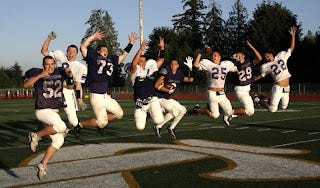 Checking in via the phone, so this will be brief, and please forgive
any formatting or spelling snafus.
First, enjoy the cover shot for this year's Journal preview courtesy
of Rob Carlson. Contact me if you are interested in posters or reprints.
Second, a brief practice round up.
- Scary times for a bit as Duke Dolphin, Chameron Lackey and Alex Moon
all went down with keg injuries. Luckily, none appear to be serious.
- Bryson Daggett and Jake Nelson appeared to split time at QB, with
Nelson making some solid throws.
- The Purple and Gold game is this Saturday, marking the official end
of camp and the beginning of Week One.
All for now.