Discover more from The Journal 425
411 for the 425 | Reader-supported local journalism with perspective, edge & authenticity. | Your home for Lake Stevens Vikings football. | Privacy: J425 will never share or sell your data.
Over 2,000 subscribers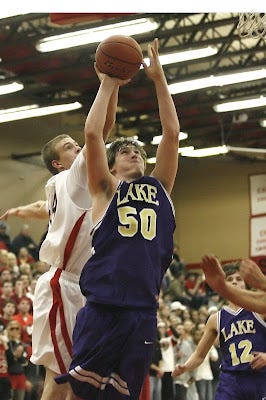 Lake's All Wesco C Sean Stickney will have an advantage on the inside tomorrow against a smallish Eagle frontline. Rob Carlson/Sportsmedianorthwest.com

The Vikings open their home and conference schedules tomorrow at LSHS, where they host the 2-0 Arlington Eagles. Tip-off is 7:30 pm.

The Eagles were a middle of the pack team in Wesco 3A last year, but they make the jump to 4A competition with five returning seniors including a solid backcourt duo of Cole Carpenter and Lucas Larson, both returning All Wesco 3A selections.

The Eagles had a solid offseason, competing in tournaments up and down the West Coast, even finishing second in a regional tournament held at UC-San Diego.

Arlington has opened with two home contests, easily dispatching 1A Sultan 85-57 and battling past Ferndale 56-45.

Players to Watch:

#34 Cole Carpenter, 6'0, Sr, Guard: Carpenter lit up Sultan for 25 in the Eagle opener, then followed up with 11 against a much tougher Ferndale squad. Carpenter has range and a solid handle.

#33 Tyler Busby, 6'2, Sr, Forward: Busby, while slightly undersized, is a competitive small forward with three point range and a nose for the ball. Busby echoed Carpenter's lines, with 25 in the opener and 11 against Ferndale.

#20 Lucas Larson, 6'3, Sr, Guard: Larson is a solid all-around player and is unselfish with the ball. He has good height for the guard spot and rebounds and defends well. Averaging 11 points per game in early action.

Viking Keys:

The Vikes will need to score in transition, win the turnover battle and shoot at a higher perecentage (as compared to the 51-50 loss at Shorewood Friday) if they hope to open the conference schedule with a win.

The Arlington game looms as one of the few contests where the Vikes have the size to control the post with 6'4 center Sean Stickney. Lake will also look to get a strong bounce-back performance from guard TJ Dodge.

Prediction:

The Vikings are 17-3 at home over the last two season, and there is no reason to think that they won't open with a victory over Arlington tomorrow. Viking fans should show up early and ready to vocally intimidate their rivals from the south.

We like the Vikings to win a hard-fought game behind a double-double from Stickney and a 15+ point night from Junior F Shane Kaska.

Call it Lake, 66-55.