Discover more from The Journal 425
411 for the 425 | Reader-supported local journalism with perspective, edge & authenticity. | Your home for Lake Stevens Vikings football. | Privacy: J425 will never share or sell your data.
Over 2,000 subscribers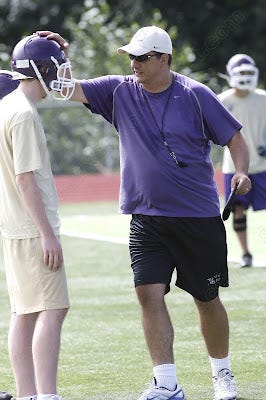 Tom Tri and his Vikings hold on to the top spot, but the Tommies are breathing down their necks. Rob Carlson/SportsMediaNorthwest.com


Every Tuesday we'll post our power rankings for Wesco. These rankings will gauge all Wesco teams in relative strength regardless of division. The number after the dash represents last week's ranking.

1-1 Lake Stevens (1-0) won @ Glacier Peak 35-21
The Vikings dominated in a game that was never as close as the score seems to indicate. Head Coach Tom Tri's spread offense piled up 505 yards and QB Nick Baker set school records for completions, attempts, yardage and passing touchdowns. MLB Jacob Huddle kept the pressure on with three sacks. Look for the Vikings crush a reeling Stanwood team in the home and conference opener this Friday, but Homecoming against M-P looms large on Oct. 10.


2-8 Marysville-Pilchuck (2-0) won vs. Snohomish 34-7
Junior RB Austin Denton has a big game and an even bigger mouth. The Junior tailback leads Wesco in rushing. Question: Can the Tommies win on the road? Answer: This week at Glacier Peak they can, but it'll be a lot tougher at Lake Stevens on Oct. 10.


3-3 Edmonds-Woodway (1-1) won vs Everett 21-7
The Warriors rebound from a tough road loss at Meadowdale with a solid win at home versus the Seagulls. E-W showed another offensive dimension (aside from RB Tony Heard), as WR Din Kuses had over 200 yards receiving and two touchdowns.


4-4 Meadowdale (1-0) game @ Stanwood was canceled
The Wesco 3A favorites were up 14-7 in the second when the game was canceled after a Spartan player was injured. Meadowdale should have an easy week ahead, as they host Mountlake Terrace.


5-7 Jackson (2-0) won @ Shorewood 51-3
Jackson has outscored opponents 83-11 so far this season. Given, the opponents were Stanwood and Shorewood, but still impressive. RB Taylor Cox had over 200 yards rushing in the road victory.


6-5 Cascade (2-0) won vs. Kamiak 27-15
In taking down Oak Harbor and Kamiak to open the season, Cascade has opened some eyes - although the jury is still out on just how impressive these wins are. Kamiak and Oak Harbor have been two of the most disappointing teams in Wesco.


7-10 Mariner (1-1) won vs. Mountlake Terrace 49-13
Mariner rebounded in a big way from an emotional week one loss. RB Adrien Black showed why he is one of the top homerun threats in Wesco with two long TD runs.


8-12 Arlington (2-0) won @ Lynnwood 22-12
Junior QB Jake Parduhn ran for one TD and passed for another in the road victory. We'll see just how good the Eagles are as they host Jackson this Friday.


9-9 Everett (1-1) lost @ Edmonds-Woodway 7-21
Nothing wrong with a hard-fought loss on the road against one of the best 4A teams in the state. Everett should go far in 3A this year.


10-6 Oak Harbor (1-1) won @ Monroe 28-20
The Jay Turner era at Oak Harbor is officially underway, as the Wildcats take the underwhelming victory at Monroe.


11-2 Snohomish (1-1) lost @ Marysville Pilchuck 7-34
The Tommies bottled up Panther RB Ray Purviance, and Snohomish looked downright one dimensional in the crushing road loss. If they can't get one of their two QB's on track, it could be a long season.


12-13 Monroe (1-1) lost vs. Oak Harbor 20-27
The Bearcats still have one more win than they did last year, and they seem to be stronger - taking Oak Harbor to the brink last Friday.


13-11 Kamiak (0-2) lost @ Cascade 15-27
The Knights have looked awful in losses to Snohomish and Cascade. They should get on track against Shorewood this week, although the weird 11:00 am Saturday kickoff may present some problems.


14-14 Mountlake Terrace (1-1) lost @ Mariner 13-49
Starting off 1-1 in two road games is not bad. The victory against Lynnwood looks weaker after getting dismantled by the Marauders Friday.


15-15 Stanwood (0-1) game canceled
Nothing seems to be going right for the Spartans. They were losing at home to Meadowdale when an injury to one of their players forced the cancellation of the game. It doesn't get any easier this week, as the Spartans provide cannon fodder for the Viking home-opener.


16-19 Glacier Peak (0-2) lost vs. Lake Stevens 21-35
The Grizzlies showed some fight in the loss to Lake Stevens. Will they crumble or avenge the City of Snohomish's pride when the Tommies come into town?


17-16 Lynnwood (0-2) lost vs. Arlington 12-22
Lynnwood opened with one of the easiest schedules in Wesco - at home versus Mountlake Terrace and Arlington. They are 0-2. Defensive end Geoff Meinken should transfer to Archbishop.


18-17 Shorewood (0-2) lost vs. Jackson 3-51
The Thunderbirds have lost their two games by the combined score of 97-17. I guess they're still waiting for the results of that offseason conditioning program to kick in.

19-18. Shorecrest (0-2) lost @ Ferndale 0-61
Ferndale may be the best team in 3A, but you still hate to lose by more than eight touchdowns.