Discover more from The Journal 425
411 for the 425 | Reader-supported local journalism with perspective, edge & authenticity. | Your home for Lake Stevens Vikings football. | Privacy: J425 will never share or sell your data.
Over 2,000 subscribers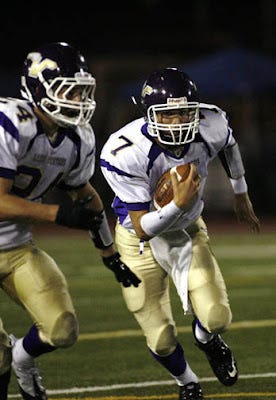 Here come the Vikes...Jake Nelson (7) and Duke Dolphin
will look to open the stadium in style.
Photo by Rob Carlson/Sportsmedianorthwest.com
Today is one of those days. An early Fall night. A sold out home game. An unblemished record. A big time opponent. The bright illumination of a regional spotlight game. The added pressure of opening a new stadium. Aside from all of the ceremony, this is huge game for the Vikes. Not in a "winning Wesco and/or making the playoffs" sense, but in a "Are we really as good as we think we are" sense. One writer that I enjoy calls these type of contests "GPS Games" - meaning that the team in question is really going to find out where the hell they are after the clock ticks down.

With that said, let's breeze through tonight's agenda, take a look at the opponent, zero in on a few Vikings-related items, and then make our pick.

Week Three: Inglemoor Vikings (1-1) at Lake Stevens Vikings (2-0), 7:00 pm

The Pomp and Circumstance: Get there early, folks, because district administrators are preparing for a sell out crowd in excess of 3,000. The Purple and Gold Club is hosting their annual BBQ on the baseball field starting at 5:30 pm. Local politicians will be sign waiving and campaigning on the sidewalks. Ineglemoor travels well and will likely bring 500 or so diehards with them .

The school district has planned a nice little opening to commemorate the public's efforts in funding the new stadium. The fun begins around 6:20 as Neil Proff's award-winning marching band will perform a  few numbers midfield. Then, in a nod to the World Cup, Viking footballers will enter the stadium through the new sub-bleacher tunnel accompanied by small children in uniforms - either LSJAA footballers or cheerleaders. The American Legion will do a ceremonial raising of the new POW/MIA flag, and then will present the colors. After the National Anthem, the children will exit the field and the game will begin. Ceremonies will continue at  halftime as the district will honor key players involved with the construction and funding of the new stadium...including our personal favorite Norm Preslar, the man who makes Sunshine. True Viking fans will take a few moments during halftime to listen and recognize the efforts of Norm and the others who have made the new stadium a reality.

Inglemoor Viking Players to Watch

#3 QB Mitchell Gunsolus 6'0 180 SR: The sparkg-plug of the Iglemoor offense is reminiscent of Rogers' Tyler VanSligtenhorst, who made mincemeat of Viking tacklers in the 2008 District Playoffs. Gunsolus likes to keep the ball on the read option or to chuck it deep and let his tall receivers run under it. A gun-slinger worthy of his name.

#58 G Dirk Giggler 6'2 240 SR: I don't know if he's any good or not, but here's some video I found on him that says alot about what the Vikes are facing. Yes, that's really his name.

#27 Steve Short 6'2 220 RB/LB SR: A wrecking ball on defense and a powerful runner between the tackles on offense, Short appears to be the emotional and physical leader of this tough Inglemoor squad.

Inglemoor on Offense:
The Black Vikings run an Oregon-style shotgun option. They love misdirection and read option. Their QB Gunsolus and the two featured backs Short and the more agile Tanner Sellman (#33, 5'8, 180) all bring different attributes to the table but run effectively. When passing, Inglemoor loves to throw jump balls to their two big wideouts: 6'2 200 Todd Raynes (#85) and 6'3 205 Peter Meiusi (#80). Both are very good at leaping and grabbing the ball at the highest point. However, Inglemoor has been very transparent in certain tendencies, both in down and distance and formation. More on that later.

Inglemoor on Defense:
The visiting Vikes run a 3-3 stack (3-3-5, 3-5-3 depending on down and distance) similar to Lake's. Short patrols the middle of the field and throws all 220 pounds into his bone crushing hits. Further, Inglemoor loves to blitz, and uses all sorts of different methods of wreaking havoc in the backfield. On nearly every snap, the Black Viking send pressure from one or more linebackers. Exploiting this pressure with bubbles screens, draws, hot routes and misdirection will be key.

Vikings to Watch:

#7 QB Jake Nelson 6'3 190: I've just decided to highlight the guys whose onfield production has led to the first two victories. Nelson has two key fourth quarter road TD drives to his credit, directly resulting in two wins. Nelson has also been the Vikes' most effective runner of the ball, (when he's not fumbling), averaging nearly 6 yards per carry and often juking past one tackler before breaking the tackle of the next defender. Nelson's arm has wowed onlookers: the 1380 announcers couldn't stop talking about the snap with which Nelson fires the ball. And it's true, he throws a spot-on deep ball. However, like a certain other Jake in Montlake, Nelson sometimes has TOO much arm strength for the task at hand. To wit, Coach Tom Tri has asked him to be conscious of when to "zip it in there" and when to "let 'em run under it". To date, Nelson has been inconsistent with the passing game, but he's also been victimized by drops, and the fact that he's hit on a bunch of long passes partially makes up for a lower completion percentage. That said, we believe that Nelson has only just begun to scrape the surface of his potential. He is the most physically gifted of all the Lake QBs we've seen in the last five years, and he is growing as a leader - as the two road wins prove. However, at some point the rubber hits the road and results must reflect the intangible strides Nelson has made. Tonight, Nelson will need to get rid of the ball quickly and read the defense, probing the zones vacated by oncoming rushers. He'll need to tuck it and run when the pocket collapses, and he'll need to take charge of a huddle that is still searching for a skill position leader. Nelson would be wise to us his best weapons tonight: Preslar, Dolphin and Pahukoa should all expect a heavy workload.

#62 DT/OG Cody Tupen 6'2 230 JR: Tupen, the younger brother of former Viking star wideout Colton Tupen, has exceeded all expectations to begin the year. In camp, it appeared he was slated to sit behind Taylor Metzger, but Tupen earned a starting spot on both sides of the ball and has backed up his training camp with a dominant two weeks. Despite his defensive tackle position, Tupen is second on the team with 14 tackles and tied for the lead in sacks (2). He's been steady and unpenalized on the offensive line and has been a leader on both the practice and game field. He'll need to work with the other stalwarts on the line to pick up blitzes on offense and to read the option on defense.

#4 Brady Pahukoa 6'4 190 WR/S/P JR: If the season ended today, Pahukoa would likely be the Viking MVP. The NFL and Husky legacy reported to camp stronger, taller and faster and has emerged as one of Wesco's best performers. Teaming with All Area threat Brandon Preslar to form the best pass-catching duo in the county, Pahukoa has been an explosive threat on the perimeter, averaging nearly 25 yards per reception and hauling in two highlight reel TD bombs. Pahukoa has also been a steady punter and a ball-hawking presence in the secondary. Tonight, look for Tri and company to exploit another of Pahukoa's various tools: his arm. We said here last year that Pahukoa might be the best long term choice for Viking QB...that ship has sailed, and Nelson has ended all competition for now, but Pahukoa still sports a strong and accurate arm, and we know for a fact that the Vikes have worked on plays showcasing this arm both out of punting and flysweep formations.

Vikings on Offense:
As we mentioned before, identifying and picking up pressure will be key. If the line can hold...and if Nelson can read the pressure, the Vikes will have huge holes to exploit in the Inglemoor defense, which could lead to some big time plays. The Viking screen game should reappear, and look for Duke Dolphin to dart/power past on-rushing blitzers into a second-level vacated by pass rushers. That could spell big trouble for the visitors.

Vikings on Defense:
Historically, the Vikes have had big problems with options teams. However, there has been evidence that the trend is halting. Lake dominated Snohomish's option last season, and had very little trouble with Cascade, surrendering just four first downs and 60 total yards outside of one play. However, Inglemoor is far superior to Snohomish (they beat 'em 48-0), and the talent level of their backs could prove to be a problem. The Viking defense must read their keys and hold their spots. Over-jacked heros can run the Vikings right out of a stop by vacating responsibilities. It will be up to junior Korey Young, the unlabeled captain of the defense, to anchor the middle of the field and to make his teammates responsible for their actions. Also, the film room work of DC Cronin has revealed some big tells:

 - Inglemoor runs over 70 percent of the time on first down, and passes more than 90 percent of the time on 3rd and more than 5.

 - Out of certain formations (slot right twins), Inglemoor ONLY runs the ball - and usually with the same play.

These are just two of many examples that Cronin has provided in the game plan. If the Vikes have done their homework, these are the kind of tools that can turn a close game.

Prediction:

The Vikings have more talent then we can ever remember, and for once that talent seems to match up against two of Lake's historical nemeses...teams from the south, and option teams. However, the Vikings are spoiled for choice at linebackers and have featured a dominant defensive line. The Vikes have tons of experience against option offenses and they have the reactionary playmakers (Brandon Belcher, Duke Dolphin, Pahukoa, Preslar, Carroll, etc) to cover up individual mistakes.

On offense, the Vikes should lean on their senior talent: Gunnar Eklund, Kody Dinh, Dolphin, Preslar, etc. Eklund and Dinh have manhandled opponents and Tri would be wise to use some smash mouth football (perhaps out of the four-back jumbo package?) to run behind the left side. On passing downs, look for the line to retreat, and simply look to identify and pick off oncoming rushers, letting the Inglemoor aggression run them right into Viking paws. Nelson should have time to step up and pass - or tuck and run. Tri has also hinted that he will look to empty out the playbook tonight. Thus far, the Vikes have stayed vanilla, showing only a fraction of what they practice. I know Tri  wants to impress the community and showcase his talent for the college scouts that will be in attendance. With that said, look for the fly sweep pass, look for a variety of gadget screens, look for some shots down field, and look for some smash-mouth with Dolphin and Belcher running behind the left side of the line.

In the end, this is still a tough one to call. Inglemoor will not be cowed by the crowd - they play at Bothell and Skyline every year. If anything, the bigger concern may be an over-adrenalized Vikings squad. For a Lake team that is already  mistake-prone, cooler heads must prevail tonight.

In our opinion, the game goes one of two ways: either the Vikes start out strong, use the crowd energy to force some quick stops, and convert on early chances...or the Vikes come out and make a series of familiar mistakes (dropped balls, fumbles, penalties, etc). If the former happens, we like the Vikes to put on a show. If the latter happens, Inglemoor will ruin the night.

However, we are still of the opinion that the two early wins on the road were a harbinger of better things to come. And at this level, a home field advantage is often worth ten points or more. Combine these two factors with the simple fact that, for once, the Vikings have the horses to run with a Kingco power, and we like the Purple and Gold to win a statement game in front of a record home crowd, hopefully generating a GPS dot on the football map big enough for everyone in the state to see.


We'll take the Vikes, stepping into the regional scene with a 34-24 win.