Discover more from The Journal 425
411 for the 425 | Reader-supported local journalism with perspective, edge & authenticity. | Your home for Lake Stevens Vikings football. | Privacy: J425 will never share or sell your data.
Over 2,000 subscribers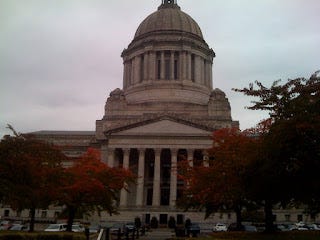 Down in Olympia for the day getting ready for the 2010 session, but able to pass on a few notes during lunch...
Stopped by practice yesterday to catch up with the Walking Wounded, er, I mean the Vikings. The physical season is taking its toll, as the Vikes were with out both starting offensive tackles yesterday.
Left tackle Garek Stuart hurt his knee Monday in practice and was sidelined awaiting MRI results. He said he is concerned that it may be an ACL tear - however he hopes to play through whatever injury he may have and opt for surgery after the season. He will have to receive clearance from a doctor.
Right tackle Jesse Porter was not at practice and is suffering from a viral infection that kept him out of practice last week as well. At this point, it is highly unlikely that he will play versus Monroe this Friday.
In the absence of the two tackles, experience senior Jason Mendel will start at right tackle, while juniors Gunnar Ecklund and Taylor Metzger will likely share snaps at left tackle. The 6'6, 275 pound Ecklund has captured the imagination of vans and coaches with his prototypical left tackle size and athletic ability, while the hard-working 6'1, 250 pound Metzger has improved under the tutelage of Jeff Pahukoa. Both will start next year, if not this year.
In other injury notes, senior WR/K Arvid Isaksen continues to battle through an ankle sprain, but will play. He fought through the sprain to haul in six passes at Marysville-Pilchuck last Friday, and leads the team with four receiving touchdowns on the season.
Sophomore QB Jake Nelson took a healthy amount of snaps yesterday in team offense...not sure if this is just a case of keeping the backup ready or a sign that he may see some meaningful time Friday. Chameron Lackey, the Vikes' leading receiver, continues to work at QB as well.
Yesterday, we posted Mike Anderton's game story as well as Rob Carlson's photo diary from week six, so if you haven't checked those out yet, please do so. We also updated season stats in the right column of the blog. Interesting to see how well the Viking offense has distributed the ball among the four top receivers...Isaksen leads in touchdowns, junior Brandon Preslar leads in total yards and average yards per catch, Lackey leads in receptions and senior Tyler Reside is close in receptions and yards as well. On defense, junior Brandon Belcher has opened up a big lead in tackles, Lackey leads in interceptions, while Stuart leads in sacks.
Finally, be sure to visit thevarsitynews.com to check out Tony Soper's coverage of last week's game.