Discover more from The Journal 425
411 for the 425 | Reader-supported local journalism with perspective, edge & authenticity. | Your home for Lake Stevens Vikings football. | Privacy: J425 will never share or sell your data.
Over 2,000 subscribers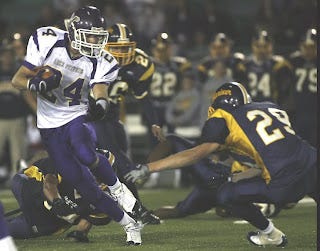 Will the Vikes' season-opening home rematch of last year's memorable victory at Mariner be affected by a possible teacher strike? Rob Carslon/SportsMediaNorthwest

Your favorite haole Viking correspondent (I hope) is checking in from the shores of Kailua Beach to update yall mainlanders on a few points. Before we get in to that, it's hard for me to believe that it's about to be ten degrees warmer in Seattle than in Honolulu...I hope that guy I paid to water my plants is earning his keep!

With that said, a few notes:

- I know this is old news to some of you, but Kalena and Sage Richardson are Vikings no more. What does this mean for the 2009 squad? Who will man the center position? Why did they leave? These answers will become clearer when I have a chance to speak with the coach and some players.

- I'm sure many of you saw the front page Herald story outlining the death of the Sophomore team. With financial situations as dire as they are, this can be a surprise to no one. I'm sure some of you were real happy to see Jake Nelson get the big front page pic, as I remember how bitter some folks got last season when I simply mentioned that Nelson was getting practice snaps with the varsity. Anyway, good for him.

- Also from the bad news file, Viking football fans should keep a close eye on the Lake Stevens School District teacher negotiations. Many have speculated that a strike is imminent, and if this is the case, the Vikings will not host a home opener as scheduled. Administrators will either postpone or reschedule the game to a neutral location so as not to force fans and players to cross an active picket line...just something to keep an eye on, and hopefully this will all be worked out by September 4.

- Here's a Chris Fetters story outlining the big winners at the Jason Gesser/Rising Stars camp held about a month ago. Names you will recognize: Jackson QB Andy Gay winning the QB MVP and Rogers DB/RB Bennett Bontemps (I still have bad dreams of him slicing through Viking defenders).

- I'd also like to add that while I haven't spoken with the Lake Stevens Journal editorial staff in a while, I would like to put together a four-page color Viking Football preview as we have the last couple years. If we are able to put this together, I hope to see it on all of your refrigerators for the duration of the season.

That's all for now, but before I go I'd like to add that I will be FINALLY completing our Top Ten Returning Vikings series by unveiling our #1 returner for the 2009 season...no surprises here.

Until then, aloha.