Discover more from The Journal 425
411 for the 425 | Reader-supported local journalism with perspective, edge & authenticity. | Your home for Lake Stevens Vikings football. | Privacy: J425 will never share or sell your data.
Over 2,000 subscribers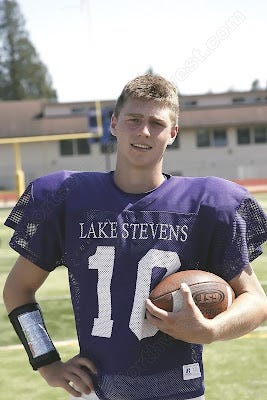 Photo courtesy of Rob Carlson/Sportsmedianorthwest.com

Mike Cane has the story, with some interesting quotes from Coach Tom Tri and WR Colton Tupen. Congrats to Nick Baker, I have a feeling that this is just the tip of the iceberg.

Also worth noting that Tupen was named first team All Area at both WR and CB, while Sean Stickney was second team All Area at both offensive line and linebacker. DT Dylan Youngblood got a second team nod as well.

A couple bones to pick: Bo Dickinson was voted by coaches and players as the first team All Wesco kick returner, but for some reason the Herald felt M-P's Levi Cartas was better. The stats do not support this argument, maybe they were just rying to back up their big preseason spread.

Also, Sean Stickney recieved the most All League votes at offensive line from coaches and players of any player at any position in the league, yet Cane and company felt that four Wesco North lineman were more deserving than Stickney. I wonder what they base their decision on. Maybe they think they are smarter than the coaches and players.

Finally, how do they leave WR Trevor Riecks off both the first and second teams? The man had eleven TD catches.

Congrats to all the deserving Vikes both on and off the list.