Discover more from The Journal 425
411 for the 425 | Reader-supported local journalism with perspective, edge & authenticity. | Your home for Lake Stevens Vikings football. | Privacy: J425 will never share or sell your data.
Over 2,000 subscribers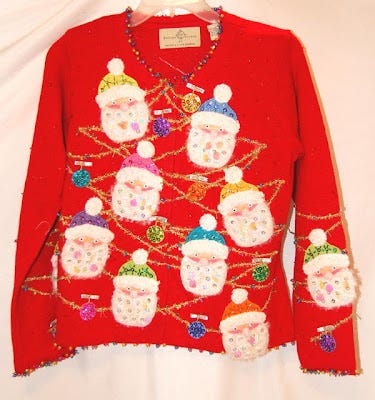 I ran into Nick Baker and Josh Chandler at Haggen yesterday. Nick helped me tie a Christmas tree on top of my car. Later, the tree fell off the car on SR-9 and caused a horrendous bloody wreck, but that's for the insurance adjusters, the cops, and Nick Baker to figure out.

Just kidding.

Anyway, we made fun of Nick a little bit for how serious he looked in Jennifer Buchanan's Herald portrait, but I have to admit I was envious of Nick's snazzy Charlie Brown style Christmas sweater.

I talked to Nick a bit about the recruiting season, and he noted that while it's early in the process, he's received significant interest from Montana State, Linfield, and even some Ivy's.

Building on the Herald's naming of Nick as the All Area Offensive Player of the Year and the Seattle P-I's pending announcement of Nick as the All State First Team QB, the recruiting interest is bound to pick up.

Also worth noting that now that the Huskies have a coach, they might be interested in sending a recruiter to Lake Stevens. Maybe Steve Sarkisian would see a little bit of himself Nick.

Sarkisian, a self-described "over-achiever" led BYU to a 13-1 record and #5 final ranking in 1996. Sark said he accomplished this feat by always practicing hard, studying, playing with heart, and making the most out of his physical gifts. Sounds pretty familiar to me:)

Anyway, I'm gonna stop by basketball practice today, and we'll be at the boys home opener tomorrow versus Arlington at 7:30. Hope to see you all there.

All for now.