Discover more from The Journal 425
411 for the 425 | Reader-supported local journalism with perspective, edge & authenticity. | Your home for Lake Stevens Vikings football. | Privacy: J425 will never share or sell your data.
Over 2,000 subscribers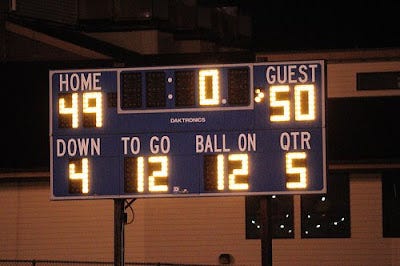 Ninety nine points and over 1,000 yards of total offense led to what many are calling the state game of the year. Jackson over Lake Stevens in overtime, 50-49. Photo courtesy of Greg Eisley

Note - The following story will run in Wednesday's Lake Stevens Journal.

By Mike Anderton/Journal Contributing Writer

When you score 49 points and add more passing records to an already record-strewn season, you are probably going to win the game. But when your defense surrenders 50 points, you probably deserve to lose.

The latter proved true at Lake (now 4-1 overall) last Friday where, in light but steady rain, Jackson (also 4-1) stole one away from the Vikings, 50-49 in overtime.

QB Nick Baker set, or approached, several more all-time Viking passing records during the game, but it was the suddenly porous Viking defense, which had been on a roll in its previous two games (allowing just one touchdown) which broke down, allowing 295 yards of rushing offense (472 yards overall) to Jackson, one of Wesco South's premier teams. Meanwhile, Lake's 524 total yards and 26 first downs could not produce a win.

The good news is that this was a non-league game. The bad news is that Lake must now face Marysville (Homecoming this Friday), a team which may have an even more dangerous ground game than Jackson. Marysville (5-0) will probably supplant Lake in the state rankings (8th last week), but that's ok -- last year the Vikings went to Marysville sporting a 4-0 record and a spot in the top ten, only to see the Toms pull off a 20-13 upset, a loss that set Lake into a tailspin (finishing 6-4 overall and out of the Playoffs). Lake would like nothing better than to reverse that scenario versus their longtime rivals this time around.

There was non-stop offense in this game from start to finish. Baker peppered his receivers with short and medium-range passes, completing 30 of 41 overall (no interceptions) for school record 369 yards and 5 touchdowns. Despite the wet football several Viking receivers made great grabs in traffic.

Most innovative of all (if not downright shocking) was the employment of lineman Dylan Youngblood at tailback. Youngblood, who had never carried the ball in a high school varsity game before, thundered out of the backfield for 8 and 13 yards in his first two carries, and finished with 38 net yards in 8 carries (alas, he was also to commit a fateful late-game fumble).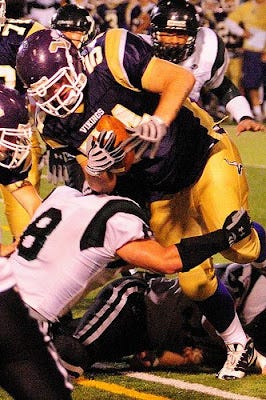 Lake RB/DT Dylan Youngblood rushed eight times for 39 yards and one touchdown. Photo courtesy of Greg Eisley.

Lake drove to the Jackson 12 before Donavan Granston's 30-yard field goal sailed barely wide left. That was to be one of the very few possessions which did not result in a Viking touchdown. Lake held Jackson to three-and-out in the latter's first possession, leading to a 56-yard, 6-play Viking drive for the game's initial touchdown. Consecutive completions to Trevor Riecks ("T-Rex" to teammates and fans) and Eric Huswick of 20 and 23 yards and a 14-yard Duke Dolphin run set up Baker's one-yard touchdown. Arvid Isaksen's first of 7-for-7 PAT kicks made it 7-0, at 3:36 of the quarter.
In a portent of things to come, Jackson's Taylor Cox, one of the state's best running backs, scored a 14-yard touchdown barely a minute later. Daniel Sullivan's PAT knotted the game at 7-7. For the game, Cox and fellow running back Riley Carr combined to burn the Viking defense for 290 yards in 34 carries.

From there on in, the touchdowns fell as regularly as the rain. In order, they came as follows:



- Lake WR Tyler Bryant's 7-yard touchdown reception (he
had 6 catches for 119 yards and 3 touchdowns for the game, the latter tying the
all-time Viking record). 14-7 Lake at 10:34 of the second
quarter.

- Cox's scrambling 12-yard run. 14-14 at 9:05 of the
quarter.

- Youngblood's one-yard run. 21-14 at 5:31 of the quarter.

- Cox's 82-yard run (abetted by lousy Viking tackling). 21-21 at 1:57
of the quarter.

- Jackson took a 28-21 lead at 4:09 of the third quarter on Carr's
15-yard run.

Jackson's superb RB Taylor Cox outraced Viking defenders to the edge on a repeated basis Friday. Here, the speedy Senior breaks off an 82-yard touchdown run in the second quarter. Photo courtesy of Greg Eisley.


Lake's second possession of the second half saw Baker at his most efficient: 66 yards on 5-for-5 completions, including 33 and 18 yards to Bryant, the latter making a diving catch in the end zone. 28-28, at 1:49 of the third quarter.


Lake scored on its first play of the fourth quarter, on Bryant's 39-yard touchdown reception. 35-28 Vikings. Jackson re-tied it five plays later on Carr's 61-yard run (more flubbed tackling by the Vikings). 35-35 with 9:23 left in regulation.

Lake retaliated with a 9-play, 65-yard drive on its next possession. Tosses of 28 and 10 yards to Colton Tupen and Baker's 10-yard run set up Tyler Reside's 4-yard touchdown reception. 42-35 Lake, at 6:17.


It took the Timberwolves just 6 plays to cover 78 yards after that, with quarterback Andy Gay completing 3-of-3 passes, including a pair of 32-yarders to John Wilde, the latter for the touchdown which made it 42-all with 3:36 left.


There was plenty of time left for Baker to engineer the potential game-winning drive, and that's the way it seemed headed when he connected with Tupen for a diving 38-yard reception and a first down on the Jackson 31. Three rushing plays later saw the Vikings facing a third-and-one at the Jackson 22. A no-brainer: give the ball to Youngblood and watch him bull his way to a first down. Which he did, gaining two yards, but Cox stripped him of the ball in the process, Carr recovering for Jackson on the 23, with 34 seconds left.


Fall on the ball and head for overtime? No. Cox broke free for a 27-yard gain, followed by his 27-yard reception from Gay, for a first down on the Viking 23, setting up Sullivan's 40-yard try for what would have been a game-winning field goal as time expired. It was squibbed, and the teams headed for overtime.


Lake lost the coin toss and was forced to be first up in the O.T. Three Baker completions, covering 8, 8, and 6 yards, the latter a Riecks' touchdown reception, put Lake ahead 49-42.


In Jackson's half of the O.T. Cox gained 15 yards on the first play, making it first-and-goal at the 10. The Viking defense stepped up to hold Cox to a single yard (tackle by Zach Teuber) followed by his 3-yard loss (tackles by Riecks and by J.J. McCarthy). Gay's incompletion made it fourth-and-goal at the 12. With the game on the line Gay found Jordan Kellington relatively unguarded in the left part of the end zone for the game-tying touchdown.


Jackson elected to go for the do-or-die two point conversion against the shocked Viking defense, with Carr taking a direct snap and circling around left end untouched for the points which gave his team a 50-49 win. The 99 total points scored is believed to have set yet another Viking single-game record, but when such records are set in losing efforts, they provide dubious cause for celebration.

Look for Baker to establish the all-time Viking career passing yard record early in the going against Marysville. His 2992 yards are just 23 short of Dave Powroznick's career record of 3015 (in 15 games in 1981-82). Baker's 18 touchdown passes so far this season have tied Powroznik's 1982 single-season record, but that will all be bittersweet unless Lake can upend Marysville, in Friday's Homecoming which will likely decide the Wesco North championship.